Violent Extremism (VE) is being widely identified as one of the most significant security challenges facing the global community. Although the United States, with the support of its international partners, has devoted tremendous resources in Counter-Terrorism and Counter-Insurgency programs since 9/11, violent extremist organizations and groups continue to show growth and expansion. Conflict is the primary driver of terrorism.
The Global War against Terrorism and its associated security-centered approaches are often viewed as violating human rights while fighting VE. But no alternative has yet been found to be as effective. Pakistan has been a victim of terrorism and extremism since 9/11 which has impacted the country's peace indexation. Armed Forces, Law Enforcement Agencies and Counter-Terrorism Departments (CTDs) have responded to the challenge of terrorism with unparalleled sacrifices and professional commitment.
Pakistan has paid enormous sacrifices to root out terrorism from the country. More than 80,000 causalities and over 150 billion USD loss to economy have been recorded till date. Preventing and Countering Violent Extremism (PVE/CVE) programs involve a broad range of non-coercive and preventative activities that are combined to counteract the key drivers of violent extremism specific to the locations/contexts in which the programs are taking place.
Efforts to Counter Violent Extremism and Terrorism
Countering extremism requires a holistic approach that incorporates a range of strategies. They can extend from promoting democratization to improving governance to creating job opportunities for youth. The government of Pakistan created an effective strategy to overcome the inertia in developing social and ideological counters to violent extremism. There have been various disengagement and de-radicalization programs in Pakistan such as Sabawoon, Rastoon, Mashal, Paiman, and UNDP's Local level Disengagement and Rehabilitation Program.
The National Internal Security Policy (NISP) 2014-2018, states that religious scholars, intelligentsia, educational institutions and the media are the key stakeholders for constructing and disseminating the national narrative. In 2018, the NISP-II placed particular focus on developing incentive structures to provide a way out for militants stuck in the cycle of violence. Development and implementation of de-radicalization programs were recommended to shun violence and build resilience towards violent narratives. The major objective was to help the "at risk" individuals who were living in the troubled regions of Pakistan.
The National Action Plan (NAP) was formulated to reiterate many of the policies and initiatives that were featured in the NISP, but a greater emphasis was on the role of the military. One of the 20 points laid out in this regard was to establish special military trial courts for terror suspects. Enhancing existing security measures, such as the 2013 operation to target criminal activity in Karachi, has been easy and tangibly effective. Both the NISP and the NAP outline clear frameworks for degrading terrorist activities and undermining extremist ideology.
National Counter Extremism Policy Guidelines were also formulated in 2018. These strategies focus on 'the social, economic and political uplift of marginalized groups such as the youth, women, and minorities. The inclusion of vulnerable segments, interfaith harmony, and acceptance of religious diversity are adopted as a means to prevent violent extremism and terrorism.
Sacrifices during Military Operations
Pakistan's military continued efforts to disarm and eliminate terrorist sleeper cells in the form of Operation Radd-ul-Fasaad. As a result, the military was the most common target of attacks in 2021, with 44% of all terror-related deaths being military personnel. The Pakistan Army continues to render sacrifices while undertaking this Operation launched in Feb 2017.
The Army played a critical role in implementation of the National Action Plan, mainstreaming of erstwhile FATA and controlling extremism by taking part in the government's reforms. During Operation Rad-ul-Fasad, 222,836 combing operations were conducted. Around 80,228 weapons and 7.01 million pieces of ammunition were recovered.
In the pursuit of creating a secure environment, the army has suffered 24,530 causalities in NMDs since the year 2001, including 5,460 martyrs and 19,070 injured. Whereas, since 2017, 291 Shaheed and 647 all ranks have been wounded in Balochistan. In KP and Balochistan, the military has suffered 26,677 casualties including 6,074 martyrs and 20,603 injured. 12,914 terrorists have been killed since 2009.
The acts of terrorism and religious extremist violence have decreased over the past decade in Pakistan. But the complete eradication of violent extremism has not been possible. To do so, a fundamental shift in the social, religious, and political spheres is required. The country has fought extremism and terrorism with perseverance. The war against terrorism and the improvement in the overall internal security paradigm are success stories which created a safe environment for foreign investments. Undoubtedly, a safe and secure environment provides confidence to investors and boosts the tourism industry.
Pakistan's most dangerous extremists have bound their causes to religious identity. Efforts to address the religious dimension of this conflict have been visibly insufficient. The exclusion and intolerance against women, religious minorities, and vulnerable segments create an environment that supports violent extremism. Gender equality and women empowerment are crucial factors that can serve as shields against violent extremism.
The Current Trends
Generally, the terrorism incident data reflects a positive counterterrorism trend, the underlying radicalization trends lack evidence. Measuring extremism is difficult as it requires a broader set of data ranging from hate crimes, minority rights, youth radicalization trends, and sectarian tendencies. It is safe to say that violent extremism and terrorism in Pakistan have now decreased, but have by no means been completely eliminated. Sectarianism is growing in the country and the causes feeding into radicalization of the population continue to exist, which are also aggravating the problem.
According to the 2020 Global Terrorism Index of Australia's Institute for Economics and Peace, Pakistan was ranked seventh, right after Afghanistan, Iraq, Nigeria, Syria, Somalia, Yemen followed by India, Congo, and the Philippines. It seems negative for the regional counter-terrorism that Afghanistan, India, and Pakistan continue to hold a position in the top 10 countries. The diplomatic relationship is also complicated between these three countries which also plays a role in the increasing terrorism. The 2022 Global Terrorism Index by the Institute for Economics & Peace, has ranked Pakistan on 10th on the list measuring the impact of terrorism.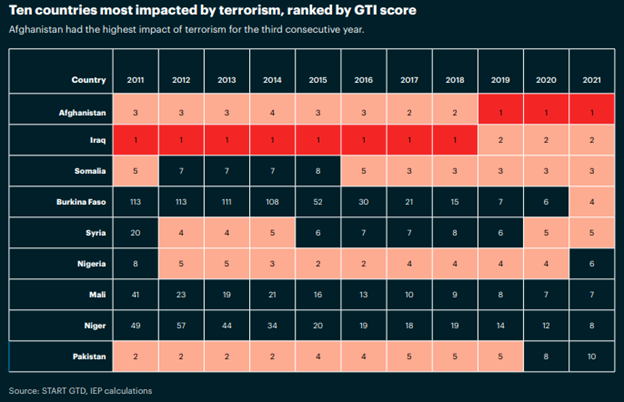 Pakistan improved its position from 8th to 10th, which is a huge achievement. But that does not mean the number of deaths has decreased from the previous year. In fact, the impact of terrorism increased slightly in Pakistan, recorded 5% more deaths in 2021 as compared to 2020. The country's GTI Score was 7.825; the statistical record states 275 deaths and 469 injured in total 186 terrorist incidents. The number of terror attacks slightly increased this year, with 171 incidents in 2020 and 186 in 2021.
On the counter part, the number of deaths and incidents are 82% lower than the peak in 2011. The Islamic resistance group, Tehreek-e-Taliban Pakistan (TTP) overtook the Balochistan Liberation Army (BLA) as the deadliest terrorist group, with TTP accounting for 19% of terror-related deaths in Pakistan in 2021. Terrorism deaths by TTP more than doubled between 2020 and 2021.

Overall, attacks in this area amounted to 36% of Pakistan's total attacks in 2021. Terror groups that were historically amongst Pakistan's deadliest terrorist groups, particularly the Islamic State (IS) and BLA, continued to decline. Pakistani military resistance has led to 7% decline in IS attacks and a corresponding 86% decrease in IS deaths since numbers peaked in 2018. Similarly, attacks by the BLA fell by 20% this year.
Conclusion
Leaders of a country serve as its political entrepreneurs. The political instability in Pakistan is not only contributing to economic crisis but also allowing external forces to target the troubled regions. Terrorists use more advanced technologies like drones, GPS systems and encrypted messaging services. Hence it has become difficult to counter terrorist attacks in the age of information. Pakistan military has been successful in countering terrorism in the country. The future of country relies on the political stability and cyber strategies. Pakistan is most likely to improve its position on the next Global Terrorism Index Report due to effective military operations and countering strategies.