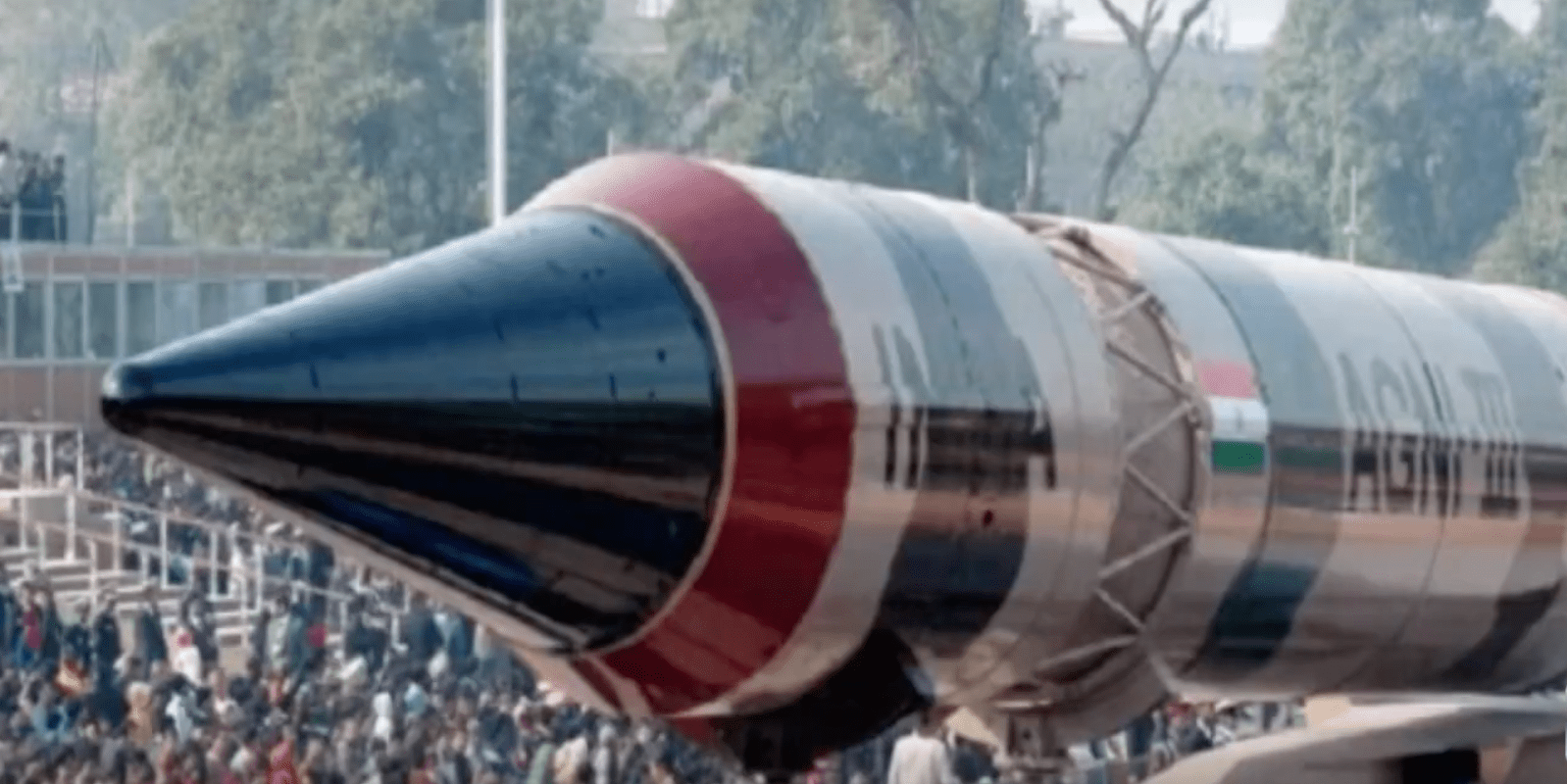 India conducted the first night test of its Agni III surface-to-surface ballistic missile off the coast of the state of Odisha on December 1, 2019. The test, however, ended in failure since the missile tumbled into the sea during the separation stage. The intermediate-range ballistic missile (IRBM), commissioned into service in 2011, serves as a critical component of India's nuclear deterrent. This is not only an acute concern for India's Strategic Forces Command, but also sends mixed signals about the credibility of India's nuclear deterrence. Development of the Agni III, a two-stage solid propellant missile, began as early as 2001 with the goal to build a highly mobile and survivable missile. Inducted into the Strategic Forces Command (SFC), the missile designed and developed by the Defense Research and Development Organization (DRDO) is said to have a range between 3,000 and 5,000 kms, with the ability to carry warheads of up to two tons and possibly reach targets in China.
In its belligerence towards arch enemy Pakistan, India had declared that it may revisit its nuclear No First Use (NFU) policy. The failed night test of the Agni III, particularly at this stage in its service, raises doubts about the reliability and robustness of India's deterrence. Interestingly, one of the derivatives of Agni III, the K-4 submarine launched ballistic missile (SLBM), is also deployed on Arihant nuclear submarine. The failure of Agni III would have been seen by Pakistan and China with interest as India's arsenal doesn't seem to be as reliable as India would want its adversaries to believe it.
The immediate concern for the DRDO and the Indian security establishment is to run a full examination of the cause of the failure. Taking a long-term view, it is certainly important for India to conduct extensive tests of its ballistic missiles, either in the labs or by conducting launches from time to time in order to ensure that these weapons remain fully functional and ready for operations when necessary.
The latest Agni III test provides yet another reason why India must not abandon NFU. Threatening to use nuclear weapons first requires an even greater level of preparedness of the weapon systems, as well as the command and control infrastructure. These systems, deployed in urgency, might fail to function correctly when required. This is quite well known from the Cold War. NFU, therefore, is highly beneficial for India as it is relieved of maintaining complex systems that may be highly vulnerable to failure.
Asserting the credibility of India's NFU policy essentially requires its nuclear arsenal to be functional, reliable, and robust. One cannot talk about India's nuclear posture without addressing the doubts about India's no-first use created by Defense Minister Rajnath Singh earlier last year, and many others before. The question about why India must not abandon NFU has been addressed many times previously. The above facts coupled with superior quality of Pakistani and Chinese missile technology might have raised serious concerns about any change in NFU policy of India.
An initial investigation points to a 'manufacturing defect' in the missile. If true, it is another setback for the Narendra Modi-led 'Made in India' initiative. Weapon systems produced in India usually suffer from low workmanship and from poor maintenance standards prevalent across the Indian military. This is not the first time that Indian missile tests have suffered catastrophes. In 2009, the variants of the missile system, Agni-I and Agni-II failed to deliver results during trials. The Indian Army and its projectile attempts were left embarrassed once again, this time, due to a failed attempt of a night test for the Agni-III missile.
India considers the Agni-III missile as one of its most prized possessions. Instead of reaching its target altitude and the correct pathway, the Agni-III deviated from its flight and went rogue. The team then had to terminate the missile as it fell in the Odisha sea. Embarrassingly for India, the missile was inducted in the arsenal in 2011. However, it has failed a 'basic' night test 8 years later.
Supposedly, the Agni-III missile has the capability of carrying 1.5 tonnes of nuclear/non-nuclear warheads, which is enough to destroy a whole city. Indian defence planers are aghast that given the Pak-India hostilities, if India had gone to war with Pakistan, and used the Agni-III missile; instead of hitting the enemy, the Agni-III with 'nuclear capability' would have fallen somewhere in India only. This incident comes off as a stark reality check for India, and it will have to check its jingoism.
Most notably, India's Defense Research and Development Organization (DRDO) declined to comment on this test and failed to publicly discount false reports that claimed this test was successful.
Agni lll test failure indicates a serious lacking and trust deficit to sustain and retaliate enemy missile strikes. The matter of inferior quality, highly unreliable and untrustworthy Indian inventory of missiles must be exploited at all platforms to shake the confidence of Indian military forces and its weapon developing organization such as the DRDO etc. Moreover, it creates a trust deficit amongst Indian Forces and Indian nation. On the other hand, the failure may boost the morale of Pakistani nation and the Armed Forces. The effectiveness of Pakistan's effort can also hurt the credibility of Indian Defense production capabilities in the international markets. Some classic examples of India's R&D failures, which have reached the public domain, are the Arjun tank, Light Combat Aircraft (LCA) Tejas, INSAS rifle, Saras, Kaveri, Akash, Nag, Indra Radar, while numerous others have been brushed under the carpet.
Main Battle Tank Arjun was designed and produced to counter Pakistan in the Western Front, where the Indian Army will have to cross the bridges of Punjab, unfortunately for the Indians, it is an overweight tank. Arjun MK1 weighs 61 tons while the Arjun MK2 is 68 tons, compared to the T90, which is 46 tons. The Arjun MK1 and MK2 both are 4 seaters: Driver, Gunner, Loader and Commander (Similar to the US M1 Abrams). But the Indian Army, due to its historical intense use of Soviet Tank models, has training of 3-seater tank models: Driver, Gunner, and Commander, the Soviet Tanks do not require a loader, as it has Auto-Loader capability. Now the Indian Army will spend billions of Dollars on training for a new tank.
It is no secret that India aspires to be a regional power. However, ambition must be backed by responsibility. A spate of accidents in the sensitive Defence Research and Development Organization (DRDO), have left Indians wondering whether its scientists can be trusted with weapons of mass destruction (WMDs). Indian defence planners will definitely have to reconsider abandoning the NFU Policy in the face of stark realities.