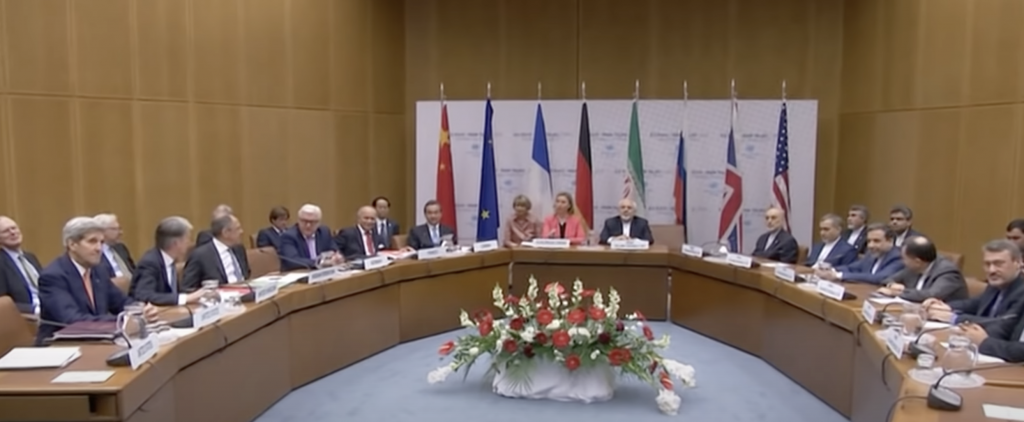 Iranian nuclear programme has been under increased international scrutiny since 2003. The traditional mistrust between P5 (China, France, Germany, Russia, UK, and the U.S.) and Iran, stems from the possible military dimensions of Iran's nuclear programme. To restrict the military dimension of Iranian nuclear program, diplomacy seemed to be the preferred option for Obama administration and it secured a deal in 2015 with Iran, also known as, Joint Comprehensive Plan of Action (JCPOA), endorsed by UNSC Resolution 2231. According to this agreement, previous UNSC sanctions on Iran were to be lifted.
However, Trump administration called the JCPOA a mistake because it failed to secure the interests of the U.S. and its allies, among which foremost was to prevent Iran from making a nuclear bomb. Saudi Arabia, and Israel along with the U.S. had reservation on Sunset Clause of the JCPOA which reads those restrictions on Iran's nuclear enrichment programme are to be lifted after 2025. Another reservation was that the deal did not constraint Iran's alleged destabilizing activities, including support for terrorism and funds to build nuclear-capable missiles, which could lead to arms race in the Middle East. Therefore, on 8 May 2018, former President Trump formally announced the U.S. withdrawal from the JCPOA.
Afterwards, the U.S. re-imposed economic sanctions on Iran in two rounds, first in Aug 2018, hitting Iran's ability to access dollars, engage in global financial activities and attract foreign investments. The second round was imposed in November 2018, targeting Iran's oil exports, shipping, and banks – all core parts of the economy. Trump's policy was to exert maximum economic pressure on Iran and restrict its regional influence. However, when in January 2021, Biden administration took over the charge of decision making in White House, it was expected that it will renegotiate the deal with Iran as soon as possible.
The hawkish elements of Iranian regime are not big fans of the Americans, but still, they are involved in negotiations with Western powers in Vienna to strike back a deal, because U.S. sanctions are hurting Iranian economy quite badly. Now, the U.S. is using political, economic, and military means to coerce Iran into re-negotiating the JCPOA. However, the deadlock remains, because of the disagreements on new clauses and now there is a new Iranian President Ebrahim Raisi, who is considered a hardliner and still to declare his policy.
Opposingly, Western powers are toeing the U.S. position and asking Iran to take further actions to curtail its nuclear programme. Meeting any American or Western demands will not be easy for Iranian government as it could be interpreted by the influential religious and conservative Iranian elements as a sign of weakness in renegotiating. Former Iranian President Hassan Rouhani was elected by virtue of his moderate stance towards improving trade relations with the Western world and reducing hostility with Washington. The U.S. departure from the JCPOA has badly damaged his domestic political standing and has re-strengthened the more conservative political elements. Eventually, the political situation has led to more aggressive Iranian foreign policy towards America.
The U.S.-Iran rivalry have brought serious implications for the region, and especially for Pakistan. For instance:-
It could affect Pakistan's political interests by limiting opportunities to pursue regional solution more actively to deal with the Afghan conflict. Iran might use relations with Taliban to hurt the U.S. interests, which might impinge upon Pakistan's leverage over Afghan government and Taliban. This may hinder Pakistan's ability to pursue a more active political settlement to the Afghan crisis.
It could affect Pakistan's energy requirements by strict economic sanctions on Iran could lead to increased global oil prices, which may eventually increase Pakistan's domestic economic difficulties. Islamabad's interest in improving Pak-Iran economic relations and energy cooperation by reviving the Iran-Pakistan (IP) gas pipeline project would be hurt by U.S. sanctions. Iran has also re-aligned its policies towards Indian-sponsored Chabahar port and transportation projects, because of Indian inclination towards the U.S.
It could affect Pakistan's counterterrorism efforts to effectively counter Indian state sponsored terrorism activities. Pakistan has provided evidence of Indian involvement with terrorist outfits (e.g., Tehreek Taliban Pakistan and Daesh (IS) in the form of dossiers at UN. Over 10,000 Daesh terrorists are present in nine provinces of Afghanistan. Even, Afghan and Iranian leaders have also accused the U.S. of supporting Daesh and other terrorist groups in the region. Iran and Russia have successfully defeated Daesh in Middle East and Pakistan can benefit from their model to foil any further terrorist attacks by Indian sponsored Daesh groups.
Pakistan has taken a principled stance over the U.S. violation of Iranian nuclear deal, that multinational accords must be respected, because in past we have seen discriminatory behaviour of the U.S. in form of nuclear proliferation allegations and NSG waiver to India. Any further deterioration of U.S.-Iranian relations indirectly affects the regional strategic stability. Islamabad has rightly stated that it would not be drawn into the US-Iran dispute and has volunteered to act as a mediator.