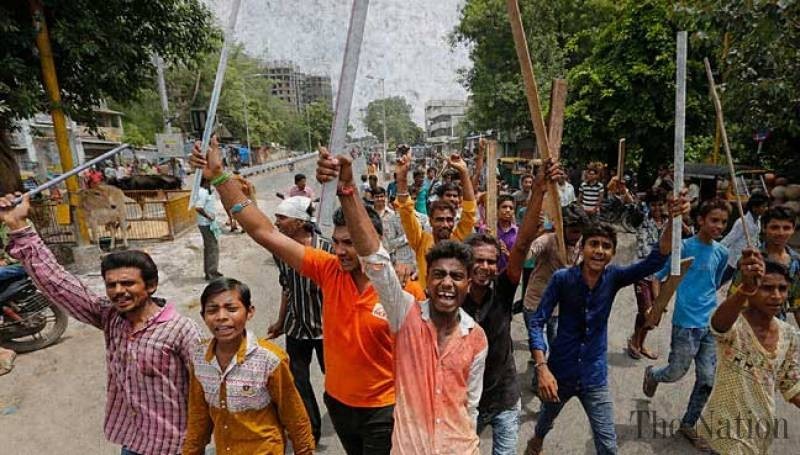 In the so-called world's largest democracy, Muslims, Christians and low caste Hindus are running for their lives from the violent lynching mobs, poisoned by fanatic Hindutva ideology. These cow vigilantes or killer gangs are operating in more than 22 Indian states with complete impunity under the government's patronage. Mob violence and lynching cases have increased phenomenally under the hardliner Prime Minister Narendra Modi's government. Modi, infamously known as the butcher of Gujarat, was elected to power in 2014 and his policies have transformed India from a secular to one of the most intolerant and dangerous nuclear state in the world. During the 2013 election campaign, the hardliner Bharatiya Janata Party (BJP) had hinted for revising the existing Indian nuclear doctrine. Notably, since then, the possibility of adopting a posture of a pre-emptive nuclear strike has repeatedly been discussed by Indian government and defense officials.
The saffron terrorism has several manifestations and is mainly systematized through political and militant wings under the government's patronage. The BJP serves as the political face of violent Hindutva movement in India, while terrorist groups like Bajrang Dal (BD), Rashtriya Swayamsevak Sangh (RSS), Vishwa Hindu Parishad (VHP), Dharm Jagaran Samiti (DJS), Abhinav Bharat and Hindu Jagarana Vedike (HJV), etc. serve as dens of armed Hindu zealots. Mostly Muslims, Christians, and low Caste Hindus become victims of these terror gangs who usually operate under the benefaction of either state or central government. Although, these terrorist groups had been operating in India since independence and the founding father of Indian freedom movement, Mohandas Gandhi, was also assassinated by the RSS in a planned conspiracy; however, they had not enjoyed the government's supervision. This has changed since the Narendra Modi came to power.
These terrorist groups had been involved in several bombing incidents in India, which were either aimed at inciting communal violence between Hindus and Muslims or for levying the blame on Pakistan for political motives. Amongst some of the known terrorist acts executed by them were Mecca Masjid blast, Malagon blasts, Ajmeer shrine attack, Samjotha Express bombing, Best Bakery attack, etc. Regrettably, these Hindu terrorist groups enjoy complete state patronage, and several other terrorist acts were also suspected of having been orchestrated by these terrorists. However, due to the BJP government's pressure, no inquiry was initiated against these hardliners.
Just a few weeks ago, the Indian courts were forced by the BJP government to release all the four terrorists, Swami Aseemanand, Kamal Chauhan, Rajinder Chaudhary, and Lokesh Sharma, who were found involved in the terrorist attack on the Samjotha Express after the National Investigation Agency's (NIA) inquiry. Likewise, another NIA inquiry concluded that the Mecca Masjid attack was organized by eleven terrorists, who were also released in 2018 by the Indian courts without awarding any sentence. Indian media has reported that all of these terrorists were closely connected to the BJP's hard-line government and were also having close ties with the Military Intelligence and Indian army.
Worrisomely, the hardliner government, which is hand in glove with the sponsor of saffron terrorism, has now control over the nuclear button. The BJP leadership had promised during the election campaign that once in government, it would review the existing Indian nuclear doctrine. Several scholars have indicated that the thinking within the hardliner government is shifting towards conducting pre-emptive nuclear strikes at the onset of a crisis to forestall Pakistan's subsequent strike options. The problem with adopting a pre-emptive nuclear strike posture is that it could perpetuate one rung nuclear escalation in South Asia, beginning from the sub-conventional crisis and straight away jumping to the pre-emptive nuclear strike. Such a destabilizing posture would suggest a bolt out of the blue Indian nuclear strike, which would not provide any cushion for either side, India or Pakistan, to manage the crisis without crossing the nuclear Rubicon. This would deny any window of opportunity for the international community to play its part in diffusing the crisis. More so, there would almost be no time available for either the political leadership or military commanders to explore channels of communications for de-escalating the situation.
Needless to say, no matter how India conducts the pre-emptive strikes, it can't effectively neutralize Pakistan's retaliatory strike capabilities. In spite of deploying the BMD systems, which though are in a rudimentary stage, India is not capable of decimating Pakistan's retaliatory capabilities in a pre-emptive nuclear strike. Thus, if the extremists Hindus in the Indian government ever presses the nuclear button, for a pre-emptive strike, they would certainly receive a full-fledged devastating strike in return.
A more worrisome is that in collusion with the hardliner Indian government, Hindu terrorists may stage terrorist attacks in India, and blame these on Pakistan to justify a pre-emptive nuclear strike. The scenario is becoming more conceivable due to the hate factor, which is driving these Hindu extremists crazy and violent, not only against Pakistan but also against the other minority communities in India. Their power and influence is rapidly growing by every passing day, and they neither believe in negotiations nor in peace. Their ideology of violence and hate is prospering by leaps and bounds, under the patronage of the BJP government, which is only increasing risks of a nuclear conflagration in South Asia.
S Z Khan, M.Phil, (Strategic and Nuclear Studies), National Defence University, Islamabad. Ex-Visiting Faculty Member, Roots International University College, Islamabad (Affiliated with The University of London).
Co-author of the book: Iran and the Bomb: Nuclear Club Busted.Contributions to: "Islam A Worldwide Encyclopedia" (Published by ABC-CLIO Greenwood, California, 2017), and, "The World and The Arab Spring",(Published by Palgrave Macmillan, UK, 2018)