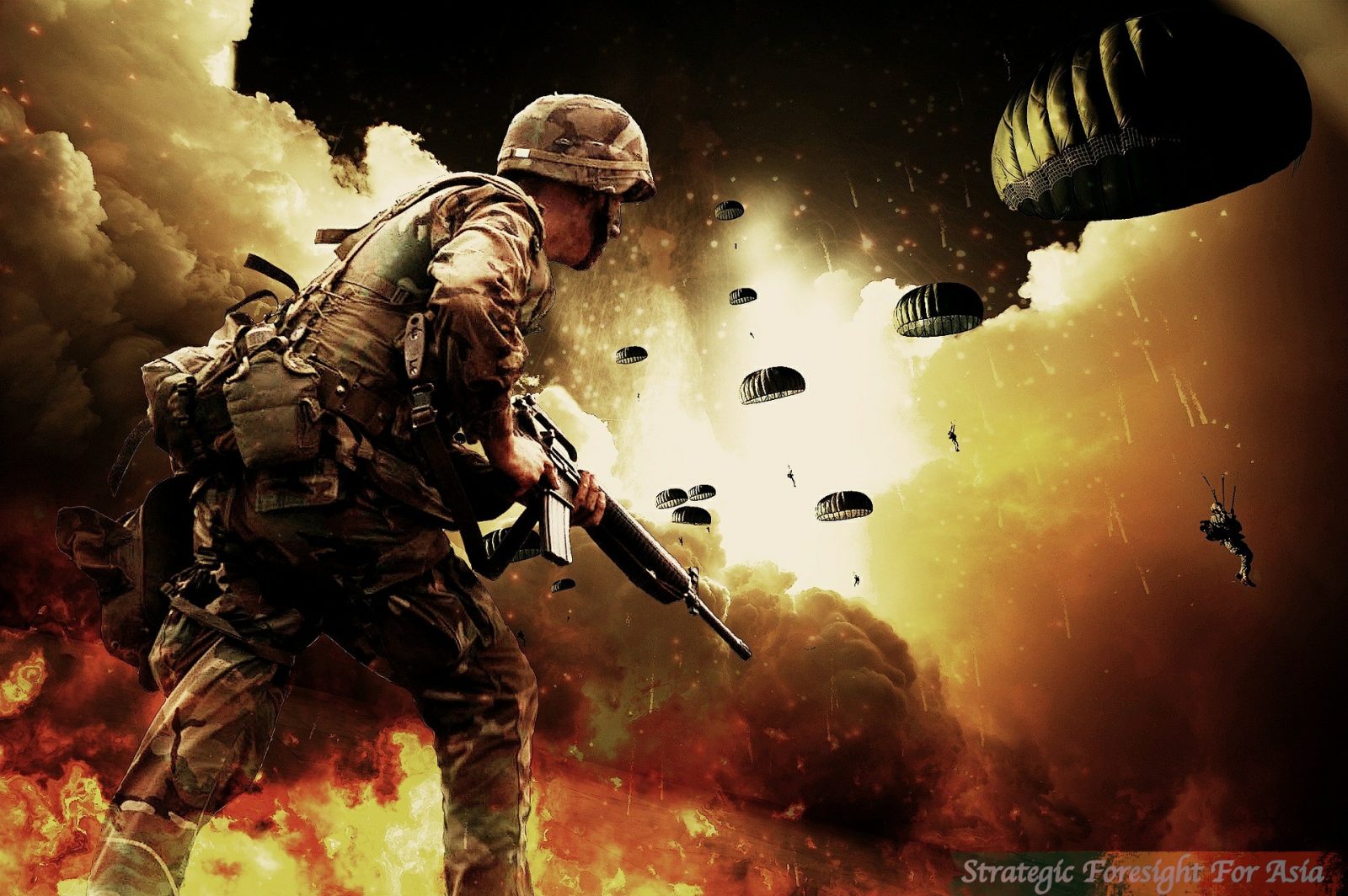 The philosophy of The Art of War, laid out by Sun Tzu in the 5th Century BCE, is as relevant today as it was thousands of years ago. His military thought has only become time tested and refined, despite giant leaps in technology and arsenal. Military strategists and practitioners pay special attention to Sun Tzu thought during military studies and planning. The lessons learned, translate to desirable results yielded during skirmishes or conflicts.
His thought can be summarized with these central arguments: 'If you know your enemy and know yourself, there is no need to worry about the result of a hundred battles.' But, he postulates, if you know yourself but do not know your enemy, then for every victory you will also suffer a defeat. Finally, he cautions that if you do not know your own capabilities and do not know those of your enemy, you will be defeated in every battle.
Knowing the real strength of your enemy in today's time and age has become easy due to faster means of communication and the online presence of abundant information. However, knowledge of invisible and impalpable capabilities becomes more important and needs to remain the focal concern, if one is to avoid deception and being taken by surprise. To execute deception successfully, the knowledge of intangibles gains enhanced significance.
The post-Pulwama spat between India and Pakistan during February 2019 added weight to Sun Tzu's philosophy of knowing and understanding one's enemy. The battle for 'claim and counterclaims' continues between the two nuclear rivals as tension simmers in South Asia.  More recently, Pakistan's Foreign Minister Shah Mehmood Qureshi revealed that India is likely to launch another attack on Pakistan, going so far as to mention the dates of April 16-20.
Almost a month earlier, India launched an air strike in Balakot, and Pakistan and claimed to have killed 350 militants belonging to Jaish-e-Mohammad. The Modi government has not provided either the general public or the international media with any proof for this claim in the shape of video, pictures or satellite images. A few days later, the Pakistan Air Force claimed to have shot down two Indian aircraft, a MiG 27 and a SU-30. The world also witnessed the Indian pilot who was caught by Pakistani forces and later returned to India as a gesture of goodwill.
The scenario is revealing and should be worrying, to say the least, for Indian war planners. While the Indian media has been busy in jingoistic anti-Pakistan rhetoric, there is a serious need in India for soul searching. Blaming Pakistan or even provoking through wishful surgical strikes will not change reality. And the truth is that there are some fundamental problems in the obsolete Indian arsenal, military morale, as well as the politicization and the Saffronization, to a great extent, of the Indian armed forces. The dissenting voices betraying increasing disenchantment and disassociation within the military might are being silenced, either through lack of media coverage or by labeling them as pro-Pakistani.
India's flying machines are akin to museum pieces and its arsenal could rightly be termed as 'vintage.' This confession and warning came from a member of the Indian Parliamentary Standing Committee on Defence, Gaurav Gogoi, who admitted that with almost 68% vintage equipment and only ten days' worth of supplies, Indian troops are expected to fight on multiple domestic and international fronts.
2019 has exposed the outdated Indian arsenal of war. The year started with an Indian Air Force (IAF) Jaguar crashing in Uttar Pradesh due to technical failure. A few days later, on 1st February, a Mirage 2000 crashed in Bengaluru due to a technical flaw. On 12th February, an IAF MiG 27 crashed near Pokhran range, again due to a technical fault. On 20th February, two Hawk trainers collided mid-air during rehearsals for Aero India in Bengaluru. Almost a week later, an IAF MiG 21 was shot down by the Pakistan Airforce JF-17 Thunder during aerial combat. The Pakistan Airforce claims to have shot down one more IAF aircraft (probably a SU 30MKI during the same confrontation). Yet another IAF Mi7V5 helicopter was shot down, reportedly by a Surface to Air Missile fired by Indian Air Defence Systems, near Sri Nagar on 27th February. On 8th March, another IAF MiG 21 crashed in Rajasthan due to technical failure. All of this has occurred in the first quarter of the year, and when Modi may be planning another (mis)adventure before the election, as claimed by Pakistan's Foreign Minister Shah Mahmood Qureshi.
Due to constant engagement in suppressing almost 36 active separatist movements in India, morale in the Indian military is effectively headed South. Videos recording discontent among soldiers over not getting enough rations surfaced in 2018 on social media. Instead of finding a solution to the problem itself, the soldier was expelled from the Army; ironically, he is contesting Modi in the 2019 elections.
India's military problems are exacerbated by repetitive deployments and fighting domestically. There are pockets of serious unrest in Chhattisgarh, Andhra Pradesh, Telangana, and Maharashtra. The Indian Armed Forces (Special Powers) Act has been used as a carte blanche by the army to kill, rape, torture and injure their fellow countrymen, women, children, the elderly and the disabled in Kashmir. Instead of introspection on the failed cross-border operation, Modi tried to score points by firing an Anti-Satellite (ASAT) weapon. The launch of ASAT proved to be more of an egoistic move to kill an 'enemy' no one had seen and which, other than NASA, very few probably really cared about.
To return to the importance of knowing oneself, another important lesson from Voltaire seems to have been forgotten by the Indians, which states that in a society with no space left for tolerance, civil war is likely to ensue. The Sangh Parivar focused on spreading Hindutva ideology, labels all Muslims as Pakistanis and all Pakistanis as enemies. Movements such as Shuddhi, Ghar Wapsi, Love Jihad, and Saffronization provide the worst spectre of human rights violations. This, coupled with the dangerous rise of the religious far-right in a nation carrying nuclear weapons, is not good news for domestic peace, nor for regional stability.
The dangers of excessive political dominance over Indian military decision making are also worrying. In the context of India and Pakistan, both armed with a dangerous nuclear arsenal, there is a need for leaders to know their own and their neighbour's capabilities. Modi's complete lack of comprehension and knowledge of domestic and regional military affairs, combined with nuclear weapons under his control, is a precursor for domestic unrest and poses a dangerous challenge to regional peace.
In 2019, PM Imran Khan stated on the National Assembly floor that if India continued with its aggression, matters could lead to war and would get out of the hands of both the leaders. Before that, the DG ISPR had said in a press conference that 'Pakistan will always dominate the escalation ladder.'
Yet there is one school of thought in Pakistan which actually wants Modi to win and stay in power in India because Modi has done a great favour to Pakistan. And that favour is uniting the entire nation behind one cause – defend Pakistan! Those behind such thinking hope Modi wins again and stays in power. One hopes, however, that he doesn't continue shooting himself in the foot.
Waseem Iftikhar Janjua is a PhD Scholar at National University of Sciences and Technology (NUST), Islamabad, Pakistan
Related Topics
Appraisal of Indian Army's LWD – Would It Remain Relevant In The Post Pulwama Period?