India's External Affairs Minister (EAM) S. Jaishankar has recently claimed that PM Modi's government ensured that "Pakistan remains on the Financial Action Task Force (FATF) grey list." Addressing a training program for BJP's parliamentarians on India's foreign policy, Mr Jaishankar also credited his government for influencing the United Nations (UN) and other multilateral institutions to take steps that ensured that Pakistan is kept under pressure. This admission by India's incumbent foreign minister raises several questions about the impartiality of the FATF and other multilateral organizations and India's role in influencing the decision-making process of these institutions that claim to be treating all countries equally.
Modi government's efforts to keep Pakistan in the grey list are not limited to the misuse of its diplomatic clout, but it has been employing all possible means to build a negative perception about its main regional rival of an unstable state. The timings and the nature of terrorist acts carried out inside Pakistan usually coincide with major international events, as was the case of bombings in Lahore which coincided with the ongoing FATF assessment, and for which Pakistan has once again blamed India. Jaishankar's recent statement may have further endorsed Pakistan's claim.
The FATF, which claims to have maintained neutrality in its assessment and decision-making process has demonstrated visible bias when it comes to India. Whether it is a case of a nuclear black market where Indian nationals were caught smuggling uranium, or EU Disinfolab scandal, or the funding and sponsorship of terrorist entities like the Baluchistan Liberation Army (BLA) to create unrest inside Pakistan, India has remained immune to the kind of scrutiny by the international institutions which is otherwise reserved for Pakistan and few other countries.
The EU Disinfolab report that was published late last year revealed that India was running a fake international network of over 250 media outlets, multiple and dubious think tanks, and NGOs, supported by entities connected to India to undermine Pakistan's image at the international level. Since such malicious campaigns are often sponsored by illegal resources and money the FATF must investigate these revelations while keeping in view the admission of India's foreign minister about his country's efforts against Pakistan.
In another major scandal that remained unnoticed by the FATF, at least 44 Indian banks were flagged in September 2020 in connection with suspicious transactions by Indian entities and individuals. The Suspicious Activity Reports filed by the US banks with the Financial Crimes Enforcement Network (FinCEN) revealed that over 2000 transactions valued at over $1 billion were carried out between the period 2011 to 2017. It is not yet known where and for what purposes this money was used and why international institutions like the FATF did not demand an explanation from India.
India has also been using its influence in various international think tanks and academic institutions to develop a negative perception about its regional adversaries, especially Pakistan. Almost all the major international think tanks and institutions have a South Asia section mainly staffed by Indian-origin scholars or like-minded western scholars. Sponsored and commissioned studies on South Asia are generously sponsored through business houses that are funded and owned by Indian entities.
It is not uncommon for countries to use some of these means to promote their legitimate interests in foreign capitals, but when a senior Indian government minister openly engages in blusters to please PM Modi, the legitimacy of international institutions and other entities engaged in propagating India's narrow interests becomes questionable. Countries that are adversely affected have the right to demand explanation and review their engagements with such entities.
Review Pakistan's Engagement with the FATF. Pakistan had earlier objected to India's involvement as the co-chair of the Joint Group for assessing Pakistan's credentials in the FATF. Reacting to the recent statement by India's EAM, Pakistan's spokesperson for the Ministry of Foreign Affairs stated that "while Pakistan has been sincerely and constructively engaged with FATF during the implementation of the action plan, India has left no stone unturned in casting doubts on Pakistan's progress through disgraceful means." Pakistan is also considering approaching the FATF President for appropriate action and bring the recent confession by India's EAM to the notice of the international community.
The statement from the Foreign Office spokesperson indicates that Pakistan will continue to bring necessary reforms and implement the remaining agenda item of FATF's Action Plan, but it needs to be realistic in its expectations from the FATF's review process.
At the domestic front, Pakistan also needs to tone down the debate on the issue of FATF grey listing to prevent unnecessary hype and expectations before every FATF session. Knowing the political compulsions and flawed working of these institutions it is unlikely that Pakistan will be taken off from the grey list in the immediate future even though Pakistan has achieved more than many other countries that have not been put on the grey list as yet.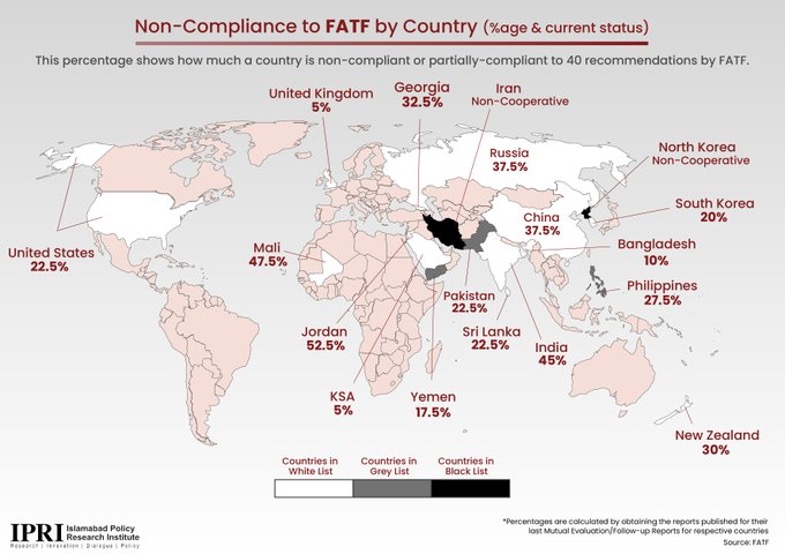 The changing geostrategic environment, deteriorating security situation in Afghanistan, and Pakistan's stand not to get unnecessarily embroiled in Afghanistan's internal situation would most likely be used by Pakistan's adversaries to foment more trouble inside its territory, as a means to keep Pakistan under the negative spotlight and to prevent a favourable decision from the FATF. Other influential members in the FATF, especially China may need to shed its ambiguous neutrality and use its economic clout to ensure that FATF and other international organizations are not misused for the short term political objectives of a select few. This is necessary for the credibility of these institutions and China's global image of a rising power.
Pakistan has been on the FATF grey list earlier and had survived since it is not an existential issue, contrary to the perception generated by extensive media debate. The more focus and energy spent on meeting FATF's unreasonable demands and to meet its shifting goalposts, the more leverage Pakistan would afford to the external powers who would continue to use it to extract political concessions. Pakistan must therefore do what serves its interests without having unrealistic expectations from the FATF or other major powers.
Finally, the FATF may have further strengthened the basic principle of statecraft that international relations are not driven by geo-economics alone but primarily by geo-strategic considerations. Since Pakistan continues to remain a pivotal state in the region, it cannot completely remain immune from the adverse effects of the emerging great power rivalry between the US and China as it impacts Pakistan's future choices as well. The challenge for Pakistan would be how not to get distracted in tactical battles like the FATF while using its geostrategic location to safeguard its national security interests without getting excessively embroiled in the emerging great power competition.