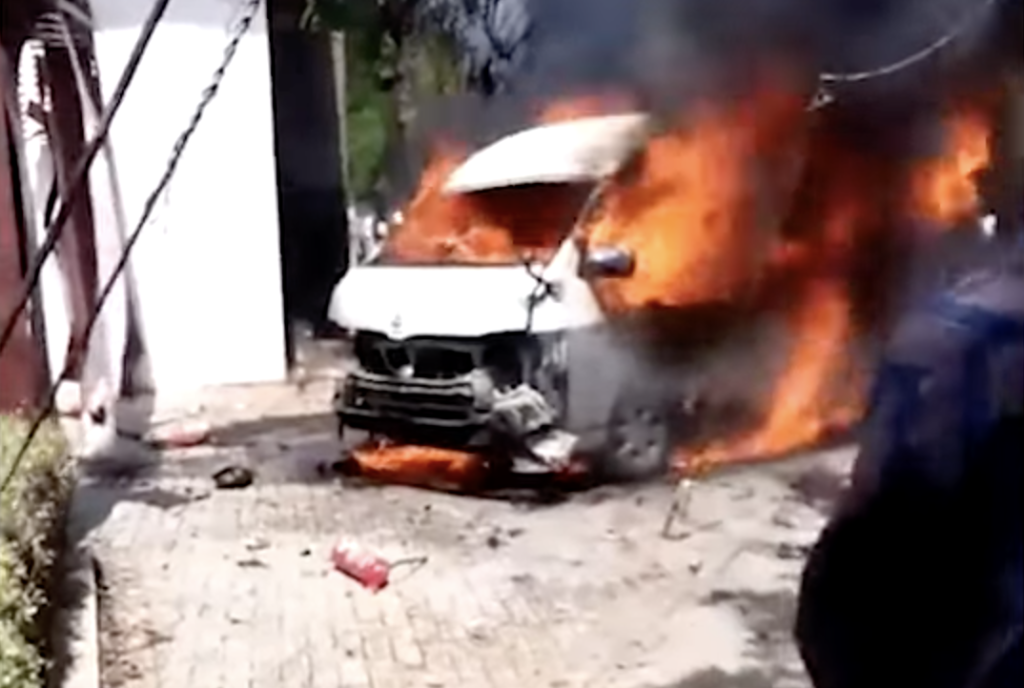 On the afternoon of 26th April, a van carrying Chinese nationals was targeted near the premises of Karachi University, one of Pakistan's premier educational institutions. What is now believed to have been a suicide bombing has been owned by the Majeed Brigade of the Balochistan Liberation Army, and was carried out by a woman of their ranks.
This is not the first time Chinese nationals have been targeted in the country. In November 2018, an attack claimed by the Balochistan Liberation Army was executed against the Chinese consulate in Karachi; it was courageously repelled by security forces who lost four of their number, while the staff of the consulate remained safe and unharmed. In July 2021, nine Chinese engineers lost their lives, alongside four Pakistanis, in a bus explosion in northwest Pakistan; while no terrorist group claimed responsibility for the attack, it was widely read as an effort to sabotage the China Pakistan Economic Corridor and drew a strong response from Chinese authorities and media alike.
The Karachi University attack, however, is different, for the fact that the deceased (three Chinese instructors and their Pakistani driver) and injured (one Chinese instructor and their Pakistani guard) were teachers of the Confucius Institute, and their Pakistani support staff. This was an attack against a group of educators, cultural ambassadors of China to Pakistan.
For the uninitiated, Confucius Institutes worldwide come under the Office of the International Council of Chinese Language (also known as Hanban), a non-governmental institution affiliated with the Chinese Ministry of Education. They are centers for teaching Chinese language and culture, and over 400 of them operate worldwide in more than 120 countries. In Pakistan, there are several of them in the major cities including Lahore, Karachi, Faisalabad, etc. The very first one, however, was opened on the premises of the National University of Modern Languages in Islamabad in 2005. Over the years, countless numbers of Pakistanis students across the country have studied under a dedicated team of Chinese instructors who guide them meticulously through the nuances of the language, while introducing them to the richness of Chinese culture. Being a part of the Confucius system opens all kinds of doors for further education and work opportunities for Pakistani students here and abroad. Many of them secure scholarships for further study in China and benefit from the global network of their teachers.
The Confucius Institutes have provided a significant platform for students of all backgrounds to study the language, compete internationally for their skills and attain exposure to a country of deep political, economic and cultural significance for ours. Pakistan is a hard duty station, yet the stream of instructors coming here to teach has remained consistent, despite the potential for risks involved. Their engagement with their students and the local population is genuine and sincere.
One of the deceased in the Karachi attack, Professor Huang Guiping is a stellar example of this dedication. He had established the Confucius Institute in Karachi University in 2013, having served as its first Head. After his term expired, he left Pakistan, but came back to serve and run the CI a second time. By all accounts, he was respected by his team and counterparts in other Pakistani cities for his professionalism and sincerity to his assignment.
It is important to note that the work of Chinese teachers in Pakistan pre-dates even the establishment of Pakistan's first Confucius Institute by several years. As an undergrad student pursuing a degree in foreign languages, I was a part of the Chinese language department in NUML, Islamabad. One of the founding departments of what had first only been the National Institute of Modern Languages, it had a long and proud history, with a Chinese Head appointed for a two-year period supervising a team of Chinese and Pakistani teachers. I still remember each teacher by name and can attest to their dedication. With particular fondness, I recall the then Head of our Department, Professor Gao, who invested himself in helping me secure a Chinese government scholarship to study the language in Wuhan for a year. It was a transformative experience and played a huge role in shaping both my career and my deep seated interest in China.
This is what makes the attack all the more terrible. Those who were targeted were ambassadors of peace and had a direct role to play in shaping perceptions of and goodwill between the two countries. A former instructor who had served at the Confucius Institute in Islamabad for nearly a decade shared how news of this attack is being received by the community of Chinese language instructors. "Those of us who have lived in Pakistan love the country and the people. Karachi has always been the one place our colleagues hesitate to be assigned to, but whenever they have taken up their duties, it has been with utmost dedication and professionalism. After this attack, it will not be surprising if those still serving are hesitant to renew or even complete their contracts of service here." The dark mood, she shared, was reflected in the community of global instructors who are awash with news of what has just happened.
The impact this will have on students of these Institutes is significant. The intensive security measures that are taken to protect the Chinese contingent hosted in Pakistan includes strict curfews which prevent them from going outside their residential premises alone or unsupervised after a certain hour; in the toughest of times, there have been months of restrictions on even commuting within the same city for anything other than essentials, much less traveling to other parts of the country to explore it. This strict check in itself takes a toll on the mental health of the teaching staff. If the response to Tuesday's attack is a sudden dearth of teachers who might be willing to serve in a volatile environment such as this, it will have a severely negative long term impact on those who benefit from this learning: Pakistani students. The same teacher shares, "I have seen firsthand how much a Chinese teacher can do for an ordinary student with no connections to the Chinese embassy or network of Chinese companies and institutions. We teachers have served as a faithful bridge between the two peoples, working hard to do our absolute best for them. Those who will suffer the most as a result of this attack are the Pakistani students and the opportunities available to them."
Amidst the standard outpouring of condolence messages by government officials and others, it is important to emphasize the resilient nature and heroic efforts of the Chinese language staff that continues to work in Pakistan and the centrality of their efforts to the cause of bilateral relations. That the Confucius Institutes are a formidable source of public diplomacy for the Chinese government stands equal in measure to the fact that they provide an essential service to Pakistani students. Potentially at risk is the future of scores of candidates for higher education, government service, big and small business, media, etc. The pool of Pakistanis proficient in the language that has been strengthened over the last decade feeds into a wider framework that is central to not only Pakistan-China ties but also to our socio-economic progress and cultural development. To that end, educators and administrators of educational institutions must voice their solidarity with those who have been targeted and must reiterate publicly the importance of continuing the work of the Confucius Institutes in Pakistan.
Even as the government of the day vows to bring the perpetrators to justice, it must play its part in assuring the Hanban authorities that Pakistan wishes to continue benefiting from the services their institutes provide. This is not an area we can afford to suffer in for its long-term geopolitical implications and far reaching consequences.