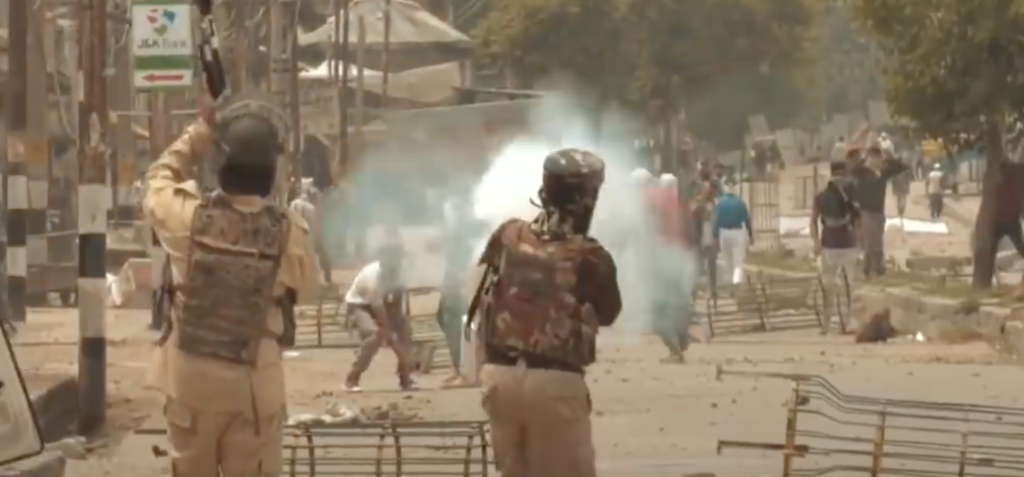 Kashmir till date has remained a powder keg of anger and a bone of contention between the two nuclear powers of South Asia (India and Pakistan). Since its independence, the issue of Kashmir has influenced the course of Pakistan's foreign policy, and remained at the top of foreign policy priorities. Posing a threat to the deterrence stability of the region, this issue marks its importance as an international issue. Several Security Council meetings have been held on the dispute, but no possible solution came out. Revocation of Articles 370 & 35A has changed the dynamics of Kashmir struggle and now it has entered a revolutionary phase. Pakistan's support for its Kashmiri brothers and sisters remained unassailable throughout the episode. Diplomats were the front runners in the process and their efforts were concentrated towards highlighting Indian atrocities and their Nazi mindset. Indian Saffronism in the pretext of Hindutva is an attempt to jeopardize the rights of Kashmiri Muslims. This issue can bring both the nuclear neighbours at daggers drawn.
Pakistan's diplomatic struggle for Kashmir. The diplomacy of Pakistan has been vigilant and supportive throughout the Kashmir struggle. Since 1947, Pakistan's policy has been to achieve Kashmir's accession to Pakistan. Pakistan's stance is that Kashmir is indivisible, and Kashmiris should be provided the right to self-determination in light of UN resolutions. After a military defeat and the loss of Bengal, Pakistan was weakened both politically and militarily. It was time for the re-evaluation of Pakistan's foreign policy. Bhutto's rhetoric at that time indicated that Pakistan was determined to continue the struggle for Kashmir. A new strategy was needed to confront India. Conventional military options were unviable, therefore, during the 70s, Pakistan's Kashmir strategy reverted to pre-1965 diplomatic measures. This strategy was maintained until 1999 when Musharraf came into power and the expedition of Kargil was launched. However, Kargil turned out to be a strategic and diplomatic failure, causing the disgrace of Pakistan around the world.
Diplomacy at that critical time focused on maintaining the status quo rather than addressing the core issue. Such approach resulted in a diplomatic fiasco; they nullified gains on the battlefield. Post 9/11, the situation worsened when Indians tried to correlate the legitimate Kashmir freedom movement to that of terrorist activities in Afghanistan. The diplomatic efforts at that time were to support Americans on the anti-terror campaign and in this way save the Kashmir movement, because the denial of US support could have strengthened the Indo-US alliance resulting in US support to India against Kashmir's freedom movement. After attacks on the Indian parliament, India blamed Pakistan and termed these attacks as 'the Indian 9/11'. Pakistan's perspective on the issue was; "Kashmir runs in our blood. No Pakistani can afford to sever links with Kashmir. We will continue to extend our moral, political and diplomatic support to the Kashmiris."
Diplomatic failures like Agra Summit in 2001 and Indian hypocrisy leading to zero tangible progress on several rounds of dialogues stalled any possible solution of the Kashmir issue. After 2008 elections, Pakistan People's Party (PPP) came into power. Having anti-Musharraf sentiments, they reversed the changes made by the previous government. PPP's president, Asif Ali Zardari's stance on the Kashmir struggle was: "Kashmir cause should not become an impediment to normalization between India and Pakistan." He later asserted that his statement was wrongly interpreted. Whilst it is evident that even after multiple meetings with the Hurriat Leadership, bilateral dialogue proposals and UNGA speech of Zardari, the PPP government failed to produce an effective response to further the Kashmir cause. Similar efforts were carried out in Nawaz Sharif's tenure, but all in vain.
Limits of diplomacy. The task of diplomacy is continuous, arduous and demanding. It requires ample knowledge and extraordinary skills. Pakistan luckily had the good luck of having some professional stalwarts leading our foreign office. There are certain limitations in our foreign policy and diplomacy regarding Kashmir. The outcome of any national effort depends upon the synchronization and co-ordination amongst various elements of power, diplomacy being only one such element. If we consider the recent episode of abrogation of Articles 370 & 35A, Pakistan with the support of China called a UNSC meeting but no solid results came of it; the unilateral Indian decision remained unchallenged. Indians, using their media power, became successful to some extent, portraying Pakistan as a supporter of terrorist activities in Kashmir. An analytical view is that because of this perception that Pakistan covertly supports militant groups in Kashmir, Islamabad now has 'little credibility' on the issue.
Way forward. India's attempt at changing the demography of Kashmir by scuttling Articles 370 & 35A is crystal clear. The plan is to make an 'Akhand Bharat' having Hindu supremacy. Nazi Modi along with his racist BJP team have malicious intentions against the legitimate freedom struggle of Kashmiri Muslims. Indian policies are driven by the concept of 'Hindutva', and such policies have not only regional but also international implications. Pakistan has to take outright measures which could have international outreach to secure the Kashmir struggle. The following are some ways which could be helpful in supporting Kashmir cause on diplomatic grounds:
International lobbying:
Pakistanis living in the western world do not need tanks or guns to pursue the Kashmir struggle. A pen and intellect are more than enough for successful lobbying which could be effective in gathering support internationally. The Kashmiri diaspora should participate by widening the scope of cooperation with Muslim and non-Muslim groups who believe in humanity. There are five basic aspects of lobbying for Kashmir: pen, intellect, informational facts, human resources and financial support. Those who are aware of the Indian atrocities in Kashmir should create awareness in their localities regarding Kashmir's fight for freedom. They should try to convince their respective parliamentarians and lawmakers to visit the devastated valley. Diplomats and overseas Pakistanis should act as a bridge between the Kashmiri and western community to provide updated knowledge about the humanitarian crisis in Kashmir.
Adopting a multilateral approach:
Considering the current Indian government's anti-Pakistan rhetoric, a bilateral approach will not help the Kashmir issue. Simla agreement has also lost its relevance after Indians changed the special status of Kashmir. Article 60 of Vienna Convention on the law of treaties states, "If a country commits material breach of a bilateral treaty, such as India has done in case of Simla agreement, the other country is entitled to terminate the treaty." Therefore, the first step for Pakistan is to consider a withdrawal from the Simla agreement and then seek third party mediation on Kashmir, but such an option should not be misunderstood as the suspension of communication between the two countries.
The UN Secretary General Antonio Guterres laid emphasis on the multilateral resolution of disputes. Pakistan should cash this opportunity and engage with the UN's high level advisory board on mediation for a possible solution of the Kashmir conflict. Pakistan should also ensure that it uses its geo-strategic location to its maximum advantage for building global pressure on India. Being a huge market because of its large population, India would remain a close ally of western powers like US, but Pakistan given its role in the region especially in Afghanistan can use it for a give-and-take policy. Similarly, it should urge China which is an all-weather strategic partner to Pakistan to take a firm stance to support Kashmiris internationally.
Enhancing one-on-one discussion:
Realistically, India is stronger than Pakistan on diplomatic grounds; they have been more successful in perspective-building as compared to Pakistan. Even though it's hard to have a successful dialogue with Indians on Kashmir, we still need to develop a robust diplomatic channel which works on a give-and-take policy. One-on-one discussions should not be totally culminated. PM Imran Khan called for a complete blockade with India after India revoked the special status of Kashmir but, realizing the importance of composite dialogue in an issue as delicate as Kashmir, he tried to revive the back-door diplomatic channel with India through Kartarpur corridor.
Public diplomacy over Kashmir:
To expose the real face of India, social media should be used as a tool. Diplomacy along with the power of social media can counter the fascist Indian mindset regarding Kashmir. Pakistani youth and students should counter false Indian narratives. They should appraise the world about the barbarism that Indian military is subjecting upon the poor Kashmiris. Social media can pave a way towards strengthening the Kashmir cause. Youth should keep themselves up-to-date with the situation in Kashmir and run social media campaigns. There are 3.81 billion social media users in the world which makes it an impactful platform. Any campaign on social media will have a global outreach and it can be helpful in making people aware of the issue and the human rights violations being committed by Indian authorities in the valley.
Conclusion. To conclude, it can be said that if there's a way left for a possible breakthrough in the issue of Kashmir, it would be through the diplomatic channel. The solution to this perplexing issue cannot be a war between the two nuclear states. A diplomatic dialogue with comprehensive solutions is needed which benefits every stake holder, making a win-win situation for all. Just like the Musharraf-Manmohan four-point plan, a more modernized approach is needed which could break the ice. Delaying the resolution of this delicate issue can bring serious consequences. Indian belligerence in the face of Balakot strikes and Pakistan's swift retort is an indication that things can heat upin the future as well. The possibility of a nuclear war is not evident in the current circumstances, but it cannot be overlooked.