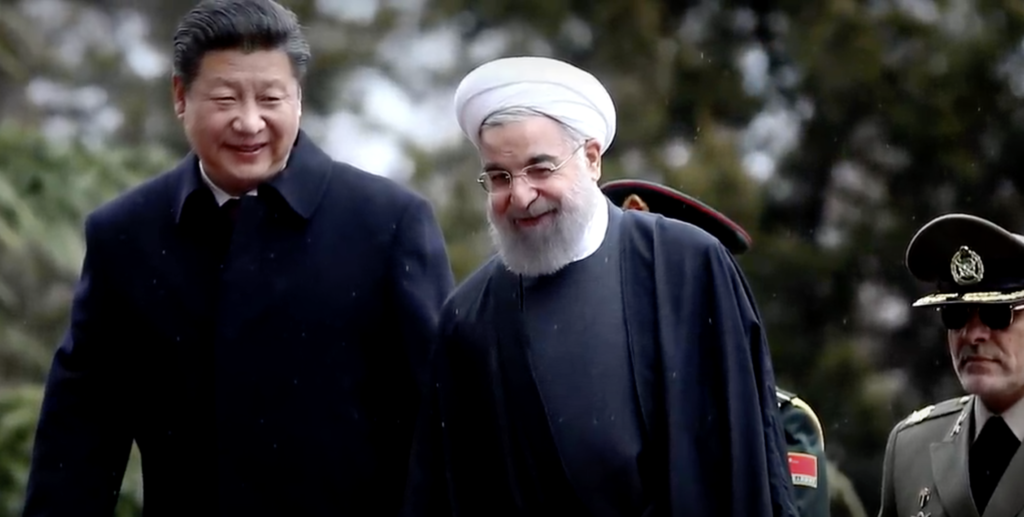 The whole world is eyeing the new economic and strategic partnership between Iran and China. According to a report in the New York Times, the agreement is worth 400 billion dollars under which Iran will provide oil to China at cheap prices for the next 25 years; in return, China will invest a huge amount to build the weakened Iranian economy and infrastructure. Moreover, China will cooperate with Iran in the technological, industrial, energy and scientific sectors. This is a significant breakthrough for the Iranian economy which is under severe strain due to US sanctions.
A few days after the agreement was announced, Iran declared India would be removed from the Chabahar project. India was to build a railway track from Chabahar to Zahedan, but due to the Modi's regime failure to provide funds for the project, Iran has undertaken it on its own. These recent developments between Iran and China have major implications for regional politics as well.
Back in 2016, China and India both offered to invest in Iran. India was probably keen to invest because at that time, Iran and the US were looking to reach on a deal regarding Iran's nuclear program. But Indian interests regarding investment in Iran decreased over the years. This is likely due to Trump having withdrawn from the JCPOA, and India could not afford American displeasure. On the other hand, China availed the opportunity and engaged Iran with a huge economic investment and geo-strategic partnership. China's increased influence in East Asia and Africa has successfully challenged the American hegemonic status; by engaging Iran, China aims to open a new battlefield against the US in the Middle East too. The Iran-China economic and geo-strategic partnership impacts not only the US but also the latter's allies like Saudi Arabia and the UAE. The deal has created a win-win situation for both partners, bringing Iran out of economic isolation while also allowing China to level a real threat against US dominance in the world. The economic pressure built on Iran by US sanctions will decrease to a large extent due to this bilateral agreement. Due to Trump's harsh policies, foreign investment in Iran had almost ceased, but the recent agreement can speed up the developmental process in Iran. Iran has faced some serious security threats from enemy states like Israel, something this strategic partnership will go a long way towards addressing in terms of security. At the same time, China will able be able to leverage the gas and oil products from Iran to positively impact its Belt and Road Initiative.
The recent deal has no fruitful consequences for India and can only hurt India's interests in the region. A few years ago, Iran was the major state exporting oil to India, but India stopped this due to US sanctions. India's investment in Chabahar port, which was of strategic importance for it, was aimed at countering the Gwadar port of Pakistan. Now, the presence of China severely curbs benefits to India's policy in the region.
India has traditionally followed a non-alignment policy in international conflicts. But in recent years, the ultra-nationalist approach of Modi's regime has impacted its foreign policy. It seems that India is going into the US bloc in having backed from several Iranian projects. India should realize that the conflicts between Iran and the US, China and the US, and the US and Russia are not its conflicts, and should focus more on its self-interest.
Pakistan can utilize the recent situation to further push India into a blind alley. This deal has significant effects for Pakistan in a number of ways. For instance, in the past India has used Iranian soil against Pakistan; the spy Kulbhushan Jadhav was also sent to Pakistan from Iran. Moreover, Pakistan has shown India used Iranian grounds for fomenting the insurgency in Baluchistan; therefore, the removal of India from certain major projects in Iran is a breakthrough for Pakistan. Pakistan realizes that a decreased Indian presence on Iranian soil is directly proportional to peace and stability in Pakistan. In this regard, Pakistan should adopt a proactive approach towards Iran and ensure smooth relations, especially in terms of the futures of the Chabahar and Gwadar ports. Gwadar is a flagship project of the China Pakistan Economic Corridor and China aims to invest in Chabahar port; so Pakistan can work towards making both ports complement each other. Pakistan can capitalize on China-Iran nexus for not only improving its weak economic conditions but can also further Indian isolation in the region. For this, Pakistan needs to engage regional stakeholders more and capitalize on areas where India has shown weakness.