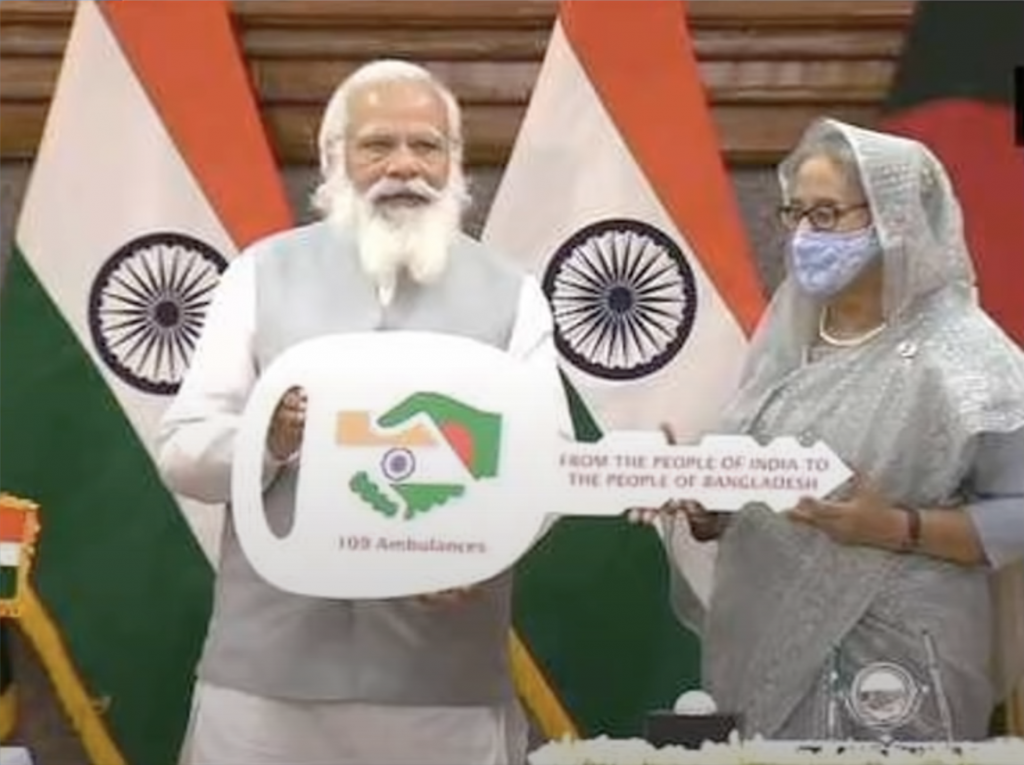 'Political Society does not conduct foreign policy to live, it lives to conduct foreign policy'
(George. F. Kennen)
The Integrative and Inclusivist perspective of India-Bangladesh relations are being witnessed when Bangladesh is celebrating Golden Jubilee of Bangladesh's existence and Birth Centenary celebrations of the Father of the Nation Bangabandhu Sheikh Mujibur Rehman and India is celebrating its victory of 1971 War. India as a close and overarching neighbour has a key place in Bangladesh's foreign policy and have proximity on several fronts. A long phase of distrust was transformed into a positive gesture when Sheikh Hasina led Awami League came to power.
After resuming power, Sheikh Hasina's government took several initiatives to improve bottlenecks in relations with India. Prominent among them were the border settlement with India and a credible note of declaration by the External Affairs Minister (EAM) of Bangladesh Dr. Dipu Moni in 2009 for reiterating their government's commitment for zero tolerance to anti-national activities of rebel groups active in Northeast regions against India, on Bangladesh's soil.
The impact of this commitment has been reflective on the ground as, insurgency at North-eastern States like Assam, Meghalaya and Tripura has been reduced drastically in the recent years. Several rebel groups once active in these states were being forced to migrate to Myanmar form various hamlets of the border areas of Bangladesh. The Home Ministry of India has extended revocation of Armed Forces Special Power Act (AFSPA) comprehensively from Tripura in 2015 Meghalaya in 2018 and Assam in 2019 and which shows a sign of normalcy being restored in these conflict prone regions. The AFSPA Act, 1958 was passed by Parliament of India which gives power to Army and other Central forces deployed in disturbed areas to detain and take punitive action against defaulters without a warrant. Tripura, Assam and Meghalaya are now restoring towards a normal life as anticipated in a democratic setup. This development is self-explanatory for Sheikh Hasina government's credibility to fulfil their commitment towards India.
However, paradoxes of this positive note become contentious when we talk about river water issue which is yet to resolve. A demand by Bangladesh to enhance its river water share from Teesta river which passes through West Bengal and Sikkim in India before being merged in Bay of Bengal since, it caters to their agriculture needs to a larger extent. Teesta is the fourth transborder river between India and Bangladesh. The domestic entanglement between Union government and State government of West Bengal has over shadowed it thus, becomes a question in the bilateral relations which may affect the above- mentioned positive note in the relations. A statement by former EAM of Bangladesh Sri Morshed Khan that, 'If Bangladesh was India-locked, then Tripura was Bangladesh locked' clearly reflects sentimental zigzag of policy makers on one hand and its effect over the connectivity and development of North-eastern States in India in the long run.
It is also pertinent to mention that Bangladesh's geopolitical location is critical for the North-east since, North-eastern region is all set to become hub for Act East policy of India. The author has argued (during a virtual lecture at Tripura Central University, Agartala, Tripura) that, the idea of 'Sub-Regional Cooperation' comprising of India-Bangladesh-Myanmar is of immense significance since, it could enroute the future of East Asia and as well as Southeast Asia. To work on common goals would greatly help India to fulfil its dream of being a 'Rising Regional Power' in South Asia and Would make a way for rapid development of the fastest emerging economy of Bangladesh.
A continuous spurt of connectivity and cross border engagements between India and Bangladesh especially like Border Hatts at Tripura and Meghalaya, establishment of first Special Economic Zone (SEZ) Sabroom in Tripura, and enhancing efforts under BCIM corridor project etc. are some vital endeavours to mention. In fact, this model shall also help Myanmar to overcome its backlog in economic development in a great manner since, it shares common borders with both India and Bangladesh. India has also enhanced its commercial stake in Myanmar by investing in the Kaladan Multipower project and other infrastructural developments which has been relevant for the development of Myanmar as well. This equation would also help to resolve much awaited humanitarian crisis like Rohingya which has affected altogether the three countries.
Since, Chinese Ambassador to Bangladesh Li Jimming recently remarked, Bangladesh to act cautiously over it becoming a member of QUAD, an emerging alliance of India, U.S, Australia and Japan to counter growing Chinese influence in Asia Pacific region, Bangladesh has reacted candidly over these suggestions and rehearse its sovereign priorities in foreign policy matters and emphasized not to suggest anything. For India, it is to understand that pro-India policy of Sheikh Hasina government requires a prompt reciprocation, especially to resolve the contentious issues.
The Indo-Bangla trade is highest and largest in East Asia amounting to India's exports to Bangladesh for the financial year 2018-19 stood at the US $9.21 bn and imports from Bangladesh for the same period stood at US $1.22 billion. It is important to note that, Bangladesh's economy is industry centric and it can play a major role in making North-eastern region of India as hub for transborder corridor as projected under the Act East policy of India.
Both India and China are pursuing Myanmar and Bangladesh to become a lead player in their region. Thus, smaller countries are in win-win situation. The most important factor for India to concern is to resolve contentions in the relations.
For Bangladesh, it is pertinent to think India's greater significance is its development and an accommodative approach with a real commitment not to intervene into the internal affairs of its neighbour, which China might overlook. Both the Prime ministers issued a joint statement 27th March, 2021 which corroborates deep historical and fraternal ties and reflect an all-encompassing bilateral partnership based on equality, trust and understanding that transcends even a strategic partnership between India and Bangladesh.