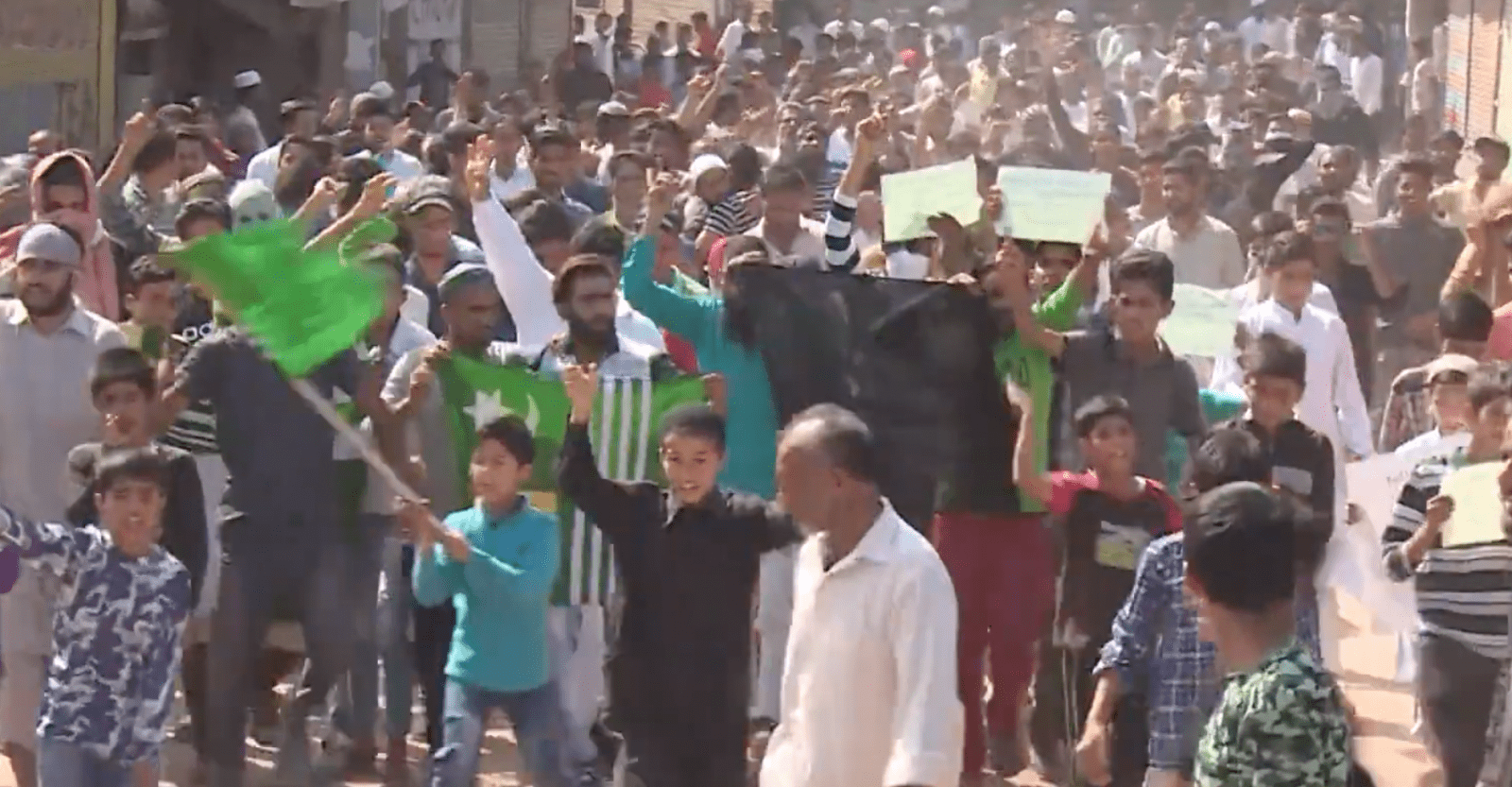 Writing precisely 2 years before Modi's blunder of annexation of Occupied Kashmir on August 5, 2019, the grand niece of Jawahar Lal Nehru, Nayantara Sahgal, presciently wrote in The Guardian on August 5, 2017 that "another partition (of India) stares us in the face".  She accused Modi's RSS of "dividing India once again into Hindus and others as the RSS wants to make the country a Hindu Rashtra".  And she concluded that "we are rapidly marching towards a horrifying future".  It is now clear that the annexation of Occupied Kashmir by Modi's India is a blunder of Himalayan proportions, unleashing consequences which cannot be controlled.  Perhaps, it can be compared on the same scale as Hitler's monumental miscalculation of June 22, 1941, Operation Barbarossa, invasion of the Soviet Union after he had easily conquered Europe, with only Great Britain resisting.  A combination of arrogance and ignorance about ground realities backed by a fascist ideology that sought to impose its military diktat became the first step in the unravelling of the Third Reich.
Six weeks after the annexation of Occupied Kashmir, it is clear that Modi has bitten off more than he can chew.
Consider the consequences:
Modi has divided India on political and communal lines that can have grave implications for Indian national unity;
Kashmir has been internationalized in a manner that was never done to this extent, at least not since the 1965 India-Pakistan war, with wholesale condemnation of the Indian action from Beijing to Brussels;
It has galvanized separatists within India ranging from Nagas who are now setting new pre-conditions in their talks with New Delhi seeking their own flag and constitution as part of a broader autonomy arrangement, while the Sikhs are actively campaigning for the Khalistan Referendum in 2020;
China has also been alienated since China, now like Pakistan and the Kashmiri people, is directly party to the dispute because of Modi's action to partition Kashmir and declaring Ladakh a Union Territory, an act Beijing termed as 'unacceptable';
The worst possible consequences have been within Occupied Kashmir where resistance to repression has been rising, with an unprecedented curfew and  continuous lockdown, complete cut-off of all communication, a situation that did not even prevail during the height of the siege of Stalingrad or Leningrad during World War II.  6000 Kashmiris have been arrested without any charges and sent outside Occupied Kashmir to jails in India ranging from the octogenarian former Chief Minister Dr. Farooq Abdullah to young teenage girls whose only crime has been to talk of 'Azadi' (freedom).
While there is a lot of bombast, bluff and bluster in Indian posturing even nuclear sabre-rattling with the August 16 statement of Defence Minister Rahjnath Singh  questioning the utility of India's professed "No First Use" policy, the fact is that, deep down, the Indian Establishment, particularly the RSS gang led by Modi combines a curious mixture of hatred and fear of Pakistan.  They have what can be termed as the "Mehmood of Ghazni Complex", in order words, a fear that 'Muslims will swamp India since they realize from history that size does not equal strength.  Mehmood of Ghazni has always been a very fascinating figure for the Hindutva ideologues who view Muslims "from the North" as his potential successors and Modi, who is from Gujrat state, also knows that the famous Somnath Temple is also located in this State which was a favourite target of Mehmood of Ghazni. More than any other act, this still rankles in the Hindutva mindset. In 1978, when Atal Bihari Vajpayee as Foreign Minister of India was visiting Kabul, he expressed his earnest desire to visit Ghazni 'as I want to see how Mehmood the marauder conquered India from that little place.'  And Allama Iqbal, invited by the King of Afghanistan in 1933, first went on a 'pilgrimage' to Ghazni to pay homage to memory of Sultan Mehmood of Ghazni. It is thus no accident that Modi declared his intention to "free India from 1000 years of slavery".
For Pakistan, it should be clear that an existential threat is posed by this annexation of Occupied Kashmir by Modi's India since it is the most important development for South Asia since 1971, as the geography of the region has been changed.  Modi and his gang are also fervent believers in the notion of "Akhand Bharat" (Greater India).
Given this context, Pakistan needs to pursue a three-pronged strategy with a kind of clarity and commitment that Pakistani policy makers demonstrated while building the nuclear Bomb.  Once the decision was taken in 1974, the Bomb project was pursued to its logical conclusion in a relentless, single minded manner, irrespective of any outside pressures and it achieved success when Pakistan detonated its own nuclear device on May 28, 1998 which was undoubtedly Pakistan's finest hour.  Such a strategy should target Modi and Co. and separate them from the broader Indian society and political leadership that opposes Modi, along with forging a united front of all Kashmiris and the linkup of the Kashmiri resistance with other insurgencies inside India. Close coordination with China and the rest of the international community through a strategy sustained by national stamina are the need of the hour.  70% of the battle will be won through the 'battle of ideas', via media, think tanks, NGOs, civil society, Human Rights groups, parliamentary and public diplomacy, citizen activism and the Pakistani-Kashmiri Diaspora.
For example, the Kashmir Khalistan Referendum Front's recent lawsuit accuses Modi of crimes against humanity as his regime has inflicted "deliberate, wilful, wanton, malicious, intentional and oppressive" killings of Muslims in Occupied Kashmir. The civil complaint against Modi for his human rights violations has been filed under The Torture Victim Protection Act of 1991, a federal statute that allows civil suits on American soil against foreign officials accused of committing torture or extrajudicial killings. So an American Court is going to try Modi for his crimes against Kashmiris!
Modi must face similar legal censure in Europe where courts have universal jurisdiction on human rights violations, as was done in the case of Chilean dictator General Pinochet.
Pakistan's focus should be on a national narrative whose contours can revolve around Arundhati Roy's classic article in The New York Times of August 15, 2019, "Silence is the Loudest Sound", which says it all:
There is a 'distinct whiff of colonialism in the air' in the aftermath of Modi's annexation, which former US Ambassador to Pakistan, William Milam, has compared with Hitler's annexation of Czechoslovakia's Sudetenland in 1938 or Mussolini's conquest of Ethiopia and Libya around that period;
'RSS is the State' in Modi's India;
'An Architecture of Indian fascism is quickly being put in place';
"There has not been a single year since 1947 when the Indian Army has not been deployed within India's borders against its 'own people'. The list is long, Kashmir, Mizoram, Nagaland, Manipur, Hyderabad, Assam".
Luckily, again geopolitics has come to Pakistan's rescue, providing strategic space for Pakistan to promote the Kashmir cause for the next couple of years for three reasons:
President Trump has linked his re-election in 2020 with the Afghan peace process in which Pakistan's role is pivotal, hence, Trump feels that the road to the White House lies through Islamabad;
Thanks to China, which is providing strategic "air cover" to Pakistan through CPEC, the Pakistan-China alliance has been further solidified for the common cause of a joint strategy to counter India. Since August 5, two high level delegations from China visited Pakistan: the military delegation arriving on August 26 included the Chinese People's Liberation Army Commander for the region bordering India, while Foreign Minister Wang Yi arriving on September 6 reaffirmed Chinese resolute diplomatic support to Pakistan;
With the Gulf in turmoil and Iran unwilling to blink in the face of American pressures, the prospects of another military conflict in this region is something that the Americans do not relish, more so, as a key pillar of the US regional strategy, Benjamin Netanyahu, an ideological soulmate of Modi's, is struggling to politically remain relevant after failing to win the Israeli elections.
If the August 5 wrong is not reversed and the Kashmiri people denied even their basic right to life, there is little doubt that Modi and the RSS Gang may end up presiding over a deeply-divided India that will start sinking in the Kashmir quagmire, and the slowdown of the Indian economy  is a precursor of that new reality.
The Kashmir crisis presents challenges and opportunities for Pakistan to seize and pursue a clear sustainable strategy that best preserves, protects and promotes the interests of Pakistan and the Kashmir cause that we are committed to espouse. Let us learn from history. The American betrayal during the 1962 Sino-Indian War presented Pakistan the choice to pursue friendship with China. India's surprise nuclear tests of May 1998 enabled Pakistan to become a nuclear power. And Modi's Kashmir blunder is an historic opportunity to present the true face of a fascist and racist India whose divisions are deepening, an India at war with itself, having buried the Nehruvian ideals of secular pluralism that were once India's main claim to fame. For Pakistan, the choice is clear: Consensus at home and courage to pursue the Kashmir cause with clarity and commitment are the need of the hour, and our leadership must rise to the occasion. As Quaid-e-Azam aptly stated, "let it not be said that we did not prove ourselves equal to the task"!