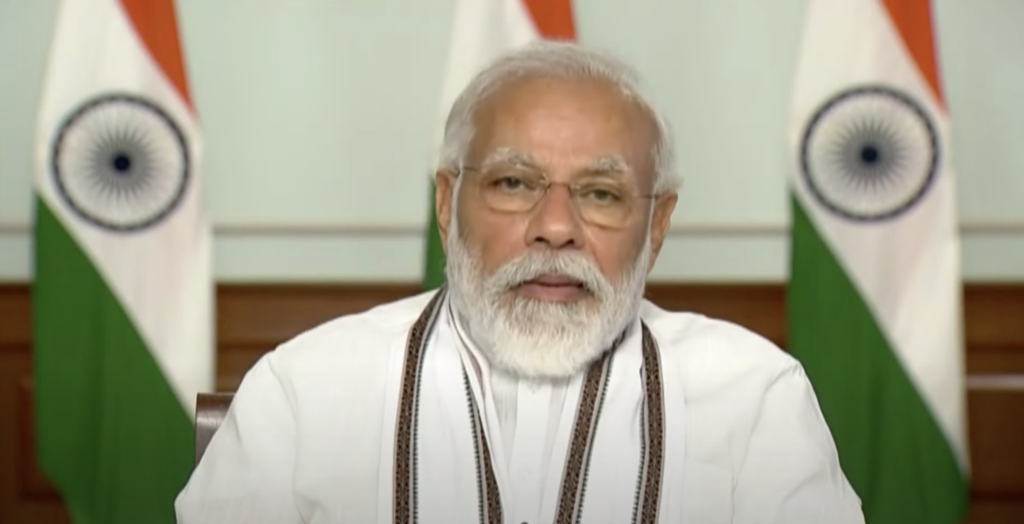 Machiavelli, in his seminal work The Prince, alluded explicitly to the distinction between the effective and theatrical parts of an enduring political order. He outlined that an effective political order not only has an "efficient part" (which formulates socio-economic development programs, administers, and governs them), but also a "theatrical" part (which symbolizes certain common traditions and ideals, strengthening the bonds that unite men under rule of that particular order). Through the promotion of this theatrical part, the political order creates public support for it.
Narendra Modi-led Bharatiya Janata Party's (BJP) Hindu-nationalist government has politically transformed India by promoting Hindutva ideology in the polity in order to strengthen its political order. Hindutva ideology seeks to create a privileged status for Hindus in India and across the globe. The right-wing BJP is leading this Hindutva project by using legislative and executive powers of the existing political order (government) under Prime Minister Narendra Modi. BJP promotes the idea that they can only adequately protect the interests of the majority Hindu population. They are changing the political culture of India through an identity transformation process of masses from secular democratic norms to Hindu nationalist values.
The founder of Hindu nationalism, Vinayak Damodar Savarkar, aimed for establishment of Hindu order in India. As he wrote in his 1923 book, Hindutva: Who Is a Hindu?, "To be a Hindu means a person who sees this land, from the Indus River to the sea, as his country but also as his Holy Land." This Hindu person was, in Savarkar's view, the paramount Indian citizen. Everyone else was at best a guest, and at worst the bastard child of foreign invasion. Thus, this ideational factor adds religious dimension to the BJP's objective of creating a Hindu order in India. Changes in the political orientation of the masses through the changing political culture of India will generate public support and legitimacy for the Modi government's policies.
The Modi government has promoted Hindutva politics in order to divert public pressure and mass disillusionment from India's slowing economy to theatrical issues of Hindu religious values such as the Babri mosque demolition case and construction of Ram Mandar project. According to data from the IMF, total investment as a percent of GDP peaked in 2011 at almost 40 percent of GDP, but has declined steadily to 31 percent in 2019. This has resulted in an increase in unemployment rate, which has spiraled up to 8.5%. These are the pre-pandemic statistics. The situation of unemployment and economic compression in post-pandemic will be worse due to the global financial crisis triggered by the economic fallout of this pandemic.
Modi's India has faced faltering economic growth with 4.5 percent recorded in the latest quarter of fiscal year 2019-20, which is the lowest since 2014. This economic slowdown has been the result of the confusing economic policies of Modi's regime. It has increased public pressure and alienated masses due to poor economic performance of the BJP government. Modi is using ideational communal politics to divert the attention of masses from the economic decline of India under his government.
Partisan legislation carried out by the Modi regime, after getting absolute majority in the Indian parliament, is the manifestation of India's drift from secular democracy to Hindu majoritarianism. Three prominent anti-Muslim legislations were carried out by the BJP in the Indian parliament in 2019. One of these legislations is the abrogation of the special status of Indian-occupied Jammu and Kashmir by amending Articles 370 and 35A of the Indian constitution. Jammu and Kashmir is the only Muslim majority region under the control of India. The Modi government carried out this unilateral legislation to transform its demography through demographic engineering and settlement of non-Kashmiri Hindus by violating constitutional promises and India's commitments to UNSC resolutions.
The second legislation was 'the personal laws (amendment) act 2019' which cancelled Muslim personal law and usurped the right of Indian Muslims to settle matters of inheritance, marriages and divorce as per their religion in courts. Modi's government has replaced it with uniform personal law for all Indians, which is against the secular spirit of Indian polity which gave the commitment of religious freedom to Indian citizens for their domestic lives.
The third and most recent controversial anti-Muslim legislation is the Citizenship Amendment Act 2019. The Citizenship Amendment Act (CAA), proposed by BJP's Interior Minister Amit Shah in Indian Lok Sabha on 10 Dec 2019 and passed by BJP in both houses of parliament, is an amendment of the Indian Citizenship Act of 1955. India has created new national register for citizenship (NRC) to grant citizenship and declare people homeless under this new legislation.
This legislation provides a route to citizenship to members of six religious minority communities from Pakistan, Bangladesh, and Afghanistan—but not for Muslims—Hindu, Jain, Buddhist, Sikhs, Parsi and Christians coming from Afghanistan, Bangladesh, and Pakistan are eligible to become Indian citizens. Muslims have been excluded from this bill, which violates the natural right to citizenship of Asaami and Bengali Muslims who are already settled in India. It renders over 1.8 million Muslims of Assam as aliens or homeless people. The duration of stay for people belonging to these religions has been reduced from 11 to 6 years in India to get India's citizenship.
These legislations vindicate the prevalence of Hindutva mindset in the form of RSS-BJP nexus and its influence on the incumbent Modi regime in India. The underlying rationale of all these legislations, carried out by the BJP government, is to show seriousness and commitment to Hindutva as an attempt to reinforce Hindu masses' trust in the current political order. These legislations were condemned by the Muslim community and opposition parties in the Indian parliament as they are against the very secular framework of the Indian constitution. This scenario manifests the decline of Indian secular democratic norms and is a testament to the rise of Hindutva politics in India. BJP's anti-plural politics has transformed India from a democratic society into a Hindu majoritarian polity.
The international community has expressed its concerns on fading secularism and rising Hindu extremism in India. The United States Commission on International Religious Freedom (USCIRF) has downgraded India's ranking in its annual report 2020 by placing it in the country of particular concern list (CPC) as far as religious freedoms are concerned. The report mentioned that "in 2019, religious freedom conditions in India experienced a drastic turn downward, with religious minorities under increasing assault … government action—including the CAA, continued enforcement of cow slaughter and anti-conversion laws, and the November Supreme Court ruling on the Babri Masjid site—created a culture of impunity for nationwide campaigns of harassment and violence against religious minorities. In August, the government also revoked the autonomy of Muslim-majority state Jammu and Kashmir and imposed restrictions that negatively impacted religious freedom."
European Parliamentary Research Service (EPRS) briefing paper "Challenges Facing India's Democracy and Economy" has identified an ever-increasing Hindu nationalist grip on society and politics under Narendra Modi. Freedom House in its Freedom of the World 2020 report has expressed concerns on the deterioration of political rights and civil liberties across democracies. It has outlined India as a rapidly declining democracy as a consequence of BJP's rise to power by arguing that "the Indian government has taken its Hindu nationalist agenda to a new level with a succession of policies that abrogate the rights of different segments of its Muslim population, threatening the democratic future of a country". BJP's narrative of 'Corona Jihad' as an anti-Muslim card during the coronavirus pandemic, to hide Modi government's administrative failure to handle the crisis, has also received domestic and international criticism. It has exposed the fact that BJP has exacerbated Islamophobia in India in the milieu of the pandemic.
The Modi government is downplaying its failures on economic and democratic fronts by creating a security crisis with Pakistan and China as a national consolidation effort to strengthen its receding political order. Conversely, India faced a setback on the Line of Control (LoC) in 2019's Balakot crisis from Pakistan and they are facing a similar military setback during ongoing India-China standoff at Ladakh sector along the Line of Actual Control (LAC) from China respectively. Modi's attempt to downplay India's democratic and economic decline has backfired domestically as well as regionally, while embarrassing India globally.