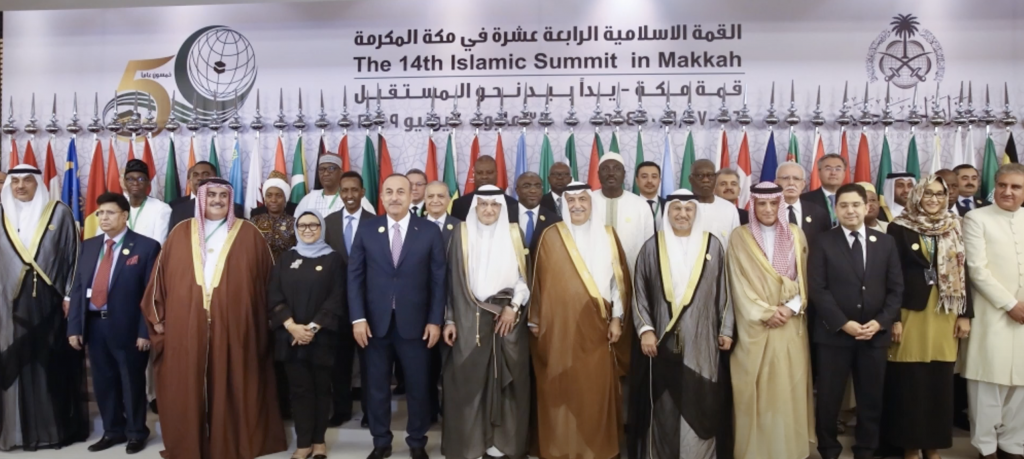 The Organisation of Islamic Cooperation (OIC) is an intergovernmental organization founded in 1969. It is the second largest IGO after the United Nations. It is composed of 57 member states. The objective is to promote Islamic unity by coordinating and organizing social, economic, cultural and scientific activities. Focused on the goal of strengthening and acknowledging the struggle of Muslims, the OIC vows to eliminate discrimination and racism especially in regard to the Palestinians.
On May 6, a conflict initiated between Israel and Hamas in Gaza Strip. Israel attacked not only Hamas but also the civilian population of Gaza. The airstrikes on Gaza were preceded by long stretches of tensions and Israeli hostility in occupied East Jerusalem, where many innocent Palestinians were killed by Israeli forces and settlers at the Al-Aqsa Mosque and in the neighbouring region of Sheikh Jarrah. They clearly violated International Human Rights Law and International Humanitarian Law. They not only destroyed homes and offices but also crippled Qatar Red Crescent Office and the only Covid-19 Testing Lab. Also, the Al-Jalaa tower lodging Al Jazeera and The Associated Press offices additionally fell in the wake of being hit by an Israeli missile in Gaza City. Hamas also fired 7 rockets at Jerusalem and Beit Shemesh from Gaza. This situation shook the whole world as this was one of the worst times humanity has ever witnessed. In this state of helplessness, the Palestinians were looking towards the other Muslim states to raise voice for their rights.
The virtual open-ended emergency meeting of the OIC Executive Committee at the foreign minister level was held on 16th May 2021, upon the request of Saudi Arabia, Chair of the Islamic Summit, to look into the Israeli aggression, the occupying force in the Palestinian regions, specially, Al-Quds Al-Shareef.
OIC in the strongest terms condemned the barbaric assaults launched by the occupying authority, Israel, against the Gaza people and their soil and holy places. It demanded immediate and complete stop of these attacks that have destroyed innocent civilian population and their properties, in gross breach of international law and United Nations resolutions on the Palestine question. Furthermore, it warned that the incitement and encouragement of these assaults is a serious threat on the lives of innocent Palestinians. As it was causing severe suffering to them, increasing the risks of not only regional instability but also had serious implications for outside of the region.
Moreover, in particular, it warned against the harmful effects of Israel's proceeded and deliberate inflammation and inducement of the religious sensibilities and sensations of the Palestinian people and the whole Islamic Ummah with its uplifted attacks on worshippers. Particularly beginning from the start of Ramadan, hindering worshippers' access to the holy places to perform their religious rituals, including Muslims' entrance in the Al-Aqsa Mosque and Christians' access to the Church of Holy Sepulchre during the Easter festival, as vicious control of the Al-Aqsa Mosque/Al-Haram Al-Shareef by the Israeli occupation forces, threatening and assaulting peaceful worshippers, in egregious violation of International Humanitarian Law.
Moreover, OIC demanded not to undermine the historical and legal status of Al-Aqsa Mosque/Al-Haram Al-Shareef. They also demanded Israel to stop the disrespect of the sacred places. It further emphasized that Israel is an occupation power and does not possess any legitimate right at all on occupied Palestine, including the Al-Aqsa Mosque and East Jerusalem. In addition, all measures undermining Palestine's status are null and void and of no legal effect.
Turkey is one of the countries that took strong action for the Palestinians. In this emergency meeting of OIC, Turkey recommended an "international protection mechanism" for Palestine, as Israel proceeded with its hostility in assaulted Gaza on the seventh continuous day.
Malaysia pointed that OIC's "lack of political will" should no longer be tolerated as an excuse to protract Israel's control of Palestine. Malaysian Foreign Minister Datuk Seri Hishammuddin Hussein told OIC members that we have unintentionally contributed to encourage the occupying force [Israel] through our inaction. He stressed that the OIC must continue to play a key role to take all maximum possible actions to secure Palestinians against Israel's brutal acts.
Many analysts and researchers have slammed the OIC for its delayed and weak response to the Israeli violence. They argue that at this critical situation, a great responsibility was on the OIC's shoulders. An emergency meeting on the issue was expected from the OIC within a short period of time. Sadly, the meeting was called after a long period of 10 heavy days. They should have taken a firm stand on Israel's brutality and violation of human rights as soon as possible. Even when the virtual meeting was called, there were only sympathetic words and opinions of different countries. Sadly, nothing came into action and the meeting was left open-ended. No firm decision or action plan was made.
There were many reasons behind such disappointing response of the OIC. Firstly, some of the OIC members have already recognized Israel as a state. The list includes United Arab Emirates, Bahrain, Morocco, Sudan, Egypt and Jordan. The decision by these countries to improve relations with Israel in 2020 was not about peace, harmony or even understanding. They were all focused on their own interests—including the benefit of either advanced weapons or diplomatic support from the United States.
Israel's relations with the United Arab Emirates appear to be stronger than its interaction with Egypt and Jordan, Arab countries that formed peace with Israel decades ago. Since direct flights were initiated, a number of Israeli has visited Abu Dhabi. Also, an Emirati royal bought a huge stake in an Israeli soccer team. It was a high-profile investment that up to this point seems to be unimaginable.
Palestinians were not expecting such action from any brother Muslim state. For them, of course, the deals add up to more misfortune and betrayal. In peace talks it was decided that Arab will normalize their relations with Israel only if they allow peace and independence for Palestinians in Gaza Strip and the West Bank. Instead, Israel has acquired acceptance in the region without making enough concessions in return.
Secondly, Israel is having the US support. The OIC member states are hesitant to some extent to raise voice against Israel. Further, they don not want to effect their diplomatic and economic relations with the United States. As they believe, that it would not be right for their position in the international world, if they tire their relations with the super power.
The dim and dismaying action of the OIC on Israeli attacks was a shock. The Palestinians were hoping the OIC to present their issue to the international level and to take a firm action against the hostility. However, few member countries, at this drastic situation were still busy in politics. Instead of condemning the brutality of Israeli forces, they were concerned about their diplomatic relations. They preferred their own benefit and well being over the blood of innocent Palestinians. These assaults touched the lowest standards of humanity as innocent women, children and citizens were killed and their houses were destroyed. In addition to International Humanitarian Law, Islam and every other religion in the world commands to ensure the safety of civilian population during warfare. Humanity is the biggest religion and the principle of 'live and let live' should never be forgotten. However, after a prolonged Israeli aggression, a ceasefire agreement has reached between Israel and Hamas. Both claimed this ceasefire as their victory.