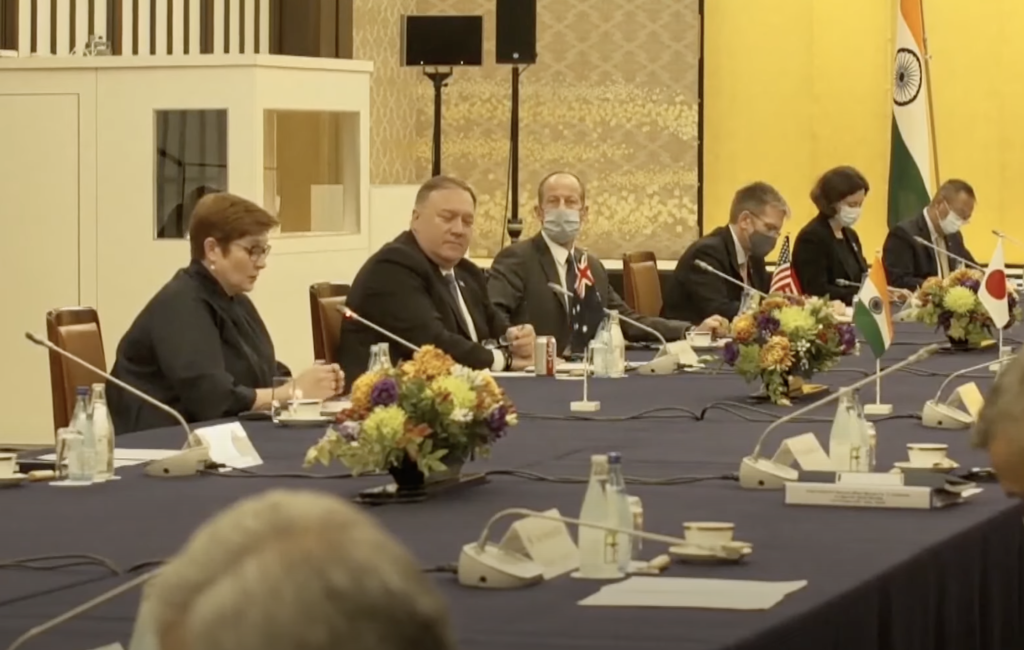 The Quadrilateral Security Dialogue, or Quad, is an informal strategic arrangement between four key players in the Indian and Pacific Ocean regions, India, the US, Japan and Australia, and was created in response to growing Chinese influence in the Indo-Pacific region. It has thus far been projected as an initiative aimed at keeping the sea lanes open for free navigation; however, its transformation into a military alliance amid the growing US – China contestation cannot be ruled out. As India is a party to the Quad, its implications for Pakistan need to be analyzed.
The idea behind this grouping was first proposed by the then Japanese Prime Minister Shinzo Abe in 2007; at that time, however, it did not take shape as Australia was reluctant to join, presumably due to Chinese concerns. China has been a major investor in Australia and their bilateral trade amounted to AUD240 billion between July 2019 and July 2020. In 2014, the Australian Prime Minister and Chinese president described their country's relationship as a comprehensive strategic partnership. However, their relations have been in a state of decline since April 2020, due to a ban on trade and also Australian criticism against China's actions towards the South China Sea, Taiwan and Hong Kong.
India took advantage of this declining relationship and invited Australia to join the Quad. Hence, after 13 years, in 2020 the four democracies turned this idea into reality and gave shape to the long pending coalition. In 2020, Australia also accepted India's invitation to join the Malabar Exercise 2020, making it the first time all members of Quad engaged militarily.
The Quad is now in the process of developing new strategies to keep the critical sea routes in the Indo-Pacific region free of Chinese influence. China's development of artificial islands, is seen as an aggressive Chinese Naval Strategy in the East China Sea by the US, and it poses challenges for international maritime law. Moreover, China's redefining of the Air Defense Identification Zone is viewed by the US with concerns and is considered as a threat to peace in the Indo-Pacific. So the prime US objective is to contain China's rising influence in the region. China has termed the Quad an "Asian Version of NATO", despite the fact that the influence of the Quad spans to countries beyond Asia.
On March 12, 2021, the Quad states held the first ever virtual summit and security dialogue to evaluate perceived traditional and non-traditional security threats related to the economy, cyberspace, health, quality infrastructure and investment, humanitarian assistance and disaster management; however, their major concern was the security of Indo-Pacific region.
Challenges for Pakistan
There are several challenges the Quad poses to Pakistan. First, it could pose a direct threat to Pakistan in the future as it would enable India to significantly enhance its naval capabilities, further raising the asymmetries with Pakistan. As India aims for a Blue Water Navy, it would be able to implement a naval blockage which could choke Pakistan's economy. This raises the specter of nuclear use in South Asia.
Second, the Indo-Chinese contestation in South Asia and the Indian quest to establish hegemony in the region could result in a conflict between China and India, thus providing an opportunity for the Quad to intervene in the regional crisis. Tensions between India and China already run high over the divergent claims along the LOAC in Galwan valley. Both India and the US view the BRI and CPEC initiatives with suspicion and hostility. Consequently, in a contest between India and China, Pakistan may have no other option but to side with China, while the US would put its support behind India. Thus, in case of an Indo-China war, Pakistan may also be dragged into a regional conflict which would have devastating implications for Pakistan's security and economy, Moreover, such a conflict will also seriously affect the regional stability.
Third, Pakistan might face a strategic dilemma because the US–China contestation in Indo-Pacific region would have consequences for regional stability and security. In a Cold War like situation, Pakistan will also suffer as it has economic and defence ties with China. Therefore, targeting China will have direct consequences for Pakistan's economy. Pakistan may have to bear the cost of siding with China in terms of economic sanctions and denial of stimulus packages by global donor institutions.
India is using the Quad to improve its strategic and political stature in the region by seeking a closer partnership with the US. India is also utilizing its military, diplomatic, and economic prowess to project its power within and beyond South Asia, for which the Quad appears to be a perfect arrangement. The joint exercises conducted by the Indian and US navies in the Indian Ocean Region have renewed Indian aspirations of becoming a hegemon in South Asia. A US Navy statement says, "Naval engagements such as these exercises improve the cooperation of US and Indian maritime forces and contribute to both sides' ability to counter threats at sea, from piracy to violent extremism. These engagements also present opportunities to build upon the pre-existing strong relationship between the US and India and allow both countries to learn from each other".
Future Prospects of the Quad
The Quad is still in a nascent stage but is maturing gradually. It is likely that it will be expanded further to include more littoral states or form other regional alliances. The formation of a new alliance between Australia, the UK and US (AUKUS) is another significant development, indicating that more states may join to form a formal, US-led, military alliance to counter China and Russia.
Pakistan needs to develop bilateral links with ASEAN countries and other major powers in order to join existing economic organizations. India's Asia Pacific policy is aimed at making it a regional hegemon and global power by joining US-led alliances to counter China. Pakistan needs to be cognizant of Indian policy and, therefore, should diversify its relations with regional states and global powers.
The Russian Foreign Minister's visit to Pakistan after almost a decade provides an opportunity for Pakistan to enhance its ties with Russia to balance the regional equation. Russian defence and economic ties with India are historical and have increased conventional asymmetries between India and Pakistan. Pakistan needs to improve its defence ties with Russia and share concerns over the Quad, which may also pose a threat to Russian interests in the region.
From a security dialogue, the Quad is gradually transforming into a military alliance to dominate the Asia Pacific region. This alliance system has direct implications for Pakistan, given that it is being developed against China and also includes Pakistan's arch rival India. Pakistan should try not to become a party to the growing Cold War between the US and China, and should keeping engaging with all the global powers to serve its national objectives and interest. Thus enhancing economic, trade and strategic relations with the regional and extra-regional powers for conflict resolution with India should remain Pakistan's top priority.