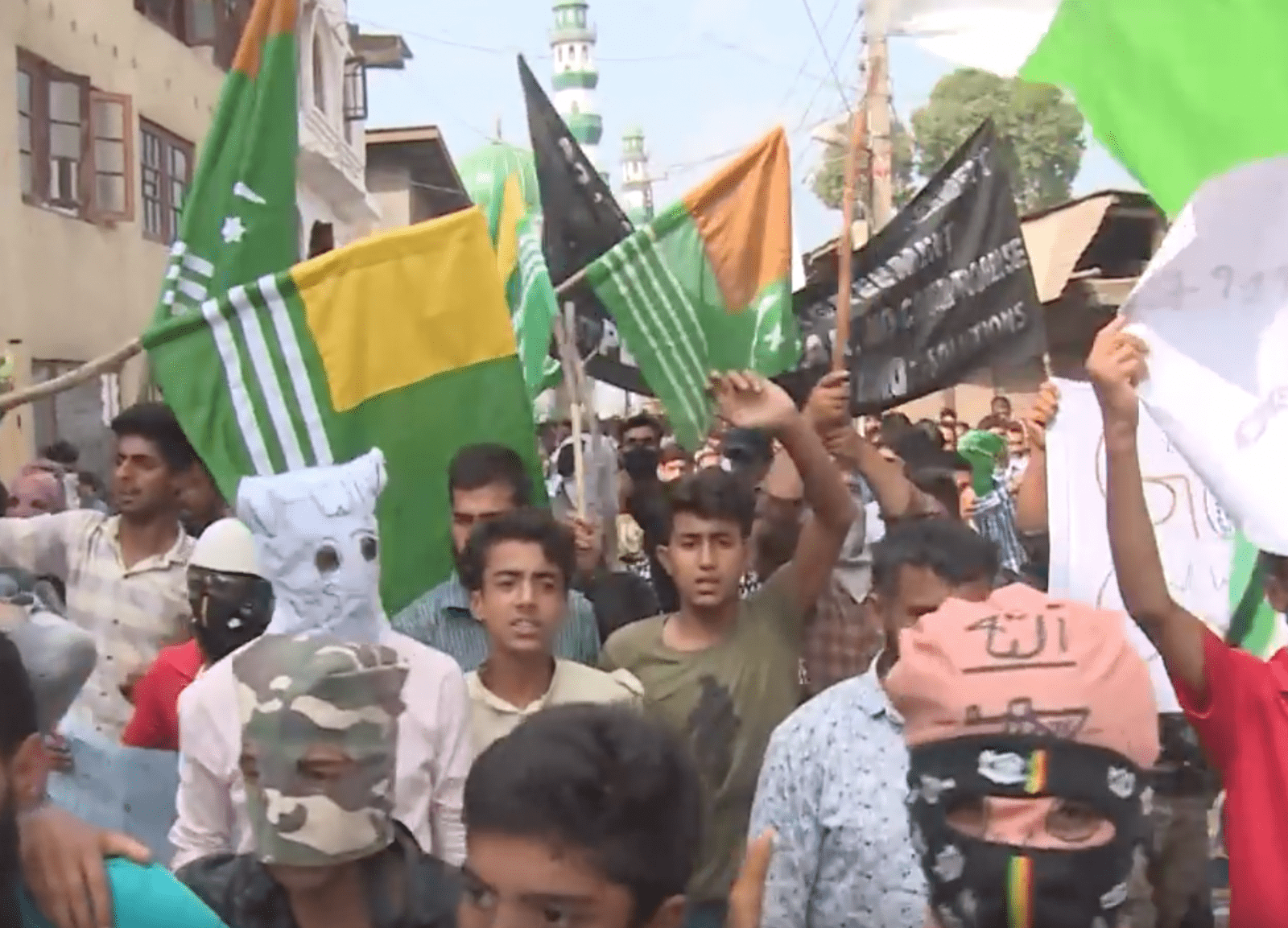 The 74th Session of the United Nations General Assembly (UNGA) was held from 17-30 September 2019 at UN headquarters in New York. Highlights this year included a climate summit on 23 September followed by several days of speeches by leaders or representatives of UN member states, who each addressed the chamber in the annual General Debate.
On the sidelines of UNGA Summit, a verbal showdown took place between the Prime Ministers of India and Pakistan. At a political rally, the Indian Prime Minister Narendra Modi defended his 5 August 2019 unilateral action of Indian Parliament abrogating Article 35A and amending Article 370 of its Constitution, annexing Indian Administered Kashmir (IAK) and Ladakh into its Union territory. The "Howdy, Modi: shared Dreams, Bright Futures"" event on 22 September at the NRG Football Stadium in Houston drew a mammoth 50,000' crowd comprising the Indian Diaspora, Modi, arriving in tandem with the US President Donald Trump, drew applause. His chant of the slogan "Abki Baar, Trump Sarkar" (Next Trump Administration's turn) implied an electoral victory for Trump in the forthcoming Presidential elections in November 2019. Trump has eyes on 4 million Indian origin Americans who may vote for him in the forthcoming Presidential elections while Houston was the appropriate venue for the rally because Texas could emerge as a battleground state in the 2020 elections.
Simultaneously, outside the NRG Football Stadium, thousands of protesters comprising Kashmiris, Sikhs and representatives of Indian minorities loudly chanted displaying placards "Houston we have a problem—it is Modi" and "Modi Go Back". The reason of the ire of the protesters is that while Trump and Modi were backslapping each other as being two great champions of democracy, Modi's repressive regime has incarcerated Indian Kashmiris, confining them to their homes now for over fifty days, denying their basic rights of survival, sans nourishment, milk, medicines, the opportunities to eke a source of income, and even bury their dead.
Pakistan has been raising hue and cry, appealing to world conscience to pay heed to the plight of the Kashmiris, on the other hand, belligerent Indian leaders have been warning of also snatching Pakistani administered Kashmir by sheer force. A failed surgical strike by India following an alleged terror attack on a military convoy in mid-February led to an aerial show down in which Pakistan came out better but the horror of a full-fledged conflict between two nuclear weapons equipped states cannot be ruled out; the outcome of which will be mass annihilation of humankind.
The issue at hand is not just Kashmir, which is only the tip of the iceberg but the threat to all minorities in India.
Modi's political party Bharatiya Janta Party (BJP) draws its strength from the originator of extremism, V.D. Savarkar, who in his 1923 book, Hindutva, gave a Manifesto, where his concepts of Holy Land, Fatherland, and Hindudom are the defining features of his Hindutva and the construct of Hindu Rashtra (Nation) claiming that "in Hindustan, those who failed the test of having a common Fatherland or Holy Land or Hindudom are but 'communities', 'numerical minorities', who do not deserve any privileges. Emboldened by his sweeping victory in the recent polls, Modi is now in a position to shed secularism to fulfill Savarkar and his successor Hedgewar, the founder of the extremist militant organization Rashtriya Swayamsevak Sangh (RSS), which has been placed by the CIA on its watchlist, to aim for ethnic cleansing of India. Thus, the minorities, low caste Hindus—the Dalit, Sikhs, Christians and Muslims have joined hands to condemn the gross human rights abuses.
US media has afforded opportunities to both protagonists India and Pakistan, to express their respective points of view. The New York Times (NYT) published Imran Khan's Op-Ed titled 'The World Can't Ignore Kashmir. We Are All in Danger' on 30 August 2019 spelling out the grave threat the continued oppression of Kashmiris and other minorities in India spells for the world.
In response, Harsh Vardhan Shringla, the Indian ambassador to the United States, in his article titled 'India Is Building a More Prosperous Kashmir', published in the NYT of 19 September 2019 has tried to troll Pakistan for its weak economic state but more ominously, he denigrates the just struggle of the Kashmiris and justify the annexation of Indian Kashmir under the pretense of building it economically. The article was a curtain raiser to Narendra Modi's UNGA speech, in which he claimed that the unilateral action in Indian administered Kashmir was in the interest of the Kashmiris.
The honorable Indian ambassador and Modi tried to dupe the world because Kashmir is an unresolved issue of the partition of India and according to the Indian Independence Act 1947, UNSC Resolution 47 of April 1948, and subsequent agreements, Kashmir is a bilateral issue, which has to be resolved through a plebiscite under the aegis of UN. It is satirical that Modi is negating the very spirit of the UNGA whose UNSC Resolution has been trampled by his 5 August action.
Secondly, what kind of prosperous Kashmir will be built in the shadow of bayonets, repression and continuous lockdown? Mr. Shringla cleverly weaved in a mention of Pakistan refusing the "legitimacy of Israel", conveniently ignoring that Pakistan is willing to recognize if Israel accepts Palestine as an independent state and ceases atrocities against them.
The "informed" author of the op-ed stated that rescinding the Indian Constitution Articles will bring an end to corruption. Perhaps Shri Shringla may recall Indian media reports of General VK Singh, India's former Army Chief admitting that the Technical Services Division (TSD), a controversial Military Intelligence unit set up by him in May 2010, had misused secret funds to pay bribes to Kashmiri politicians to destabilize the then Chief Minister Omar Abdullah's government.
Mr. Shringla tried to vilify Pakistan for its treatment of minorities trying to divert international attention from the genocide of Indian minorities. In the bargain he failed to mention that Pakistan has established the Kartarpur corridor to enable Sikh pilgrims to visit the shrine of Guru Nanak, the founder of Sikhism on occasion of the 550th birth anniversary of the holy saint. Hindu pilgrims from India are also being facilitated to visit their holy sites in Pakistan.
Modi and the Indian Ambassador cast aspersions on Pakistan being a harbinger of terrorism. Contrarily Imran Khan directing non-state actors and jihadists to refrain from entering Indian Kashmir lest it harm the Kashmiri's just freedom struggle which was applauded by the US State Department.
Contrarily, the Pakistani Prime Minister's passionate address was that of a statesman bridging both the Occidental and Oriental, since he has studied and played cricket in the UK and understands the sensitivities, likes and dislikes of both vastly different cultures. Expressing the rationale behind many Muslims' reaction to ridiculing their Holy Prophet, the Pakistani PM struck deep chords in the minds of critics of radicals. In the realm of poverty eradication, Imran presented the obverse view of corruption, turning the tables on those opulent states that become safe havens for looted wealth by leaders of underdeveloped countries. It was proposed that international laws should be formulated to discourage looted wealth to be invested or deposited in western financial institutions.
The perils of extremism, fascism and genocide based on illusions of grandeur leading to racial supremacy were illustrated with graphic detail. As a climax, the Pakistani leader stressed that if the situation does not improve and Pakistan and India, who have been to war four times and engaged in limited conflicts on numerous occasions, may be pushed into a war involving nuclear weapons which would devastate the whole region and its fallout will affect the whole world. Kashmir can only be prosperous if its residents are recognized as a genuine stakeholder and have a say in their future as guaranteed by the UN.