Print PDF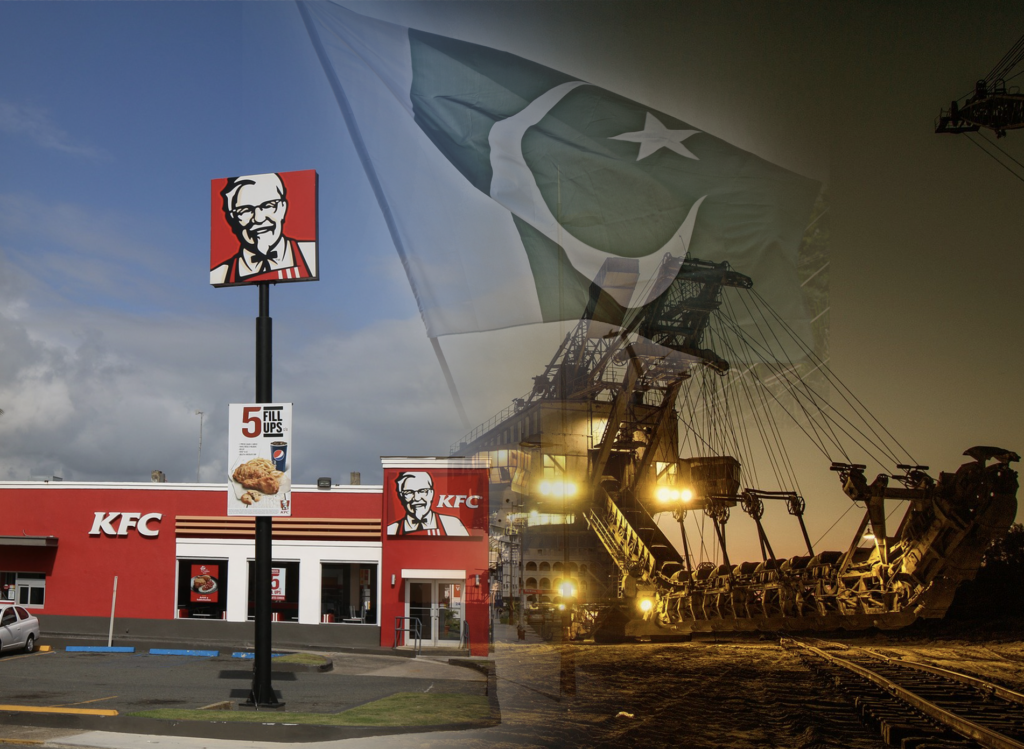 Pakistan has chosen to take a pragmatic approach in its relations with the United States and China
Many people in Karachi want to stay friends with the Americans. Their motivation has nothing to do with Donald Trump or US politics. They have developed a taste for American food. Every day, thousands of customers order meals from branches of KFC, whose mascot, Colonel Sanders, has become a smiling global symbol of American commerce.
The KFC menu includes some special localised specials, such as tangy masala wings, which the advertisements claim will "satisfy your desi cravings." KFC – as well as McDonalds – would like to build more outlets in Pakistan, provided the environment is safe and the market is growing. And once the fast food outlets have established a firm foothold, other US companies are set to follow.
American Opportunity. Prime Minister Imran Khan has stated that he would like to do more business with the Americans, in the belief that increased trade and investment will boost national prosperity and provide jobs.
The US State department has congratulated Pakistan for improving the ease of doing business and has urged the government to keep up the good work. "World-class companies want clear laws and regulations, transparency in government tenders, predictable tax policies, enforcement of contracts, intellectual property protection, and harmonization of the rules across Pakistan's provinces," said a spokesperson from the US diplomatic service.
The trade goes both ways. According to the State Bank of Pakistan, the United States purchased more than $4 billion of Pakistani exports in 2019. President Trump has said a growing trade relationship with Pakistan is of "paramount importance" and the US provides duty-free entry for over 3,500 items from Pakistan, under the Generalized System of Preferences.
Aftab Siddiqui, Adviser to the UK Parliamentary Group on BRI & CPEC & London based analyst, says : "Despite all the economic challenges for the past few years, Pakistan's export sector has been resilient. Total exports reached US$23 billion last year. At the moment, the export sector is dominated by food and clothing, but the government's policy is to pursue more value-added exports and it is starting to show results. We need to diversify our products and broaden our markets."
Trump Disruption. Donald Trump's relationship with Pakistan has not been straightforward. Soon into his presidency, he issued a controversial ban on visitors to the United States from Muslim countries. Although Pakistan was not on the list, it suffered a sharp decline in the number of US visas issued to travelers.
Then in 2018, the United States cut $300 million in aid to Pakistan and also stopped a further payment of $500 million in coalition support funds, linked to military cooperation. Nevertheless, it is unlikely that the situation in Pakistan has been much on Mr Trump's mind recently. It certainly has not featured prominently in his Tweets or speeches. The November presidential election depends on how people in the United States view domestic, rather than foreign policy issues.
Ending the Afghan War. Yet Mr Trump has set a clear goal for American forces to withdraw from Afghanistan within a year or so, putting an end to the longest war in US history. For that reason, he has a strong strategic motive to keep Pakistan on side.
Pakistan supports the difficult process of bringing the US and the Taliban together for negotiations, which led to the signing of an "agreement for bringing peace" in February 2020. President Trump said: "It's time, after all these years, to bring our people back home." That process will become much more complicated and dangerous if there is a breakdown of trust during the talks.
On China's Side. In judging how to handle the Americans, the government of Pakistan must be mindful of its relationship with China. Since Mr Trump became president, Pakistan has moved more deeply into the Chinese sphere of influence, and the US-China trade war has brought it no advantages.
Prime Minister Khan believes his country's best hope for long-term development is Chinese investment, complemented by a good business relationship with the America and other countries. China has pledged over $60 billion for various infrastructure projects in Pakistan, as part of the China-Pakistan Economic Corridor (CPEC) agreement. This project is a crucial part of Beijing's ambitious Belt and Road Initiative, which aims to develop land and sea trade routes through Asia and beyond.
In August 2020, Pakistan's National Economic Council approved the Mainline One railway project worth $6.8 billion, 90% of which will be financed by China. Pakistan's existing 2,655 km railway tracks will be upgraded to allow trains to move up to 165 km per hour, more than doubling the speed and capacity of the current network. Aftab Siddiqui says : "China's enormous commitment to investment in Pakistan is a big vote of confidence. Now it is up to Pakistan's policy makers to attract investors from other countries, so that we have a pool of international partners investing in Pakistan."
Fighting the Pandemic. The Americans have sent more than one hundred ventilators to be used in Pakistan's hospitals to treat patients affected by Covid-19.
There has also been close cooperation between China and Pakistan in dealing with the pandemic. When China was being criticised over Covid-19 by countries across the world – particularly the United States – Pakistan went out of its way to express solidarity with China, speaking of it as an "all weather friend" and an "iron brother."
In August, health issues, as well as economic matters, were on the agenda for discussions between China's State Councillor and Foreign Minister Wang Yi and the Pakistani Foreign Minister Shah Mahmood Qureshi, who held a two day meeting in South China's Hainan Province.
China insists its purpose is not to force countries to "pick a side" between China and the US but to strengthen cooperation and to tackle joint challenges, contributing to a more stable and prosperous Asia.
Uncertain Future. Although the outcome of the November US election is uncertain, there is little to suggest that the relationship between the US and China will improve very much if President Trump loses to Joe Biden. That will leave a dilemma for nations around the world, especially countries in Asia.
For now, Pakistan's delicate foreign policy balancing act appears to be working. Its best hope is to stick to a pragmatic and non-confrontational approach. It remains to be seen how this will fare in the face of further trouble in Afghanistan, or a deterioration in the already poor relationship between China and the United States.