Print PDF
Published on cfr.org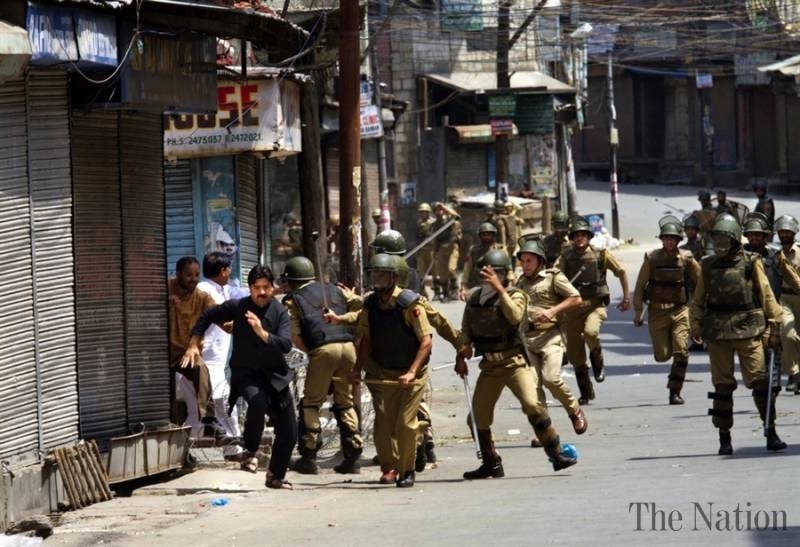 Recent Developments
With continued violence in Kashmir and a heightened threat of terrorist activity by Pakistan-based militant groups, tensions and concerns over a serious military confrontation between nuclear-armed neighbors India and Pakistan remain high. In October 2017, militants attacked an Indian paramilitary camp near Srinagar, and in February 2018 attacked an Indian army base in the Jammu region, killing five soldiers and a civilian.
The attacks came amidst a period of increased cross-border shelling along the Line of Control, with more than three thousand reported violations in 2017 and nearly one thousand in the first half of 2018. Violent demonstrations and anti-India protests calling for an independent Kashmir continued; over three hundred people including civilians, Indian security forces, and militants were killed in attacks and clashes in 2017. After months of heavy-handed Indian military operations targeting both Kashmiri militants and demonstrations, India announced in May 2018 that it would observe a cease-fire in Kashmir during the month of Ramadan for the first time in nearly two decades; operations resumed in June 2018.
In May 2018, India and Pakistan agreed to a cease-fire along the disputed Kashmir border that would restore the terms of their 2003 agreement.
Since taking office in August 2018, Pakistani Prime Minister Imran Khan has signaled a willingness to hold talks with Indian Prime Minister Narendra Modi to improve relations and resolve core issues including Kashmir. In September 2018, Khan sent a letter to Modi proposing talks between the countries' respective foreign ministers at the UN General Assembly; after initially agreeing to talks, India canceled the meeting.
Background
Territorial disputes over the Kashmir region sparked two of the three major Indo-Pakistani wars in 1947 and 1965, and a limited war in 1999. Although both countries have maintained a fragile cease-fire since 2003, they regularly exchange fire across the contested border. Both sides accuse the other of violating the cease-fire and claim to be shooting in response to attacks. An uptick in border skirmishes that began in late 2016 and continued into 2018 killed dozens and displaced thousands of civilians on both sides of the Line of Control.
In 2014, after India's then newly elected Prime Minister Modi invited then Pakistani Prime Minister Nawaz Sharif to attend his inauguration, there were hopes that Modi's government would pursue meaningful peace negotiations with Pakistan. However, after a brief period of optimism, relations turned sour once more when India canceled talks with Pakistan's foreign minister in August 2014 after the Pakistani high commissioner in India met with Kashmiri separatist leaders. A series of openings continued throughout 2015, including an unscheduled December meeting on the sidelines of the UN Climate Change Conference in Paris. This led to a meeting between national security advisors in Bangkok a few days later, where the Kashmir dispute was discussed. Later in December, Prime Minister Modi made a surprise visit to Lahore to meet with Prime Minister Sharif, the first visit of an Indian leader to Pakistan in more than a decade.
Momentum toward meaningful talks came to an end in September 2016, when armed militants attacked a remote Indian Army base in Uri, near the Line of Control, killing eighteen Indian soldiers in the deadliest attack on the Indian armed forces in decades. Indian officials accused Pakistani militant group Jaish-e-Mohammad, a group with alleged ties to the Inter-Services Intelligence—Pakistan's main intelligence agency—of being behind the attack. Later in September 2016, the Indian military announced it had carried out "surgical strikes" on terrorist camps inside Pakistani-controlled territory across the Line of Control, while the Pakistani military denied that any such operation had taken place.
The diversion of jihadi fighters and proxy groups from Afghanistan to Kashmir threatens to further increase violence along the border. If another Mumbai 2008-style attack, where Lashkar-e-Taiba fighters rampaged through the city for four days, killing 164 people, were carried out by Pakistan's militant proxies, it could trigger a severe military confrontation between the two nuclear-armed states.
Concerns
The United States has identified South Asia as an epicenter of terrorism and religious extremism and therefore has an interest in ensuring regional stability, preventing nuclear weapons proliferation, and minimizing the potential of a nuclear war between India and Pakistan.