Print PDF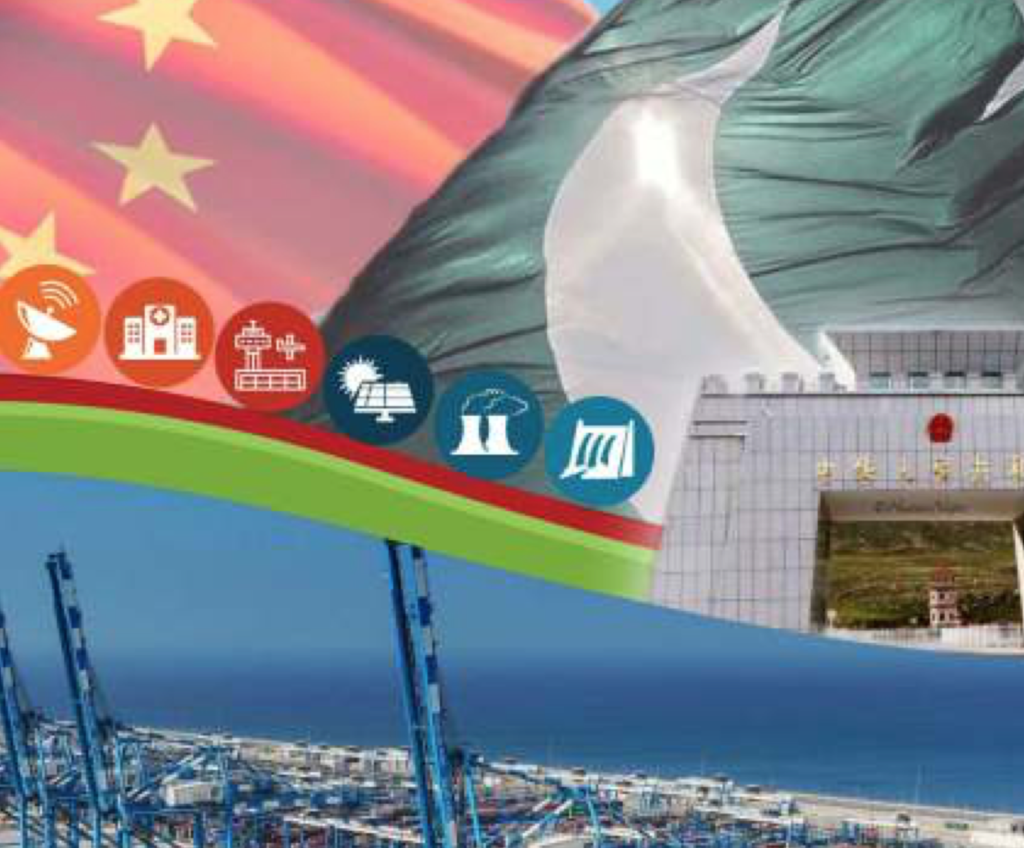 CPEC – a brief History
On 20 April 2015 China and Pakistan signed the agreement to start work on a  $46 billion first phase of  China Pakistan Economic Corridor (CPEC) including $28 billion worth of fast-tracked "Early Harvest" projects to be completed by 2018.
China's interest in warm water ports of the south is not new, it can be traced back to the traditional Silk route.  Silk route developed and thrived due to the lucrative silk trade carried out in the HAN Dynasty ( 207 BCE to 200 CE). The trade on this route played an important part in the development of civilisations of China, Korea, Japan, the Indian subcontinent, Persia, Africa, Europe. In addition to the trade of silk, the route also provided a network for transfer of other goods as well as a route for cultural trade among civilisations.
Plans for a corridor from China's border to the deep-water ports on the Arabian Sea; date back to the 1950s, which was one of the major factors for the construction of Karakoram Highway at the beginning of 1959. In 1998 Pakistan's deep-water port of Gwadar became a point of renewed interest for China and in 2002 China began the construction of Gwadar port which was subsequently completed in 2006. In the post-2006 period, the expansion of Gwadar Port was halted for a few years due to the political instability in Pakistan following the fall of General Pervez Musharraf's government and thereafter, the operations by the state of Pakistan to root out Taliban militants from the country.
In 2013 the then Pakistani President Asif Ali Zardari and Chinese Premier Li Kequiang decided to move forward and a memorandum of understanding (MoU)was signed on cooperation for long term plan on China-Pakistan Economic Corridor. Later in 2014 Prime Minister of Pakistan Nawaz Sharif met with his counterpart Li Kequiang in China to discuss further plans, which led to the full scope of the project being devised and China announced its intention to finance Chinese companies in infrastructure and energy projects as part of CPEC in Pakistan.
Gwadar Vs Chahbahar
Chahbahar is the southern port of Iran located about 170 kilometres (110 miles) to the West of Gawadar. Chabahar is Iran's closest and best access point to the to the warm waters of the Indian Ocean. India is helping Iran to build its first deep water; Chahbahar port, in return for access to the oil and gas resources in Iran and the Central Asian states. India initially planned to invest USD 85 million but after the lifting of sanctions on Iran and the signing of the nuclear deal the investment figures have reached USD 500 million.
India, Iran and Afghanistan have signed an agreement to give Indian goods, for Afghanistan and Central Asia, a preferential treatment and tariff reductions at Chabahar. India and Iran are also discussing building a gas pipeline between the two countries along the bed of the Arabian Sea to bypass Pakistan, using the Chabahar port. Chahbahar is not a natural deep-sea port. Money is being spent on dredging to make it a deep-sea port, similar to the money regularly spent on Dubai port to achieve the same objective. India and Iran want to complete this project as soon as possible to avoid the impact of CPEC and Gwadar port.
However, according to the top industry officials. Chahbahar port would struggle to compete against a natural deep-sea harbour capable of accommodating mother ships carrying up to 10,000 containers of 40 ton each. Thus, making it a natural selection of the motherships to dock, thus avoiding to navigate in shallow waters surrounding the Dubai and Chahbahar ports.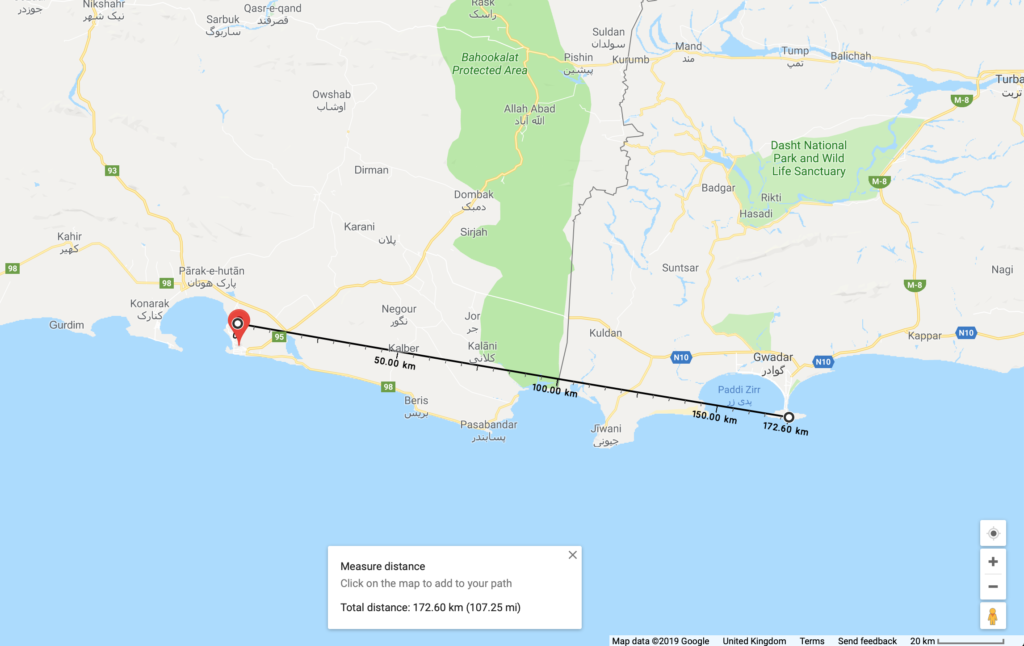 CPEC – The project
As per the Government of Pakistan definition "The CPEC is a growth axis and a development belt featuring complementary advantages, collaboration, mutual benefits and common prosperity. With the comprehensive transportation corridor and industrial cooperation between China and Pakistan as the main axis, and with concrete economic and trade cooperation, and people- to-people exchange and cultural communications as the engine, CPEC is based on major collaborative projects for infrastructure construction, industrial development and livelihood improvement, aimed at socio economic development, prosperity and security in regions along it"
As touched upon earlier CPEC is a is a collection of infrastructure projects that are currently under construction throughout Pakistan. The basic concept is to provide access to warm waters to the goods manufactured in China and later to the CIS states, This would not only reduce the time for a product to reach Europe and Americas but also reduce the cost of transportation hugely. This would not only boost economies of China and the CIS countries but also expected to bring prosperity to the entire area along the route in Pakistan and the port City of Gwadar itself.
CPEC consists of the following Projects
CPEC energy projects

2×660MW Coal-fired Power Plants at Port Qasim Karachi
Suki Kinari Hydropower Station, Naran,Khyber Pukhtunkhwa
Sahiwal 2x660MW Coal-fired Power Plant, Punjab
Engro Thar Block II 2×330MW Coal fired Power Plant
TEL 1×330MW Mine Mouth Lignite Fired Power Project at Thar Block-II, Sindh, Pakistan
ThalNova 1×330MW Mine Mouth Lignite Fired Power Project at Thar Block-II, Sindh, Pakistan
Surface mine in block II of Thar Coal field, 3.8 million tons/year
Hydro China Dawood Wind Farm(Gharo, Thatta)
300MW Imported Coal Based Power Project at Gwadar, Pakistan
Quaid-e-Azam 1000MW Solar Park (Bahawalpur) Quaid-e-Azam
UEP Wind Farm (Jhimpir, Thatta)
Sachal Wind Farm (Jhimpir, Thatta)
SSRL Thar Coal Block-I 6.8 mtpa &SEC Mine Mouth Power Plant(2×660MW) (Shinghai)
Karot Hydropower Station
Three Gorges Second Wind Power Project
Three Gorges Third Wind Power Project
CPHGC 1,320MW Coal-fired Power Plant, Hub,Balochistan
Matiari to Lahore ±660kV HVDC Transmission Line Project
Matiari (Port Qasim) —Faisalabad Transmission Line Project
Thar Mine Mouth Oracle Power Plant ( 1320MW) & surface mine

CPEC-Energy Actively Promoted Projects

Kohala Hydel Project, AJK
Rahimyar khan imported fuel Power Plant 1320 MW
Cacho 50MW Wind Power Project
Western Energy (Pvt.) Ltd. 50MW Wind Power Project
Infrastructure

KKH Phase II (Thakot -Havelian Section)
Peshawar-Karachi Motorway (Multan-SukkurSection)
Khuzdar-Basima Road N-30 (110 km)
Upgradation of D.I.Khan (Yarik) – Zhob, N-50 Phase-I (210 km)
KKH Thakot-Raikot N35 remaining portion (136 Km)

Rail Sector Project

Expansion and reconstruction of existing Line ML-1
Havelian Dry port (450 M. Twenty-Foot Equivalent Units)
Capacity Development of Pakistan Railways

CPEC Gwadar Projects.

Gwadar East-Bay Expressway
New Gwadar International Airport
Construction of Breakwaters
Dredging of berthing areas & channels
Development of Free Zone
Necessary facilities of fresh water treatment, water supply and distribution
Pak China Friendship Hospital
Pak-China Technical and Vocational Institute at Gwadar
Gwadar Smart Port City Master Plan
Bao Steel Park, petrochemicals, stainless steel and other industries in Gwadar
Development of Gwadar University (Social Sector Development)
Gwadar Livelihood Project

Other projects

Cross Border Optical Fiber Cable
Pilot Project of Digital Terrestrial Multimedia Broadcast (DTMB)
Early Warning System (EWS), Pakistan Meteorological Department

CPEC Special Economic Zones

Rashakai Economic Zone , M-1, Nowshera
China Special Economic Zone Dhabeji
Bostan Industrial Zone
Allama Iqbal Industrial City (M3), Faisalabad
ICT Model Industrial Zone, Islamabad
Development of Industrial Park on Pakistan Steel Mills Land at Port Qasim near Karachi
Special Economic Zone at Mirpur,AJK
Mohmand Marble City
Moqpondass SEZ Gilgit-Baltistan

CPEC Western Route Projects

Hakla D.I Khan Motorway
D.I Khan (Yarik) –Zhob (N-50)
Zhob Quetta (N-50)
Khuzdar-Quetta– Chaman Section (N-25)
Surab-Hoshab (N-85)
Gwadar – Turbat – Hoshab (M-8)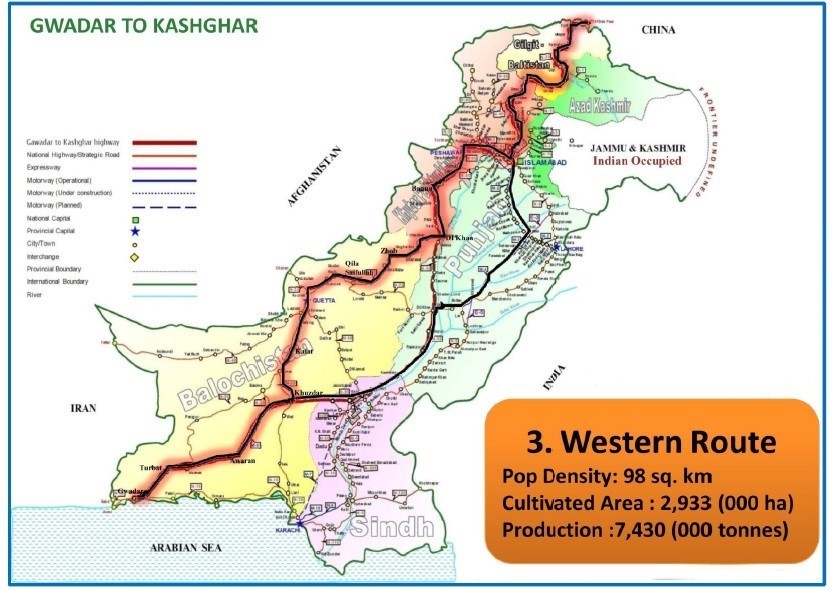 Federal Minister for interior, planning, development & reform Prof. Ahsan Iqbal and Mr. Wang Xiaotao, vice chairman NDRC signed a  memorandum of understanding for long term planning in Islamabad on November 21, 2017. Which set out the following timelines/goals for the project.
"By 2020, the CPEC strive to take the initial shape, major bottlenecks to Pakistan's economic and social development shall be basically addressed, and the CPEC shall start to boost the economic growth along it for both countries.
By 2025, the CPEC building strive to be basically done, the industrial system approximately complete, major economic functions brought into play in a holistic way, the people's livelihood along the CPEC significantly improved, regional economic development more balanced, and all the goals of Vision 2025 achieved.
By 2030, the CPEC building strive to be entirely accomplished, the endogenous mechanism for sustainable economic growth in place, the CPEC's role in stimulating economic growth in Central Asia and South Asia brought into holistic play, and South Asia shall grow into an international economic zone with global influence."
Whether this can be achieved or not needs to be seen. There have been many articles written about the negative and financial aspects of the project. On the other side, experts believe this could be a project packed with a punch; in favour of the countries involved which would prove to be a game changer in the region, and it is due to these assumptions that some regional self-proclaimed powers east and west of Pakistan are not only concerned but inserting a joint effort to derail the project, with measures like, but not limited to alliances and creating unrest by financing local terrorist groups in an effort to stall the project.
All said and done the project is being developed at a very fast pace, with everything on stake for both China and Pakistan. Only the future will reveal the true potential of this region of great economic interest, starting well before the silk trade to the CPEC.
References
https://en.wikipedia.org
The News
http://cpec.gov.pk
image credit: CPEC Bulletin