Print PDF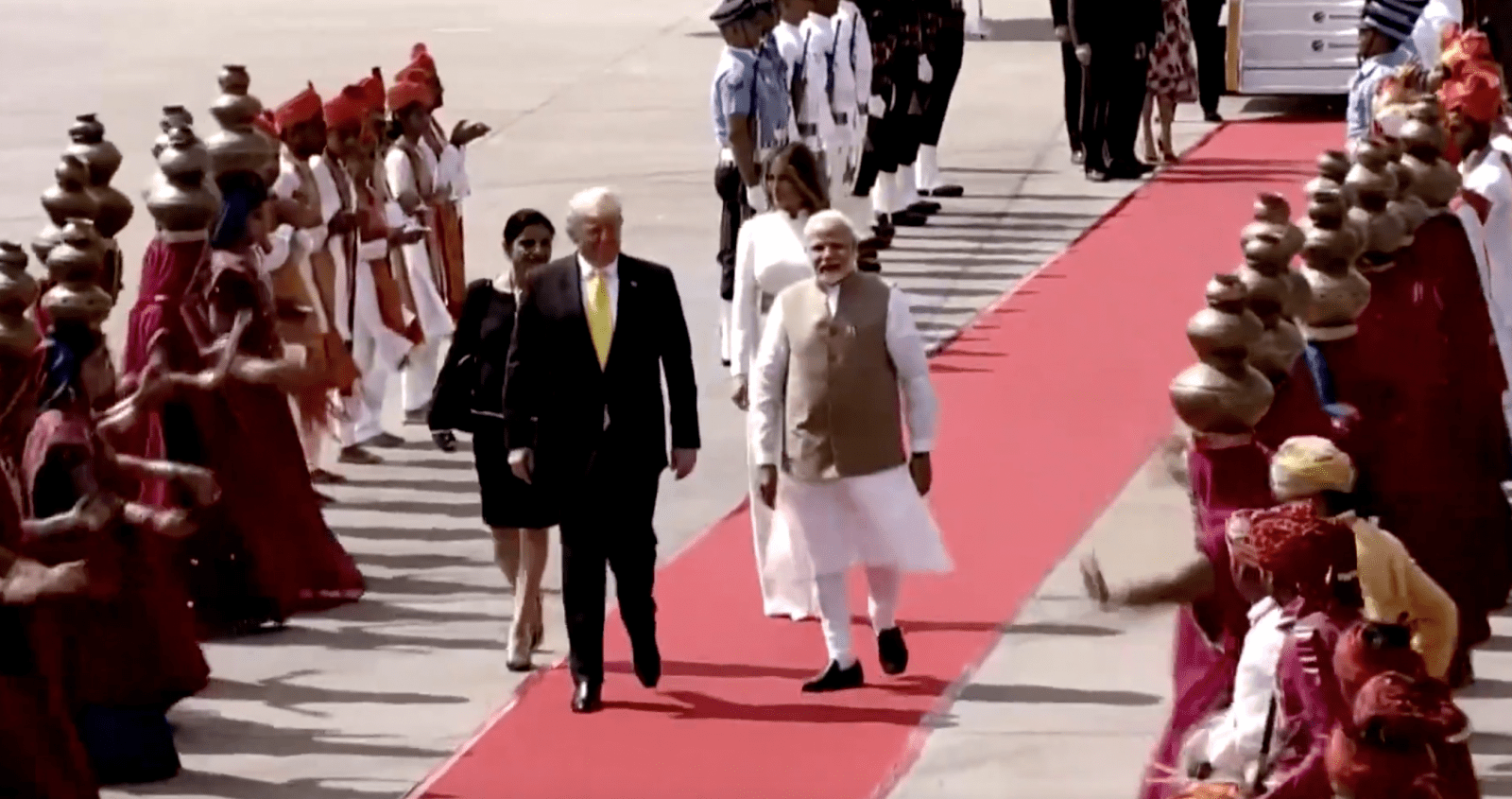 US President Donald Trump's maiden visit (yatra) to India (Bharat) has been deemed a roaring success by the spin doctors. Let us briefly examine the positives of his historic visit. Narendra Modi, India's Prime Minister, rolled out the proverbial red carpet for the visiting dignitary. The personal bonhomie between the two world leaders was visible while Narendra Modi returned the favour of the "Howdy, Modi: Shared Dreams, Bright Futures" event at the sprawling NRG Football Stadium in Houston, drawing a crowd of half a million people last autumn. Modi, arriving in tandem with the US President Donald Trump, drew a deafening applause from the mostly Hindu audience at the gathering. Modi and Trump spoke of strengthened ties between India and the US and called each other "loyal friends". They used each other's campaign slogans; Modi endorsed Trump's re-election with Abki baar Trump Sarkar and 'Make America great again', while President Trump borrowed the 'Make in India' slogan to promote 'Made in America'.
The crowd at Ahmadabad "Namaste Trump" (Good Morning Trump) during President Trump's visit consisted of over 100,000 people, who cheered on the visiting dignitary with zeal and passion. In the election year, the incumbent US President seeking a second term, reached out to the Indian diaspora in the US. He struck many of the right notes with his hosts: "America loves India — America respects India — and Americans will always be true and loyal friends to the Indian people," he said. Trump drew contrasts with another large Asian country: "There's all the difference in the world between a country that seeks to claim power through coercion, intimidation, aggression and a country that seeks to grow by setting its people free and unleashing their dreams, and that's India." His self-confidence and ease of addressing crowds overseas must have rubbed off on the lawmakers at home too, raising his esteem.
No trade agreements were finalized during the visit, but this was not surprising since prior to his departure for New Delhi, President Trump had announced that trade agreements would only be finalized after the US Presidential elections later this year. On the economic side, two-way trade in goods and services has increased; India is now the US' eighth-largest trade partner and the US is India's largest. Energy trade, in particular, has propelled. The number of US companies active in India have grown. For most US-based tech giants, India is now one of their top three customer bases. Indian companies are investing heavily in the US, as Indian CEOs highlighted to Trump. Meanwhile, Indians have established the largest number of billion-dollar start-up companies in the US founded by immigrants.
There are a number of points of discord between the two countries too. Trump had imposed duties on the import of steel and aluminum from India while New Delhi had levied heavy duties on the US import of agricultural implements and medical equipment. The diplomacy on both sides has been burning the midnight oil to cement the breaches. India has been apprehensive of possible US sanctions against it with respect to New Delhi's acquisition of Russian S-400 Missile Systems. These fears have diminished following complications arising from Turkey's acquisition of similar equipment. The consequences of heightened US tensions with Iran have been managed, with India given time and space to diversify its energy supplies while receiving a waiver from US sanctions for the port project in Chabahar. Many major trade differences have been bridged, including those on agriculture and health care; although new points of friction have arisen, related to digital payments, data localization, and e-commerce.
The two sides did conclude new defence agreements, which must have brought joy to Mr. Modi. The latest deal has raised the number of US-origin weapons platforms comprising the Indian military inventory to seven, although a number of the components will be manufactured or assembled in India. The signing of three significant defence cooperation agreements, upgraded bilateral, trilateral, and quadrilateral dialogues, and regularized military exercises involving all three services, have further cemented Indo-US defence ties.  There is an enhancement in coordination on connectivity infrastructure, maritime security, counterterrorism, and cyber security. Contrarily, Pakistan's Foreign Office spokesperson, in her weekly briefing, expressed alarm at the defence deal between India and the United States, particularly the sale of sophisticated weapons system to India, saying it would further destabilize an already volatile region.
A slightly negative aspect for the hosts was that during a press stakeout, an Indian journalist asked President Trump about Imran Khan, hoping that he would bad-mouth the Pakistani Prime Minister. Much to the chagrin of India, President Trump responded very maturely and stated that Imran Khan was his friend. Donald Trump went on to offer his good services to mediate between Pakistan and India on the Kashmir issue, which was rejected by India.
Despite the royal protocol extended to him by his hosts, President Trump expressed his displeasure at the promulgation of parochial legislations by the Indian government. This view was rather statesman-like from Trump. Pakistan's Foreign Minister Shah Mahmood Qureshi welcomed the observations on Imran Khan by the US President and declared it a vindication of Pakistan's efforts. His joy must have been short-lived, since in the joint declaration, both the US and India called upon Pakistan to reign in terrorism.
Narendra Modi specializes in extending warm greetings to his visitors and develops a camaraderie with international dignitaries. Apart from the fact that India is a huge market and offers major potential to countries seeking healthy outlets for trade and commerce, Modi's personal charm rubs off on visitors to New Delhi and he wins them over.
India was vindicated by President Trump's declaration that his administration was "working with Pakistan to crack down on the terrorist organizations and militants that operate on the Pakistani border," he also expressed hope for "reduced tensions" and "greater stability" in South Asia.
Some analysts in Pakistan opine that President Trump should have toured Islamabad too, since Pakistan's esteem is rising and its contribution to the US-Taliban peace accord should have been acknowledged. The fault perhaps lies with Pakistan, which did not vigorously pursue an invitation to President Trump to visit Pakistan.
A distressing development is that while the Presidential visit was in progress, violent Hindu mobs torched two mosques, numerous houses, schools, gas stations and tyre factories. The death toll was 38 while over 200 were injured.
Overall, President Trump's first visit to India must be deemed a success and it also provided Narendra Modi some respite from his challenges at home.