Print PDF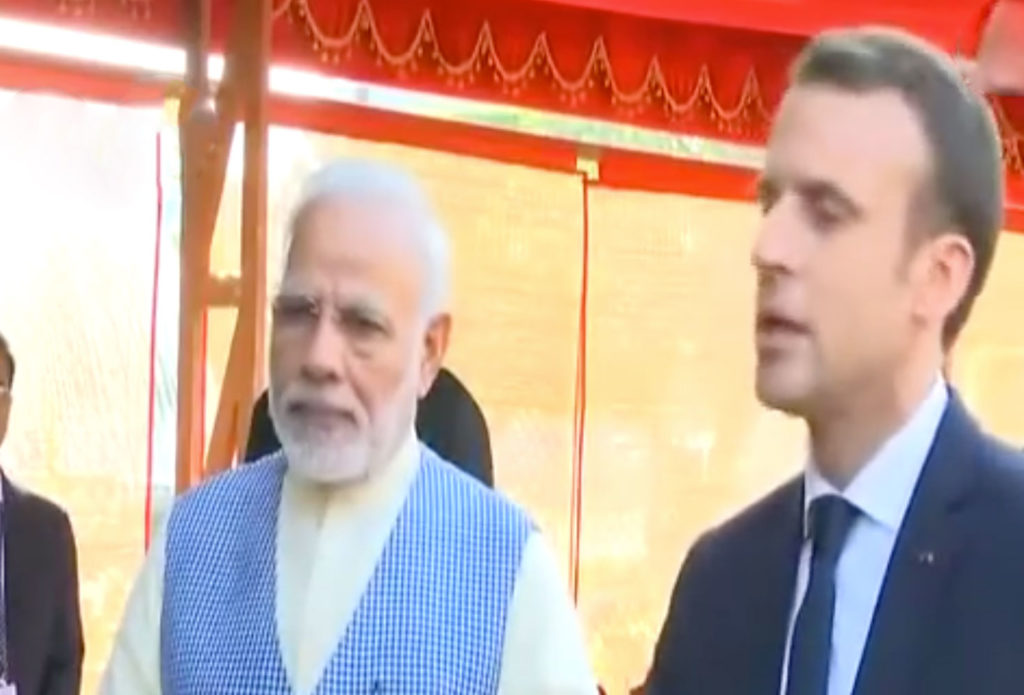 India's French connection dates back to the 17th century under French colonial rule. The Indian Union territory Puducherry was ruled by the French until officially returned to India in 1954. Both countries carried forward with the political, commercial, and cultural ties established during that era. After Indian independence in 1947, diplomatic ties were developed, and since then the two states have been cooperating in all the major domains.
The Cold War hindered the deepening of the relationship, primarily because of India's Non-Aligned Movement policy. However, the relationship improved as the Cold War ended. Landmark agreements like the Strategic Partnership Agreement of 1998 and the Civil Nuclear Agreement of 2008 were signed between the two countries to expand their relationship to the strategic domain. Regular exchanges between Heads of State/ Government have significantly improved bilateral ties. French President Francois Hollande's visit to New Delhi as chief guest at India's 67th Republic Day celebrations in 2016 made France the first country to receive such an honour. Cooperation between the two countries extended in various domains, ranging from a strategic partnership, defence cooperation, counter-terrorism, climate change, as well as economic and security-related issues.
Most recently, after the Pulwama crisis, France recognized India's concerns regarding its security and urged Pakistan to put an end to the operations of terrorist groups operating on its territory. This clearly shows France's inclination towards India in the region and the disregard of similar Pakistani concerns vis-à-vis India. Furthermore, France welcomed the listing of Masood Azhar as an international terrorist under the UN's 1267 sanctions committee.
France has always supported India's global endeavours and was the first country to support its desire for getting a permanent seat in the United Nations Security Council (UNSC). Besides this, France has supported India's membership of export control regimes like Missile Technology Control Regime, Wassenaar Arrangement, and Australia Group. It also supports India's bid for membership of the Nuclear Suppliers Group (NSG). France was the first country to enter into a civil nuclear cooperation agreement with India after the latter was granted an exceptional NSG waiver in 2008; in several instances, it reaffirmed its support for building consensus among the regime members for early inclusion of India in the NSG.
Under the civil nuclear cooperation agreement between the two countries, the Nuclear Power Corporation of India Limited (NPCIL) and the French company Areva signed an agreement for the construction of six nuclear power plant (NPP) units in Jaitapur, Maharashtra. However, the construction thus far has faced constant delays, primarily because of the concerns about the economics and safety of the NPPs, local opposition, and the collapse of Électricité de France (EDF) that took over Areva's operations in the year 2015, which resulted in the issues of ownership and pricing. The conclusion of any negotiations will now be according to the terms defined by EDF.
Another stumbling block in the process is the issue of nuclear liability. Though the French government had previously shown satisfaction over the issue when the nuclear insurance pool was established, yet problems continue to hold the liability issue hostage. This has also prevented India's nuclear deals with other countries from materializing. One of the significant aspects which may also have caused the delay could be difficulties linked to the actualization of the Indo-Japan nuclear deal. Critical reactor components being used in the French nuclear reactors originate from Japan, and it may not be possible for France to export such reactors or parts to India unless the latter has an agreement with Japan.
There have been reports revealing that France is working on doubling its footprint in India by focusing on India's ambitious project to build a fleet of nuclear-powered attack submarines. France gave a detailed presentation on the Barracuda-class – it's latest LEU fueled nuclear-powered attack submarine (SSN) – to the visiting Indian Chief of Naval Staff in November 2017. India is reportedly developing six indigenous SSBNs and has gained substantial experience through operating Russian leased Akula class submarines. This experience and Russian help have allowed India to build its own Arihant and Aridhaman SSBNs. The NPT prohibits the transfer of nuclear delivery systems to any other state. SSBNs are considered as a nuclear weapon system under START. Therefore, any transfer of SSBNs would be regarded as a violation of the NPT. However, there are no laws that govern the transfer of SSNs or naval nuclear reactors. India could possibly follow the previous practice of initially starting cooperation in the domain of SSNs and later copying the associated naval nuclear reactor technology for use in its indigenously developed SSBNs.
India and France also enjoy a strong defence partnership. The Rafale aircraft deal is significant in this regard, which underwent intense negotiations for six years. The main sticking point in this agreement has been the pricing issue and the inclusion of an off-set clause on the part of India. After resolving these technical issues, France has finally agreed to provide 36 fighter jets to India for 8.8 billion dollars. The Rafale jet fighter aircraft is capable of carrying out all combat aviation missions: air superiority and air defence, close air support, in-depth strikes, reconnaissance, anti-ship strikes and the nuclear delivery. Rafale, with its multiple capabilities, is well suited for India to pursue its aggressive doctrines which demand air superiority. A nuclear role assigned to Rafale will be detrimental for South Asian stability and would raise questions over French adherence to the NPT. Though the end user license between India and France over the Rafale deal is not available in open source, yet, using Rafale in a nuclear role is possible for India. It has not shown any reluctance to use foreign supplied platforms in nuclear roles. Designating a nuclear role to BrahMos is one such example where India clearly stands in violation of the MTCR.
China has also expressed apprehensions about the weapons system, stating that India will deploy the 36 nuclear capable Rafale fighter jets in the border regions of China and Pakistan to enhance its offensive capability. They carry tactical nuclear warheads, and this means India's nuclear deterrence capability will be significantly improved. Deployment of such dual-use platforms in a crisis situation only triggers misperception and miscalculation, instigating preemptive responses from the other side.
India's recent defence cooperation deals and manufacturing of defence equipment, force restructuring and a continuous increase in defence spending makes it fourth on the list of top ten defence spenders of the world. Besides that, SIPRI ranked India as the second largest importer of major arms. This massive manufacturing and procurement of lethal weapon systems is justified by India as countering China under the umbrella of America's 'China threat theory.' However, these developments alter the offence-defence balance between India and Pakistan and disturb strategic stability. India's acquisition of lethal weapon systems like stealth aircraft, dual-use missiles (BrahMos) and S-400 defence system only undermines the credibility of South Asian nuclear deterrence.
Tanzeela Khalil is a Visiting Fellow at Atlantic Council, Washington DC. The views expressed here are her own and do not necessarily reflect the policy of her organization in any way.