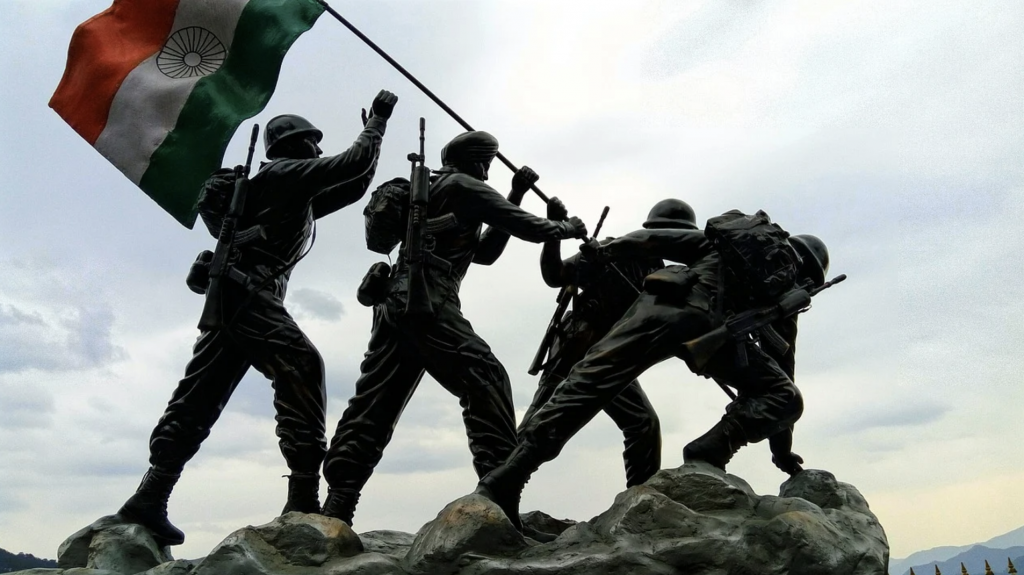 One of the great military thinkers, Carl von Clausewitz, once stated, "Every age has its own kind of war, its own limiting conditions, and its own peculiar preconceptions." In this age of information, "Hybrid War", refers to a grand strategy that employs multi-domain warfighting approaches ranging from cyber-attacks to disinformation and subversion, economic blackmail and sabotage, sponsorship of proxy forces, and creeping military expansionism. These methods aim to destabilize a society or a country by influencing its decision-making mechanism without resorting to traditional conflict. For quite sometimes now Pakistan has been the target of Indian-sponsored hybrid warfare. India has been using a combination of actions, including disinformation, economic manipulation, the use of proxies and insurgencies, diplomatic pressure, and military offensive posture along the Line of Control (LOC).
In South Asia, Hybrid Warfare is not a peculiar concept. Pakistan has long been the victim of this non-contact warfare. India successfully employed all the elements of non-kinetic warfare to break Pakistan. Through the systematic campaign, India not only created a separatist movement in the form of Mukti Bahini in the former East Pakistan but also shaped public perception against Pakistan. India didn't stop here. It further went for military intervention in the then East Pakistan which eventually turned into a bloody war.
India has long been exploiting socio-ethnic and religious fault lines in Pakistan. On several occasions, India has directly or indirectly fueled tensions particularly in the Balochistan province which has seen the highest incidents of sectarian violence. Although India has a history of instigating proxies against Pakistan, the scope and nature of proxy war against Pakistan have significantly increased since Ajit Doval stepped in as PM Modi's National Security Advisor (NSA). As per reports, Mr. Doval heads a Pakistan-centric propaganda cell that aims to disrupt economic activity by targeting Pak-China Economic Corridor (CPEC) and also fuels sectarian tensions in the country. While calling Pakistan India's primary adversary, Mr. Ajit advocates for an extensive range of clandestine actions against Pakistan, which includes, isolating Pakistan internationally OR aiding Tehreek Taliban Pakistan (TTP) to create chaos within Pakistan.
India has already made significant modifications to its Land Warfare Doctrine (LWD) to accommodate hybrid warfare. In its LWD, India pledges to cause unaffordable losses to the potential adversaries in a multi-front scenario, which includes non-contact domains of conflict including cyber, space, and information.
More recently, India has unleashed massive propaganda warfare against Pakistan. Recently, the international community caught up by a sudden surprise when broke out when EU DisinfoLab, a Brussels-based non-governmental organization published an extensive report, also known as Indian Chronicles, on Indian covert disinformation campaign against Pakistan. The report shows how 10 defunct yet UN-accredited NGOs were revived to influence the EU and the UN Human Rights Council. It also uncovered over 750 fake local media outlets used to spread disinformation.
The report said the disinformation network run by the Srivastava Group, a New Delhi-based entity, was designed primarily to "discredit Pakistan internationally" and influence decision-making at the UN Human Rights Council (UNHRC) and the European Parliament. It further added, to "undermine Pakistan internationally", the network "resurrected dead NGOs" at the UN, impersonated the EU and laundered content produced by fake media to real media, and reached millions in South Asia and across the world. According to the report, "These UN-accredited NGOs work in coordination with non-accredited think-tanks and minority-rights NGOs in Brussels and Geneva. Several of them – like the European Organization for Pakistani Minorities (EOPM), Friends of Gilgit-Baltistan, Baluchistan House, and the South Asia Democratic Forum (SADF) – were directly but opaquely created by the Srivastava group."
All this indicates that India is using all elements of its national power to systemically destabilize Pakistan by exploiting its fault lines. India has been specifically targeting Pakistan's economy, information system, army, and international image. The politicization of the Financial Action Task Force (FATF) and India's overwhelming lobbying to blacklist Pakistan are the prominent features of India's fifth-generation warfare against Pakistan.
To deal with hybrid warfare requires a set of comprehensive strategies at various levels. One strategy is to take the international community in confidence through politico-diplomatic efforts. Pakistan has submitted an evidence-laden dossier to the United Nations on Indian involvement in terrorist activities. As per the dossier, the Indian campaign against Pakistan includes promotion/ sponsorship of listed terrorist organizations — Tehreek-i-Taliban Pakistan (TTP) and Jamaat-ul-Ahrar (JuA), sponsorship of Baloch insurgents, raising a special force of 700 to sabotage CPEC, and many other clandestine activities.
In short, Pakistan needs to realize the severity of the threat of hybrid war emanating from its arch-rival. Pakistan cannot afford to leave this threat unaddressed as it has the full potential to create chaos within the country. Therefore, using global forums such UN, Pakistan must continue to expose Indian nefarious design so that the international community could realize the severity of the issue.