Print PDF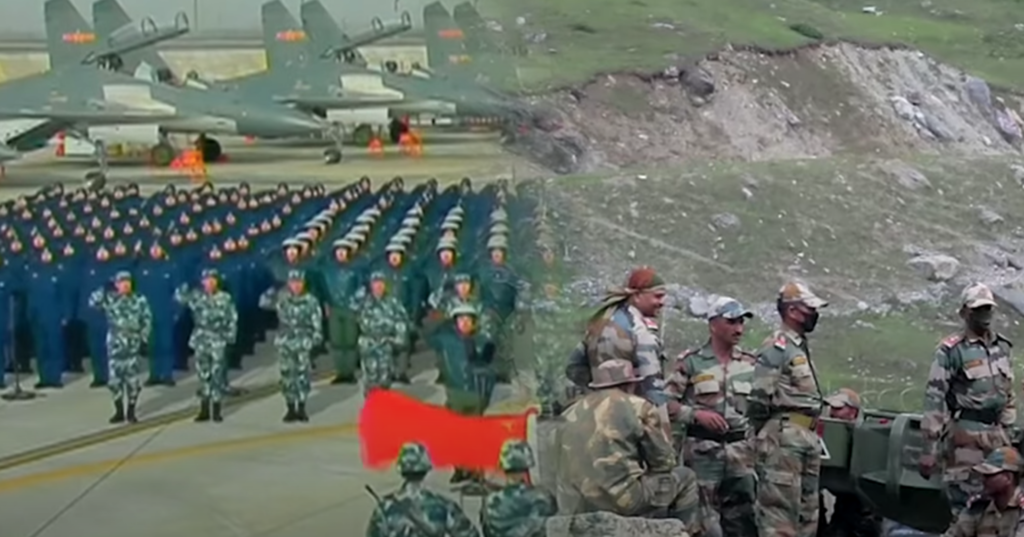 China and India have a long history of tensions over multiple issues out of which the undecided border is at the top. The two neighbouring countries share the world's longest unmarked land border. They fought a full fledge war in 1962 and are engaged in sporadic skirmishes since then. Recent military incidents have come to the fore again after a relatively long period of quiet. Tensions have spiked, and in a more recent incident, 20 Indian soldiers were killed in a scuffle that broke out between the two sides, flaring the tension to an unprecedented level and risking a major escalation between the two regional powers.
The conflict started when on May 5, a clash took place between the Indian and Chinese soldiers in Ladakh area at the Line of Actual Control (LAC) due to Indian intrusion and patrolling in Chinese claimed border territory. Apparently these clashes stalked from contradictory assessments of the demarcation of border itself, but the intrusion did not remain limited to one time and point. On May 9, Indian soldiers repeated the same activity which was checked by the Chinese soldiers and both sides got engaged in yet another brawling contest.
Extension of skirmishes to another two to three locations was followed by military buildup in order to gear up responses. The expansion of these brawls at multiple places indicate that Indian Army has been pushing China rather than trying to calm down the situation. Modi's meeting with his like-minded national security team earlier also indicated the seriousness of the situation. In response, Chinese foreign ministry also vowed to safeguard its territorial integrity at all costs. Both sides have had military level talks to reduce the tensions but have not been able to restore peace.
Going back to 1988 Sino-Indian deal, which fostered some kind of tranquility promoting economic linkages and activities; outstanding issue of border demarcation was left unresolved. Statistically the two countries were near equals on the world stage at that time; however, material balance of power between the two countries has dramatically changed since then. India has been on a steady path of rising economy but on relative terms its growth has considerably declined. Currently both nations are also engaged in a security dilemma directly and indirectly both.
India has always been aspiring to take a lead role in the region and occupy a singular dominant position and this quest was aptly bolstered and fueled by the US in the light of US Grand Strategy for the region. India has exercised unilateral political influence with most countries while exercising lopsided treaty relations; Pakistan and Afghanistan being exception to this. In the last seventy years, it has annexed Sikkim; carried out military interventions in Sri Lanka, Maldives, Bangladesh and Bhutan; coerced them with threats of war; and interfered in their domestic affairs. Nepal has recently been victimized as Indian authorities have released a political map showing 35 kilometers of Nepalese area as part of India. Continuous and unprovoked violations of the cease fire at Line of Control (LoC) with Pakistan also reflect pursuits to keep the borders volatile.
The regional situation started to change in 2010s, when China grew in economic power disturbing existent stalemate. China with its persistent progress has increased its footprint in South Asia with far more friendly relations based on inclusivity, equality and mutual interests unlike Indian coercive strategy. In the last decade, while economic linkages between India and China have grown exponentially, their political and military relations have remained tense amidst China's growing power affording it proportionate say in the regional affairs.
The increasing influence has come with a cost of offending India. India's foreign policy goals are centered on enhancing its economic and political influence in Asia and around the world. India has been seeking to expand its commerce and trade through India's North-South Transport Corridor (INSTC) connecting India to Russia, Central Asian countries, Baltic, Nordic and Arctic regions. As Belt and Road Initiative (BRI) has been expanding with considerable gains for China, India views it as a threat to its endeavors.
The US planned exit from Afghanistan is emerging as another challenge adding to India's frustrations. US diminishing interest and influence in Afghanistan will directly affect India's goal of regional hegemony. For US, ensuring pro-Indian government and sustained internal stability in Afghanistan are critical factors in cementing Indian influence in the region, which so far seems to be a distinct possibility despite India's ongoing efforts.
Modi's domestic policies are also taking toll.Abrogation of Article 370 and crackdown along with burgeoning atrocities in Jammu and Kashmir, enactment of controversial Citizenship Act and unprecedented violence against minorities especially Muslims are clear manifestation of India's Supremacist approach with roots in Hindutva. Failure to control and cover these atrocities has also added to the frustrations.
India is in a denial mode to accept China's power and is feeling threatened. Indians see Beijing's "Belt and Road" initiative as an encirclement campaign, given how determinedly China has been building its presence in Pakistan, Sri Lanka and other points along the Indian Ocean. Indian Prime Minister Narendra Modi's Act East policy and the increasing US emphasis on the Indo-Pacific has created a framework for better cooperation thus making India an energetic friend at a time when many of America's traditional allies are going grey.
These actions of India are manifestation of its quest to counter Chinese influence using all possible means tacitly emboldened by US. While both countries have scaled up their military presence in the border region, any military confrontation is likely to bring devastation to the region as a whole. While new cold war is echoing, US desire to use India as countervailing power to China is also inspiring Modi in his quests.
The Indian expansionist ambitions coupled with Modi's self-induced internal strife may stretch India beyond its capacity. China has asked India to be careful not to include the US factor in its handling of any problem in its relation with China. Accordingly, going forward, either India would have to recognize the new reality and accept an end of its regional domination; or, it would have to find a more even-keel approach in its bilateral relationship with Beijing to make the latter's forays into the region unprofitable.
India simultaneously is playing the upper hand in the occupied Kashmir by carrying out unabated atrocities and offensive military posturing along the LoC. Evermore than before, India itself is trying to create a two front war situation while world powers like US, EU, Middle East are already grappling with their domestic issues. Any conflagration between the three nuclear states in the region (China, India and Pakistan) is a doomsday scenario and has the potential to engulf the region beyond South Asia. Indian decision-making elite are badly suffering from narcissism and they exude an aura of idiosyncratic populism. Confusion is prevailing and any incorrect and incoherent decision would be detrimental once it is seen in the overall strategic equation punctuated with COVID-19, economic regression and an emerging new world order. India needs to open her eyes to evade the pitfall before it is too late. Pakistan and China must play their role in a sagacious and pragmatic manner while ensuring safety and security of their nations and region alike.
---