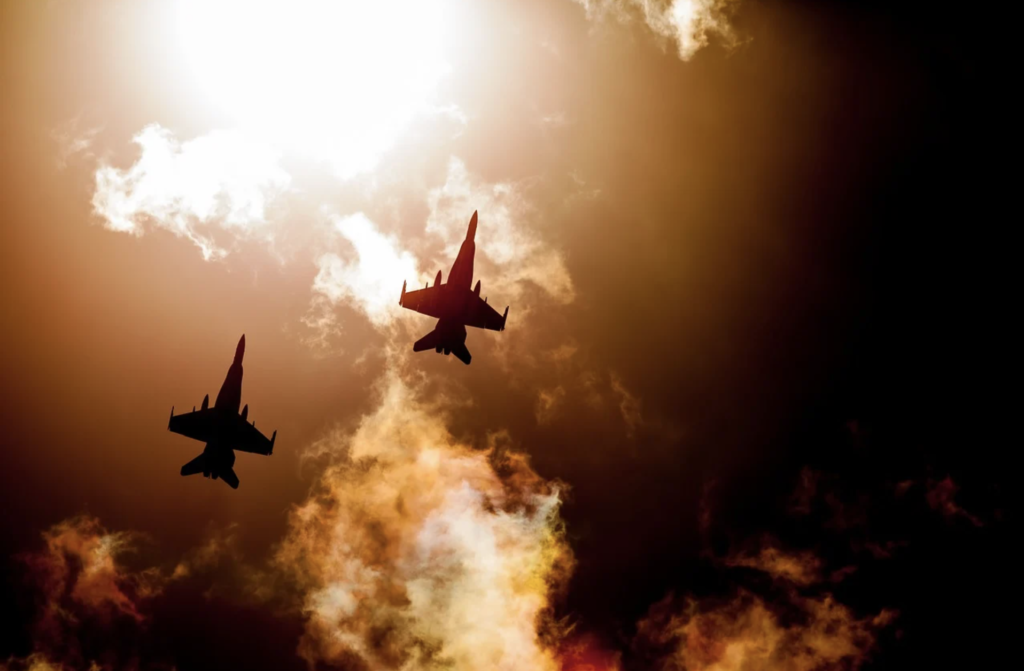 Integrated combat systems represent the new generation of warfare equipment, and they differ fundamentally from their predecessors. Military gear was simply juxtaposed and coordinated, for many centuries. They are now in charge of their own coordination and represent the central hub in combat-centric networks. They were systems for millenia. They are now systems of systems. The world's leading military powers have understood this, and their respective industries are adapting to the change, as fast as they can. Indeed, this is no small change.
Systems have become the centerpiece. In the delicate art of balancing military forces, the lethality of a nation (or group of nations) is not embodied by the simple addition of jets, tanks and boats. In fact, it is built on the capacities for all players on the field to bring their specific systems into one working order. Each military system is a component of the Military System. They must be able to mobilize their men and equipment as one, in a resilient but flexible fashion, towards the objective given by command. On the defense side, they must also be able to react to all threats, whether foreseen or not, as one single organism each system using its own capacity to assess. These "systems of systems" give military superiority to those who integrate them the best, on all levels: tactical, operational and strategic. But this integration is a subtle mix of men, equipment, and more or less autonomous units.
The 2003 invasion of Iraq was one of the earliest and best illustrations of what advanced integration can achieve. While the US forces were certainly superior to Iraqi defenses, Baghdad was a force to be reckoned with, especially by an expeditionary army. And yet, with all units, men, and gear working as one in a perfectly oiled machine, the American war machine just rolled across the country.
More recently, the Russians developed what Western analysts have dubbed a "hybrid war", in Crimea and the Ukraine, with the perfect synchronization of covert forces and conventional ones, and the advanced interaction of low-intensity influence operations with high intensity moves. This indicates strong strategic maturity, but also has required many technological leaps.
Russia produced proof of how their combat systems, integrated within an "intelligent" battle apparatus, could change dynamics in the case of Western confrontation, during the Ukraine conflict. Strategy analyst Sebastien Roblin writes: "Perhaps Russia's most successful deployment of this ability is in its ongoing conflict with Ukraine, where a 2017 Army study detailed the devastating effectiveness of its electronic warfare capabilities in shutting down Ukrainian FM radio and cellular networks. Jammers, which disrupt command signals, brought down over 100 Ukrainian drones, while signals intelligence was used to target deadly artillery strikes." Again, the Russians' integration of drones and robotics into pre-existing combat systems, deployed in Syria, has shown promise. Unfortunately for Bashar Al-Assad, Turkey is also making heavy (and successful) use of drones and drone-assisted weapons against the regime and its associates.
Turkey also, to its dismay, provided a counter example of integration, in the same war. Despite using top-grade German main battle tanks, its armored divisions were severely thrashed by considerably inferior forces. The German Leopard-2 tanks were used in a stand-alone configuration, away and disconnected from supporting troops. The insurgent enemy, inferior in every way, used integration, coordination and communication to turn the table around on them. This proves that "adding forces to forces" is senseless, military speaking, and that Turkey needs to mature its art of warfare.
Additionally, understanding the importance of integration is not enough for a military force to jump that gap: the rest must follow. Indeed, the industrial apparatus which supports the military force must be profoundly re-cast, so that all elements which intervene on the battlefield may coordinate seamlessly.
The systems integrator is the new orchestra conductor. The industrial firms in charge of integration are currently integrating systems which could do most of the coordination themselves, leaving only the decision-making to their human commanders. This applies to all fields: Lockheed is doing it for American aerospace, Dassault is doing it for European aerial forces, and KNDS is doing it for European land forces. These projects can reach immense levels of complexity, such as the F-35 program, or Dassault's manned-unmanned aerial forces. BAE and Bath Iron Works are expected to push naval integration further strongly, in coming years. Naval analyst Kris Osborne writes: "A fast growing fleet of USVs, it would appear, could bring the promise of greater forward-deployed command and control, along with an increased ability to integrate a range of otherwise separated functions. For instance, it seems entirely plausible that a new medium Unmanned Surface Vehicle could combine submarine hunting with mine-countermeasures, command and control and surface attack." Russian defense contractors are also in the game, and have achieved a high level of integration around their Armata main battle tanks, as reported by RT: "The new electronics will make the tanks part of a network which also includes drones, electronic countermeasure systems and targeting devices. The creators say it will take less than a minute after a target is detected for its exact coordinates to be transferred to weapons crews."
This implies that tender procedures be heavily modified, as recently was explained by French defense minister Florence Parly: "There will be a greater cooperation between the DGA, Joint chief of staff and Chief of staff of each of the services, with teams working together in the same office area. […] There is a search for greater speed by merging the operational requirements set by the services with the technical needs drafted by the DGA. The forces and DGA will, with a prime contractor, draw up a single document setting out requirement. This combined approach will be tested on a new internal communications system for the ministry." In the wake of this political impulse, the entire French defense ecosystem has gotten in coordinated motion, despite most industrial players being private. The Defense Innovation Agency (AID) is coordinating innovation to ensure rationalization and efficiency, and French integrators are maintaining high levels of private research and development. For example, Nexter has pushed forward French defense capacities on its own initiative, rather than waiting to be asked to perform a task by the French State, with the development of the Scorpion battle lab. This project was largely developed on private funds, instead of being funded by a development contract.
With such staggering complexity, the number of defense companies which are up to the task has fallen drastically. Manufactures which were at the top of their market because their guns shot further, or packed more of a punch, are now in the second, or even third, tier of manufacturers. They are directed, in their industrial efforts, by the systems integrator, who is charged with bringing the entire system-of-systems coherently together. The integrator must therefore be built for the task, and everything, from human resources to R&D departments, must be centered on the outcome. Put in a nutshell, a producer is tasked with providing an item, in compliance with technical specifications. An integrator is tasked with providing a capacity. As strategy analyst James Grant says: "America's military might is predicated on its long-distance power projection capabilities—the ability to bring overwhelming force in the form of troops, ships, aircraft, and missiles to any corner of the world in a short period of time" – something which, until now, required an immense amount of coordination.
The integrator therefore holds a crucial role, as the one in charge of the proper deployment of programs. The British were reminded of this, the painful way, when lack of coordination between the integrator and the subcontractors led to dramatic delays on their carrier program, thus denying them strategic capacity and considerably harming defense budgets. Defense News Andrew Chuter wrote: "The NAO said the Lockheed Martin-led program to install Crowsnest radars on Royal Navy Merlin helicopters is running 18 months late and will impact how the British carrier strike force is initially deployed. The watchdog said the MoD is working to come up with an acceptable baseline radar by the time HMS Queen Elizabeth undertakes its initial deployment next year." Defense firms can no longer drop a heap of military equipment on a parking lot, sign the delivery sheet and drive off: they are now responsible for coherence and capacity, throughout the life of the program, through maintenance, upgrade and optimization contracts.
Europe is shaping up. The main military powers of the old continent are profoundly re-shaping their defense, with the help of private partners on the military industrial market. States no longer have a large rolodex filled with defense contractors: they now pass their orders to systems integrators who, in turn, coordinate the fold of subcontractors and suppliers. French Nexter is the first example of such State counterparts, along with British BAE and German KMW. German Rheinmetall is also inching towards this status, through in-depth reorganization, and could reach it in a couple of years. Nexter and KMW both hold extraordinary financial reserves, which they use for research and development, instead of placing that task on the taxpayer, as many defense industries do. These private firms launch in "skill-building" programs and do not await simply their States to fax orders: much of the push for innovation and progress comes from the integrators themselves, as the latest EU defense report indicates. On pages 56 to 63, can be found the high number of large-scale initiatives which were launched by the integrators to reinforce European defense and sovereignty.
This new defense configuration has also brought a strategic shift: international cooperation. Aware that only those who cooperate will remain competitive, European defense integrators have used international and intergovernmental relations to form new-generation alliances, such as KNDS. IFRI Daniel Fiott writes: "Industry is doing its part for European defense. In 2015, French-owned Nexter Systems joined forces with the German firm Krauss-Maffei Wegmann to create KNDS, a European leader in land defense systems. French and Italian shipbuilding companies are also looking to advance a joint venture to develop and produce warships." Systems integrators are therefore integrated transnationally, regardless of national borders, a trend which was first set by the European Airbus giant. The land defense industry will not be spared by this metamorphosis, and cutting-edge programs for the future, such as SCAF or MGCS, hinge on energetic and solid international cooperation. These two main programs will shed light on which European countries have assumed leadership on the continental level, by acquiring a systems integration capacity. France and England have long established such positions, while Italy has given up on the idea, and Spain is quickly following suit. Germany is in the process of acquiring the strategic capacity, and future German Ambassador Hans-Dieter Lucas will probably seize the opportunity of these programs to consolidate the Franco-German relationship and build his legacy – thus assisting Defense Secretary Benedikt Zimmer in the promotion of the programs and in the national acquisition of systems integration capacity. As many countries, in the past, have expressed interest, in one form or another, in the programs (Italy, Spain, England, among others), these could also be the opportunity to steer European relations back to normalcy for Germany – as in maintaining ties with England after Brexit, for instance.