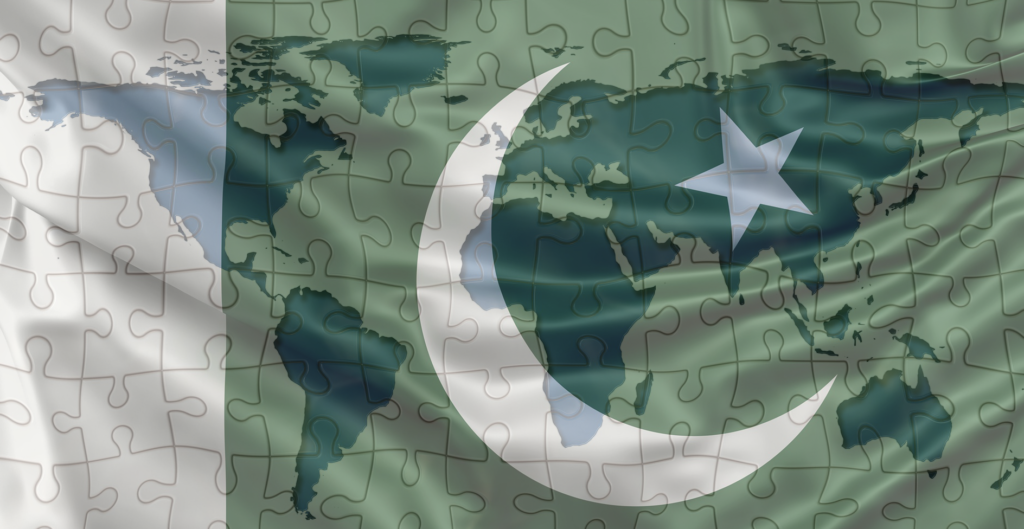 In a recent conversation at the Atlantic Council, Special Assistant to Prime Minister on National Security Division and Strategic Policy Planning Cell, Dr Moeed Yusuf categorically said that Pakistan wants to advance economic diplomacy, so as to reap the advantages of the opportunities provided by regional integration. Also, at the outset, he stated that Pakistan is not aligning with one camp as opposed to the other. All this, he said, could materialize if Pakistan focuses on solving its problems and navigates troubles at home. However, Dr Yusuf was quick to point out that one revanchist, irrational actor in the region is marring Pakistan's ability to gear towards economic integration. The gist of his talk was this: let Pakistan focus inwards.
Dr Yusuf was right in putting India at the heart of Pakistan's threat spectrum. Pakistan's India predicament is becoming increasingly complex. Other than that, Pakistan has to cogitate through a number of challenges, chief among them pertain to the situation in Afghanistan and Pakistan's balancing act in the Middle East.
In the spectrum of quagmires, Pakistan's India-driven concerns are more pronounced. The ongoing repression by India in the Indian Illegally Occupied Jammu& Kashmir (IIOJK) is making things worse in the occupied territory. India's brazen colonization of Kashmir, marked by the introduction of new domicile laws, is not only defying international law but is simmering more dangers.
Demographic changes, coupled with human rights violations, are further stifling the Kashmiris. If anything, India's bid to bring back normalcy in Kashmir has failed on all counts. That the Kashmiris are refusing to hunker down is quite instructive. India's woes in Kashmir are not reducing. In fact, they have exacerbated due to the seemingly endless conflagration between India and China. This situation has brought to fore India's inherent weaknesses in dealing with China and the incendiary situation in Kashmir. That said, while India has demonstrated a lack of resolve against China, it has continued to show its intent to teach Pakistan a lesson. This increases the likelihood of a flare-up between India and Pakistan.
The escalation pattern in the next crisis between India and Pakistan may be similar, depending on how India climbs the first rung of the escalation ladder. If statements of the Indian leadership are anything to go by, then Pakistani planners and decision-makers will have their work cut out, should a new crisis start between the two countries. Thus, facing an array of non-traditional security challenges, Pakistan is saddled by a potentially-explosive development on its eastern border. Pakistan has to also fend-off India's sub-conventional war in Pakistan, that is typified by India's massive role in whipping up terrorism and secessionist movements in Balochistan. This factor will likely become more significant given China's rising stakes in Pakistan by virtue of the China-Pakistan Economic Corridor(CPEC).
Afghanistan is another principal concern for Pakistan. Much to its credit, Islamabad has facilitated the Afghan peace process. Not only it helped convince Washington that the adoption of a military-heavy policy is futile; continuous efforts and parleys with all the stakeholders, coupled with direct engagements between Prime Minister Imran Khan and U.S. President Donald Trump, helped resuscitate dialogue between the Afghan Taliban and Washington that eventually led to the historic Doha deal.
Since the signing of the peace accord, Pakistan has continued to urge all parties to start the intra-Afghan dialogue and is engaged with all the parties without taking sides. Contacts at the highest levels with all negotiators have helped iron out differences, with Pakistan coming across as a stabilizing influence. That said, Pakistan has to contend with a number of issues related to Afghanistan. Pakistan is faced with the threat of a revitalized anti-Pakistan terrorist infrastructure based in Afghanistan. What is more critical is that those elements are operating with impunity and that too with support from the intelligence apparatus operating out of Afghanistan. This factor could complicate Pakistan's security quagmire, especially at a time when it is looking to set the country on the path of economic development. Pakistan will have to deal with this resurgence strongly while ensuring that its balancing act in the Afghan peace process continues. The task will be gargantuan, especially given that Pakistan is mending fences with the United States by treading very gingerly with respect to the peace process.
Another challenge is the presence of minefields insofar as the Middle East is concerned since Pakistan has continually sought to strike a balance in its ties with the Middle Eastern states. While bolstering ties with Riyadh and Abu Dhabi, Islamabad did not lose sight of recalibrating ties with Tehran, Ankara, and Doha. The recent sparring with Riyadh indicates that Islamabad's forays in the Middle East and elsewhere are a cause of discomfiture for the Kingdom.
Pakistan is saddled with a quandary: it needs to pressure an all-powerful Saudi-led Muslim bloc on the Kashmir issue, while also removing the trappings of breaking away and joining a parallel grouping. The daunting issue is to maintain robust relations with the Saudis while taking opportunities provided by countries like Malaysia, Iran, and Turkey. Pakistan has to expand its options in the Middle East with regard to trade, investments, and security, in the face of an ever-changing regional environment.
Broadly, Pakistan has to grapple with a mosaic of conundrums in the short-term. Its ability to manage these predicaments will determine as to whether Pakistan attains security, peace, and development at home and resultantly, in the region.
The views expressed are the author's own and do not represent the organisation he works for.