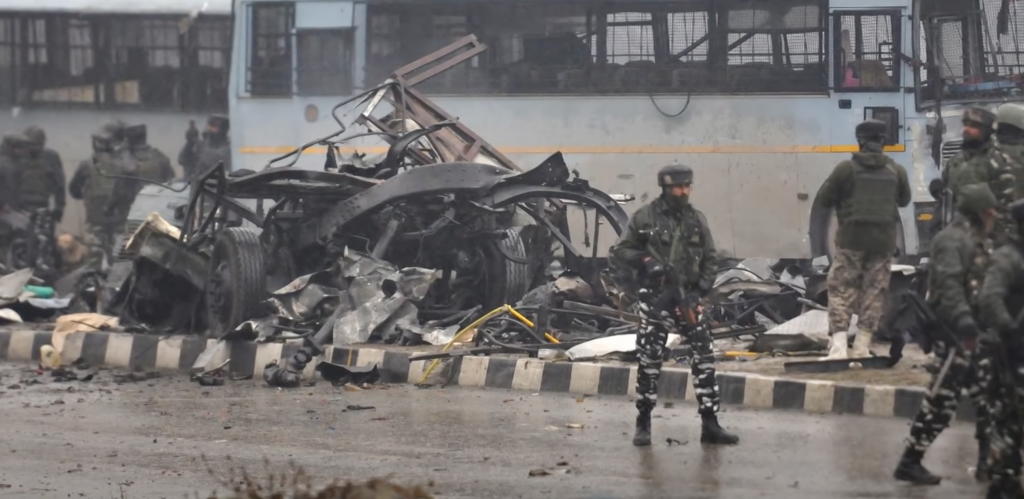 While there has been a view all along that Pulwama was a false flag operation aimed at achieving Modi's political objectives, yet many observers thought it might be stretching it too far. The reason for this is not that they believed that Modi is not capable of this but their belief that no leader in the world would get its soldiers killed to win an election.
According to reports that are now emerging indicate that the officials in New Delhi ignored several intelligence reports, and as many as eleven intelligence reports were available that referred to such a possibility. As per an investigative report published in the 'Frontline' India reveals that between January 2, 2019, and February 13, 2019, 11 intelligence inputs warning of the Pulwama terrorist attack of February 14, 2019, were ignored.
In the post-Pulwama India, Modi's New Delhi ensured that anyone that raised questions how it was found unaware of such an attack and if there was any security or intelligence lapse was declared anti India and as someone who has insulted the martyrs. Yet the whole incident turned out to be a a Kafkazian tragedy for Modi. How? Consider: Modi's response to the 2016 Uri attack created a commitment trap for him when he signaled: "blood and water cannot flow together." His then defense minister suggested to remove a thorn with a thorn.
On 14 February 2019, in the most deadliest attack on the Indian paramilitary force stationed in the Indian Occupied Kashmir in recent times a young Kashmiri boy rammed an explosive laden car into their convey killing 44 Indian paramilitary personnel and well above than 70 wounded. On 26 February 2019, India claimed that the Indian Air Force has targeted and destroyed an alleged Jasih-e-Muhammad training camp in Balakot in Pakistan resulting in a huge number of deaths. However, it was soon proven to be incorrect. Several questions remained unanswered: Why Cold Start doctrine was not operationalized if PM Modi really wanted to go for it? What they wanted to achieve from such a strike? Did they get what they wanted? If not, what options did they have and were these exercise any of these?
The next day, Islamabad responded to the Indian strike by locking on a key military installation and then targeting an empty area to signal its capability, but opting not to escalate. In the ensuing air battle, PAF jammed the communication link of the IAF MiG and shot it down. The pilot was arrested. In the fog of the war, the IAF panicked and destroyed its own M-17 helicopter killing seven people. India also mobilized its Navy and deployed an Indian Navy task force including INS Vikramaditya, in the north Arabian sea. In May 2019, the Indian Naval chief claimed that during the crisis Indian Navy was "combat ready and mission deployed", and if needed would have destroyed the Pakistani Navy. Ironically, the Indian Navy could not locate Pakistan Navy's Agosta-90 B submarine throughout the crisis. Whereas Pakistan Navy's P-3C Orion aircraft compelled the Indian Navy's most advanced Scorpene-class submarine to surface.
Two days later, Pakistan released IAF Wing Commander Abhinandan as a peace gesture. PM Modi made several hints to the fact that had he not been returned, India was ready to target Pakistan with missiles. Islamabad, on its part promised to respond with a by 3 to 1 ratio.
Whether it was part of New Delhi's initial strategic assessment or not, Pulwama crisis introduced several new trends and busted several myths. For the first time, Indo-Pak Air forces played the dominant role in the crisis. Although IAF failed to achieve its objective yet the use of Beyond Visual Range (BVR) missile and AWACS was significant. Had PAF not unlocked after locking on its targets, the possibility of hitting more Indian targets existed that would have further embarrassed New Delhi and escalated the crisis. Pakistan had the option to escalate yet it intentionally restrained its response.
A closer look at the crisis behavior of India and Pakistan divulges contrasting trends: India chose to attack mainland Pakistan using the Air Force. Its projection of the attack as a non-military target and not against the state and military of Pakistan was puzzling to say the least. Unlike India, Pakistan restricted its response to the disputed territory, after locking on to military targets such as the Northern Command (15 Corps headquarters), it unlocked and targeted an empty area to ensure that the Indians get the message without escalating the conflict. Islamabad shot down an IAF MiG and unconditionally returned the pilot. The Pakistani Prime minister repeatedly called for a dialogue and peace. Even the Indian strategic community concedes this point: "Pakistan's response stayed at the conventional level. Even at the conventional level, Pakistan's response was arguably neither escalatory nor proportionate because no Indian facility was hit. Moreover, the Indian pilot whose plane was shot down by Pakistan in an aerial dogfight was returned without any concessions even being demanded from New Delhi." Pakistan which has always been blamed for using the nuclear card and the one instigating crises, demonstrated a responsible nuclear crisis behavior. Unlike Modi's India, it ensured that deterrence is maintained without escalating the conflict.
However, there are several points that must push the South Asian strategic community to ponder further on this crisis. What if Islamabad opted to beyond a tit for tat response and escalated the crisis? The role that Washington played in this crisis proved that it is not an honest broker and that interests are paramount in international politics. Above all, why PM Modi opted to do this despite being fully aware that such an action would not achieve him anything and why at that particular time? And why New Delhi ignored intelligence warnings? Oscar Wilde's dictum ignoring one warning was misfortune, ignoring 11 was carelessness. More worrisome is that this carelessness could have caused unimaginable consequences for both countries.