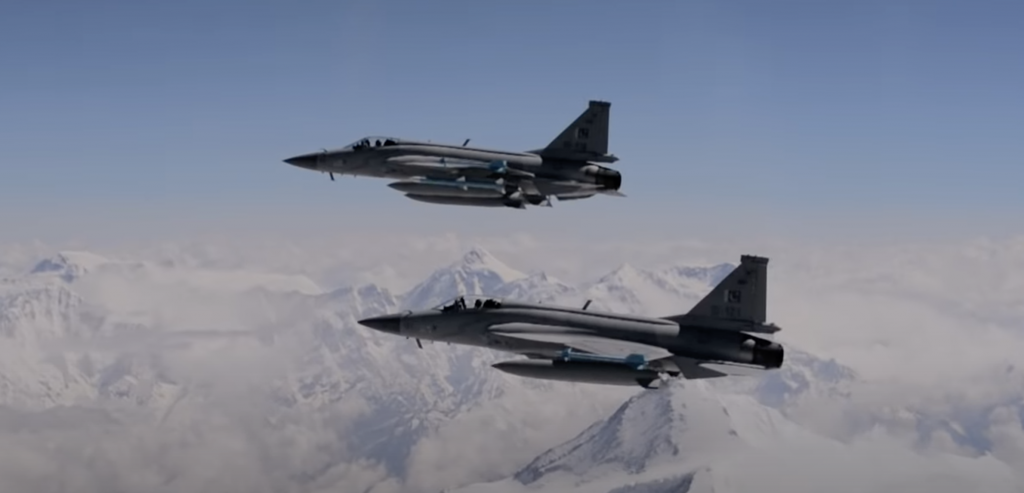 India and Pakistan have agreed to implement the 2003 ceasefire agreement along the Line of Control (LoC). It may be a coincidence that both sides have reached this understanding exactly after two years of 'Operation Swift Retort' which led to the shooting down two of the Indian aircraft by the Pakistan Air Force (PAF) and capturing one of the pilots of Mig-21 that fell on the Pakistani side of the LoC. The resolve and professionalism demonstrated by the PAF on Feb 27, 2019, re-established the salience of Pakistan's Full Spectrum Deterrence (FSD) posture which precludes the possibility of even a limited war between the two nuclear armed neighbours.
The recent ceasefire agreement could be a result of this realization that war is no longer an option to resolve their political disputes, but both India and Pakistan have experienced similar cycles of engagement and disengagement in the past, with no tangible outcome. After every military crisis there was a round of talks encouraged by a third party (mainly the US) but without any outcome. With the US no longer a neutral arbitrator in the region, it remains to be seen how the two parties would agree to narrow their differences, especially if India refuses to reverse its Aug 2019 action and fails to restore the status of the Indian occupied territory of Jammu and Kashmir.
Balakot Crisis. On Feb 14, 2019, a young local Kashmiri militant attacked a military convoy and blew himself up resulting in the killing of more than 40 personnel of the Indian security forces. India blamed Pakistan and threatened punitive action. Twelve days later on Feb 26, 2019, the Indian Air Force (IAF) launched an aerial surgical strike close to a place known as 'Balakot' targeting a religious seminary that India described as a militant camp and claimed killing more than 300 'terrorists' but with no supporting evidence that could have otherwise corroborated the Indian claims.
Subsequent investigations revealed that the strike package of 20 Mirage 2000s carrying Spice 2000 and Crystal Maze missiles, supported by Air Borne Early Warning systems, failed to deliver their load on the target, despite having practiced the strike on a simulator and pre-fed coordinates on the bombs.
In response to the Indian action, PAF launched a counterstrike on Feb 27, 2019, which was intended primarily to demonstrate Pakistan's resolve, but carefully choreographed to avoid casualties on the ground. During the short aerial encounter that ensued, the PAF managed to shoot down two IAF aircraft and captured one of the pilots of a Mig-21 which fell inside the Pakistan-administered Kashmir. Wing Commander Abhinandan who was the ill-fated pilot of Mig 21 was later released as a goodwill gesture to avoid further escalation.
The unexpected and 'swift retort' by the PAF unnerved the Indian side and in an ensuing confusion the IAF mistakenly shot down one of their own helicopters killing all six persons onboard. The entire episode caused a serious blow to India's military prestige and brought into question its claim of preparing to fight a 'Two-Front War' against both Pakistan and China. PM Modi, who was seeking re-election for another term in the office threatened to launch a 'punitive' missile strike against Pakistan, forcing the latter to warn that any such strike would be responded with a premium and would not go unanswered.
Frustrated and humiliated, the Indian civil-military leadership blamed the failure on the shortage of modern aircraft, notwithstanding the fact that the IAF operates state of the art SU-30s, Mig-29s and Mirage 2000s, besides several other medium tech fleet of fighter aircraft. Some of the senior leaders claimed that if India had Rafaele, the results would have been different.
India is in the process of acquiring 36 Rafaele aircraft from France. It is yet to be seen what these 36 aircraft would be able to achieve that the rest of the fleet of over 500 aircraft could not achieve against Pakistan. So far India has acquired only 04 Rafaele aircraft which are mostly employed for ceremonial flypasts and IAF's image building exercises.
The Controversy Surrounding Pulwama Crisis. There is a likelihood that PM Modi and his National Security Advisor (NSA) Ajit Doval may have orchestrated the Pulwama crisis to build Modi's nationalist credentials and win the elections. The sacrifice of 40 Indian security personnel is a price that PM Modi may have been willing to pay to remain in power since he had been accused of engaging in similar antics in Gujrat, while he was the Chief Minister.
The recent revelation of Whatsapp conversations of a controversial television anchor Arnab Goswami indicates that the suicide attack may have been planned to raise anti-Pakistan sentiments and using it to justify a punitive surgical strike against Pakistan, thus helping Modi's image building efforts before the national elections. Goswami, who is known to have close links with PM Modi and openly propagates extreme Hindu nationalist views, in his text message sent to the chief editor of Republic TV immediately after the Pulwama attack of Feb 14, 2019, celebrated the attack by stating: "we have won like crazy." In his other message sent on Feb 23, 2019, Goswami wrote "something big will happen…Bigger than a normal strike."
After the release of his controversial WhatsApp conversation, Indian police have launched investigations on how Goswami knew in advance about the events that were to unfold. The conversations are now part of a charge sheet being prepared to investigate the alleged rating scam in India, in which Goswami and other people are believed to have played a major role.
These revelations also vindicate Pakistan's apprehension shared with the international community immediately after the Pulwama attack about India's past history where such episodes were used by India to discredit Pakistan at the international level and using it for short term domestic political gains.
From 'Swift Retort' to a Dialogue. India and Pakistan have a history of engagements and disengagements. After every major crisis, there were efforts to resume the dialogue process, mostly at the prodding of a third party. The recent rapprochement may be part of the same cycle, but it is yet not clear what role, if any, the third party may have played; and if the decision is made by both the sides on their own then what has transpired that these two belligerents have now agreed to a ceasefire. There could be several possibilities.
One, the US may have encouraged India to initiate the rapprochement since continued confrontation along the LoC diverts the focus and energy away from the Asia-Pacific strategy, which remains the core US interest in the region. Two, the ceasefire with Pakistan could also allow India to claim that the Indian occupied Kashmir is returning to normalcy, and its action of Aug 2019 of revoking Article 370 was justified. Three, India may have realized that by engaging in confrontations with both Pakistan and China simultaneously, its military may have overstretched. Bringing normalcy to the LoC would help India to focus only on the LAC. Four, India is also facing growing internal dissent due to the ongoing farmer's movement and deteriorating economic conditions that is supplemented by COVID-19 pandemic. These internal pressures make it difficult to manage external pressures.
Finally, India may have over-estimated its reach when it started confrontations with almost all of its neighbours, including Bhutan, Nepal, Sri Lanka, besides China and Pakistan. This has led to India's isolation in the region. India may want to recalibrate its regional approach, especially the relations with Pakistan and other smaller neighbours to help improve India's deteriorating image.
Pakistan, which has shown willingness to re-engage with India may also need to draw lessons from the Pulwama/ Balakot crisis, and from the history of India-Pakistan dialogues. The resolve demonstrated by Pakistan during the 2019 crisis vindicates that peace comes from a position of strength. Pakistan must not be lured by the arguments professed by the external powers that rapprochement and increased economic integration can only bring lasting peace to the region.
Geo-politics continues to remain the defining factor, especially when the US and China are bracing for such a competition which is likely to embroil several countries, especially those in China's immediate periphery. As long as outstanding disputes between India and Pakistan remain unresolved, the current ceasefire agreement may prove to be short-lived, and the next crisis may not be far in the future. With no neutral arbitrator, a future conflict between the two nuclear armed neighbours would have to be managed by the two countries themselves, and hence the greater need for a dialogue amongst the stakeholders.