Print PDF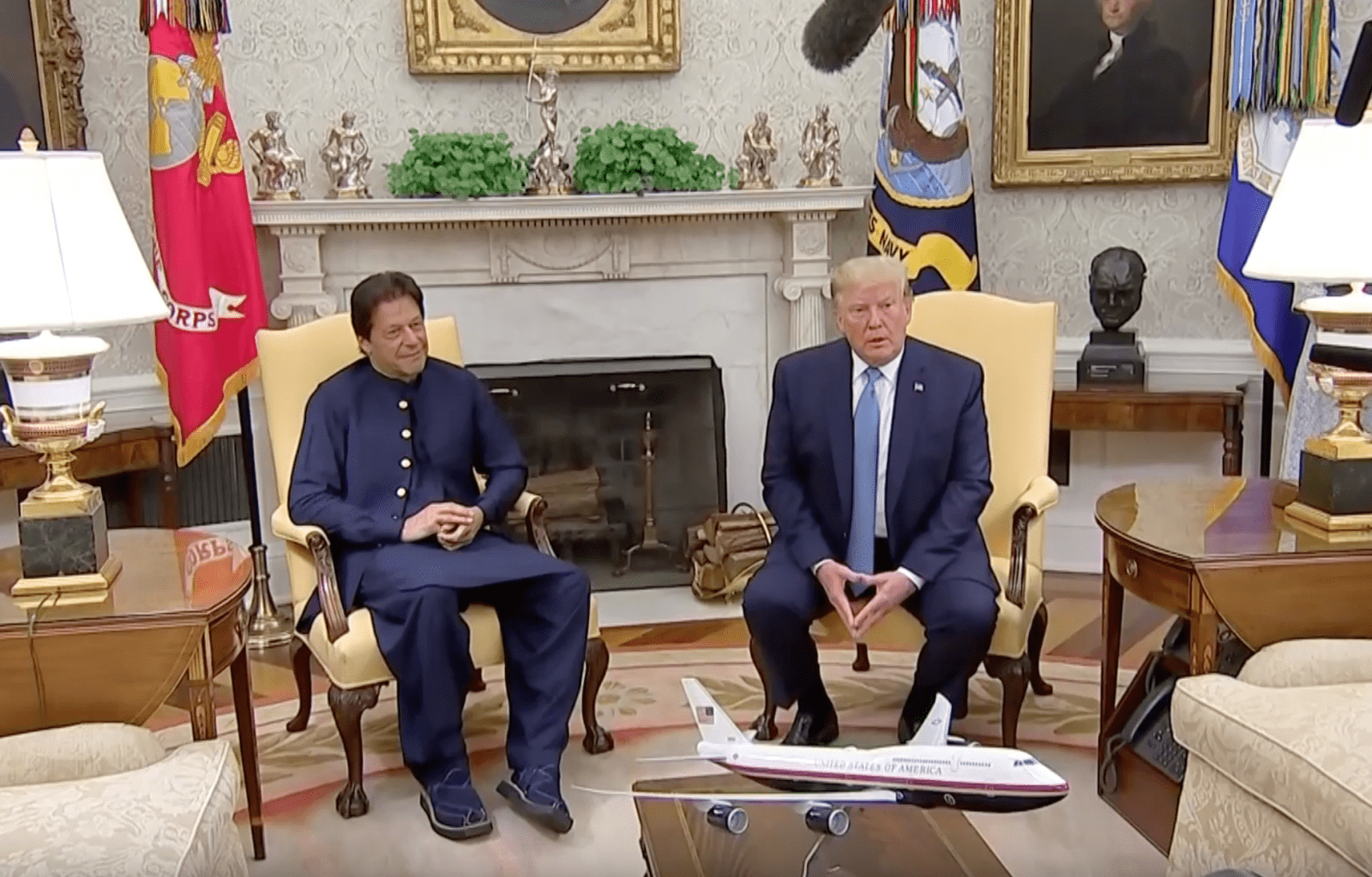 Afghanistan peace and reconciliation process as a strategic factor was at the forefront during Prime Minister Imran Khan's U.S. visit and meeting with President Donald Trump. PM Khan maintained Pakistan's stance that 'use of force' was not an appropriate strategy for the solution of the Afghanistan problem. He asserted on the need for a political settlement of war-torn Afghanistan. Pakistan's narrative was endorsed by U.S. President, and President Trump also offered mediatory role on Kashmir issue between Pakistan and India which was well received by Pakistan but criticized in India.  Prime Khan emphasized the need for U.S. mediatory role in pressing India to have a dialogue with Pakistan on Kashmir.  Improvement and enhancement in bilateral trade was another important factor deliberated by the leadership of both sides during this visit, but the Afghanistan issue dominated the agenda of meetings.
Pakistan has been successful in realizing the U.S. that it is an impartial and sincere facilitator of Afghanistan peace settlement and reconciliation process. This has resulted in Pakistan's success on foreign policy front concerning its Afghanistan policy. Role of Pakistan in Afghanistan peace process has been acknowledged at the international level after its inclusion in the U.S., Russia and China led tripartite settlement with the Afghan Taliban. Since 9/11, India has been trying to isolate Pakistan by presenting it as part of the problem concerning Afghanistan and an epicentre of cross border terrorism. This seems to have backfired after the change of approach by the U.S. towards Afghanistan to have a political solution to the problem. India has been sidelined from main dialogue processes seeking negotiated peace settlement in Afghanistan because India strongly advocated 'use of force' against the Taliban as a strategy to achieve a favourable regime in Afghanistan.
India's advocacy for the use of force as a strategy to reach out the solution of Afghanistan problem coincided with US Af-Pak strategy which exerted pressure on Pakistan for 'Do More' in the past and sought the military solution of the problem. Increase in the U.S. troops, surgical strikes of U.S. air force based on actionable intelligence and drone attacks were the hallmark of previous U.S. strategy. Pakistan as a frontline ally of U.S. in GWOT recommended regional peace approach seeking a political solution of negotiated peace settlement based on Intra-Afghan dialogue with regional states facilitation as a solution of the problem which was earlier resisted by U.S. leadership. Now, the U.S. approach towards Afghanistan has changed, and real convergence of Pakistan-US interests concerning Afghanistan has evolved after a long time.
Pakistan's role as an influencing force in Afghanistan was criticized in the past, but Pakistan has used that potential to bring Talibans on the table. This has resulted due to change of U.S. perspective on Afghanistan after the failure of President Trump's 2016 'U.S. South Asia and Afghanistan policy' which sought a military solution of Afghanistan. The realization for a political solution of Afghan problem was slow in U.S. administration, but it has been incorporated in U.S. Afghanistan policy because President Trump wants to reach out any agreement with Taliban for withdrawal of U.S. forces from Afghanistan before 2020 Presidential elections in order to contest the election on this agenda.
India is not ready to adjust its Afghanistan policy with the changes in U.S. South Asia and Afghanistan policy and still wants to eliminate the role of Taliban from Afghanistan who are even realized by the U.S. as potent military force and political reality of Afghanistan. Therefore, India will try to spoil the Afghanistan peace process since its economic and strategic interests are at stake in Afghanistan. India has spent 3 billion USD in Afghanistan during the last several years and will try to use former Northern Alliance and other anti-Taliban political forces to derail the implementation on Afghanistan peace settlement treaty whose chances are more visible after progress in U.S.-Taliban Doha dialogue series. Therefore, the U.S. will look forward towards Pakistan since it is in a better position on Afghanistan issue and also because of the convergence of interests.
Pakistan's narrative has been effectively presented by PM Imran Khan during his U.S. visit, which is a great success on the foreign policy front. Indian narrative dominated in the U.S. during the last five years due to low-level contacts of Pakistan's leadership with the U.S. leadership. Second important progress was the change of U.S. South Asia strategy towards Pakistan on Afghanistan issue, from exerting coercion to seeking cooperation. Pakistan has realized the U.S. about shared responsibility and role of regional states in Afghanistan peace settlement.
Pakistani leadership expressed their interest to expand trade with the U.S. to dilute U.S. approach toward which is currently shaped under the influence of the Af-Pak policy framework. Army Chief and DG ISI also had important meetings with their counterparts. The army chief was given 21-gun salute by U.S. army on his arrival at the pentagon, which is a positive development as it reflects the improving relationship between militaries of the two counties. The U.S. has expressed its intent to expand trade with Pak. Pak-US security establishment meetings and understanding reached out during those meetings will further reinforce measures taken by civilian leadership. India is embarrassed after President Trump's statement that Premier Modi requested the U.S. to play a mediatory role on Kashmir. PM Modi has not given a rebuttal to this statement which has further created panic in Indian media and parliament as opposition demands clarification on the issue.
Pakistan and U.S. interest have converged on the mechanism to achieve peace in Afghanistan, which is a political solution and negotiated peace settlement of ongoing Afghan problem. Taliban have not expressed their demand for a method of future government in Afghanistan and to have intra-Afghan dialogue with the Afghan government. U.S. spent 5 billion USD every year to sustain anti-Taliban Afghan army and functional economy in the war torn Afghanistan with the help of NATO and E.U. Sustaining this war expenditure is troublesome for U.S. and wants Pakistan's role to achieve the withdrawal of U.S. forces from Afghanistan. Pakistan has won over the U.S. in this regard by taking a practical measure of bringing Taliban on negotiation table with U.S. envoy in Doha round which is the first phase of current Afghanistan peace and reconciliation process. The U.S. wants the role of Pakistan to exert influence on the Taliban to agree to the ceasefire and intra Afghan dialogue timeline.
The global strategic interplay on Afghanistan has an impact on regional politics. Evolving great power consensus on Afghanistan issue will be beneficial for Pakistan to present its agenda for regional approach on Afghanistan peace process.
Trade relations creates more lasting bilateral relations. Therefore, Pakistan needs to improve the quality of its exports to the U.S. to establish its credibility as a value-added goods provider, especially in textile industry goods. Pakistan can gradually improve its trade with the U.S. This relation will be more strong as compared to aid oriented transactional relationship.
PM Khan's U.S. visit materialized due to the invitation of President Trump. U.S. needs to settle the commitments made by President Trump during the visit of PM Khan, which needs to be included in U.S. policy, which is formulated by security establishments and bureaucracy after a lengthy process.  It will be in Pakistan's favour if the gap between President Trump and U.S. system converge on the stance of President Trump, which is more near to Pakistan's view.
Sole point of convergence between PM Khan and President Trump is the Afghanistan peace process, which is a positive development for regional peace and stability in South Asia. This is the start of melting ice between Pakistan-US ties. The civil-military consensus in Pak on its Afghanistan policy is unprecedented. President Trump wants the withdrawal of U.S. forces from Afghanistan and wants to contest the next Presidential election on this agenda. U.S. has given PM Khan tough responsibility and challenge of achieving negotiated peace and political settlement in Afghanistan.
PM Imran Kahn was invited for U.S. visit because of Pakistan's pivotal role in facilitating Afghanistan peace and reconciliation process. Pakistan has played a critical role in this process by facilitating US-Taliban Doha dialogue series which has almost entered in its conclusive phase. The second phase of this process will be facilitating intra-Afghan dialogue between Taliban and Afghan government to reach out a political settlement on the method of forming an inclusive government in Afghanistan. Pakistan's role will increase in Afghan peace process in coming times in its final and most important phase to ensure implementation of negotiated political settlement in Afghanistan in order to avoid dangers of civil-war in Afghanistan. Because in past civil-war erupted in Afghanistan after failure on implementation of Genève accord during 1990's.  Therefore, Pakistan has emphasized on the need for regional states participation based on shared responsibility as facilitators and guarantees of the Afghanistan peace process to avoid failure on its implementation. Finalizing this peace process to achieve peaceful and stable Afghanistan having inclusive government is an enduring and daunting task, but the right step is taken in this regard by adopting diplomacy as a way out of Afghan problem instead of war.