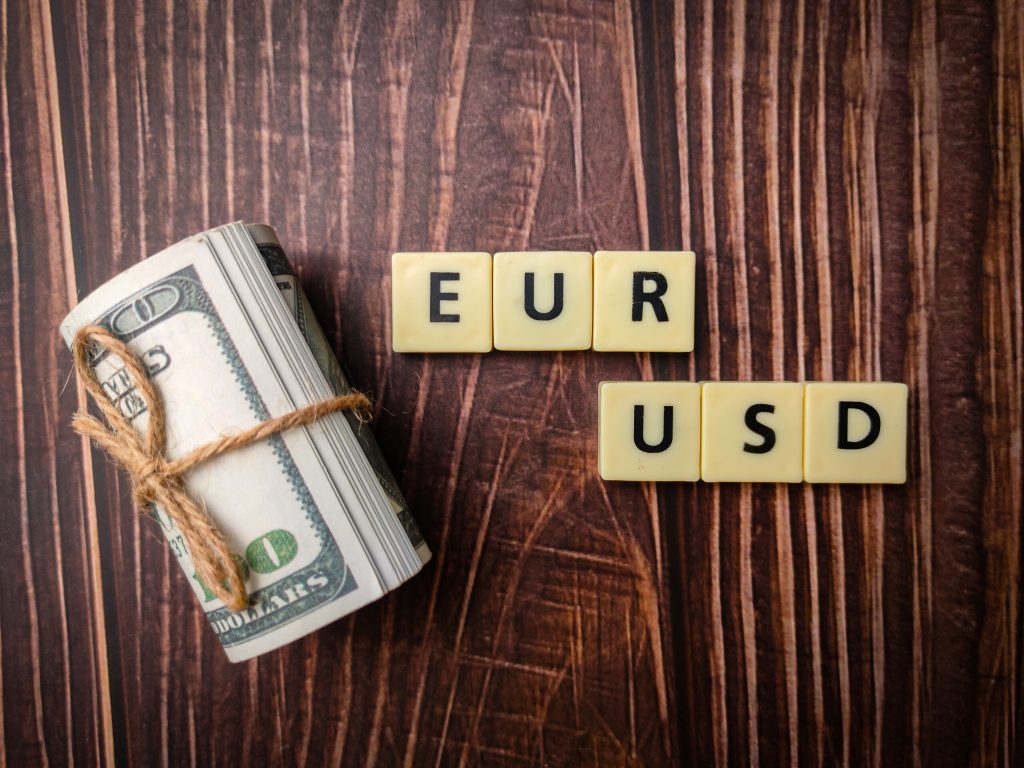 Pakistan, being a low-income country, is confronted with an ongoing crisis and needs Foreign Direct Investment (FDI) to bring stability to the economy which leads to sustainable economic growth and development. Historically, it has offered different incentives and liberalized its policies to attract FDI but failed to achieve the target due to several factors primarily terrorism, political instability, and inconsistent tax policies. A sharp decline in FDI inflows since 2007 has been observed, which indicates a lack of confidence and hesitation by foreign investors to invest in Pakistan.he country has the lowest investment-to-GDP ratio in the region and has a wide gap in the saving-investment ratio, which reflects the weak outlook of its policies. In this context, promoting and attracting FDI will aid the country in technological advancements with an expansion of national output and increased employment opportunities that will help the country to fill this existing gap and promote sustainable growth.
The World Bank defines FDI as the net inflow of investment to acquire 10% or more of the stocks in an enterprise of a country other than the investors' nationality, with the motive of lasting management interest. It plays a vital role in the economy by providing several economic benefits and opportunities which include, foreign exchange, innovation, managerial skills, augmentation of exports, exchange of ideas and technology, and capital. It is believed by some economists that it can lead to increased domestic investment since FDI promotes competition. IMF and World Bank also prefer FDI over Foreign Aid as a vital source for initiating and fostering the development process in developing economies. In addition, to attract FDI several developed and developing countries are offering attractive incentives that play a catalytic role in boosting FDI in the long run.
Even though Pakistan has potential areas that can attract reasonable FDI for its growth, terrorism has impeded the country in sustaining the level of FDI. In this regard, the Global Terrorism Index has ranked Pakistan as the 10th most affected and vulnerable country to terrorism. Different activities and incidents of terrorism have affected Pakistan severely in terms of closing industries, having no access to American and European markets, human losses, and weakening of the social fabric. In the previous three decades, the maximum FDI received was $3.67 billion in 2007.
After this, a drastic decline in the FDI as a percentage of GDP has been observed in Pakistan; in these years Pakistan was ranked as the 2nd most affected country due to terrorism. These effects have led to a decrease in foreign investors' confidence thus resulting in a decline in foreign direct investment. During 2008 when Pakistan lost its popularity for investment due to increased terrorism, India gained $45 billion. From the graph below, we can see that Pakistan was doing better than Bangladesh till 2010 after which the net inflow as a percentage of GDP declined and resulted in making Pakistan last on the ladder among its neighbors except for Afghanistan.
In the year 2021, 186 terrorist attacks occurred in different areas of Pakistan resulting in creating uncertainty and chaos which intensified the confidence deficit of investors in the country. As a result, FDI dropped around 30 percent to $952.6 million. Thus, terrorism served as a major culprit that deteriorated the country's overall performance in attracting FDI net inflow, as well as the country, lagged its neighbors in the same domain.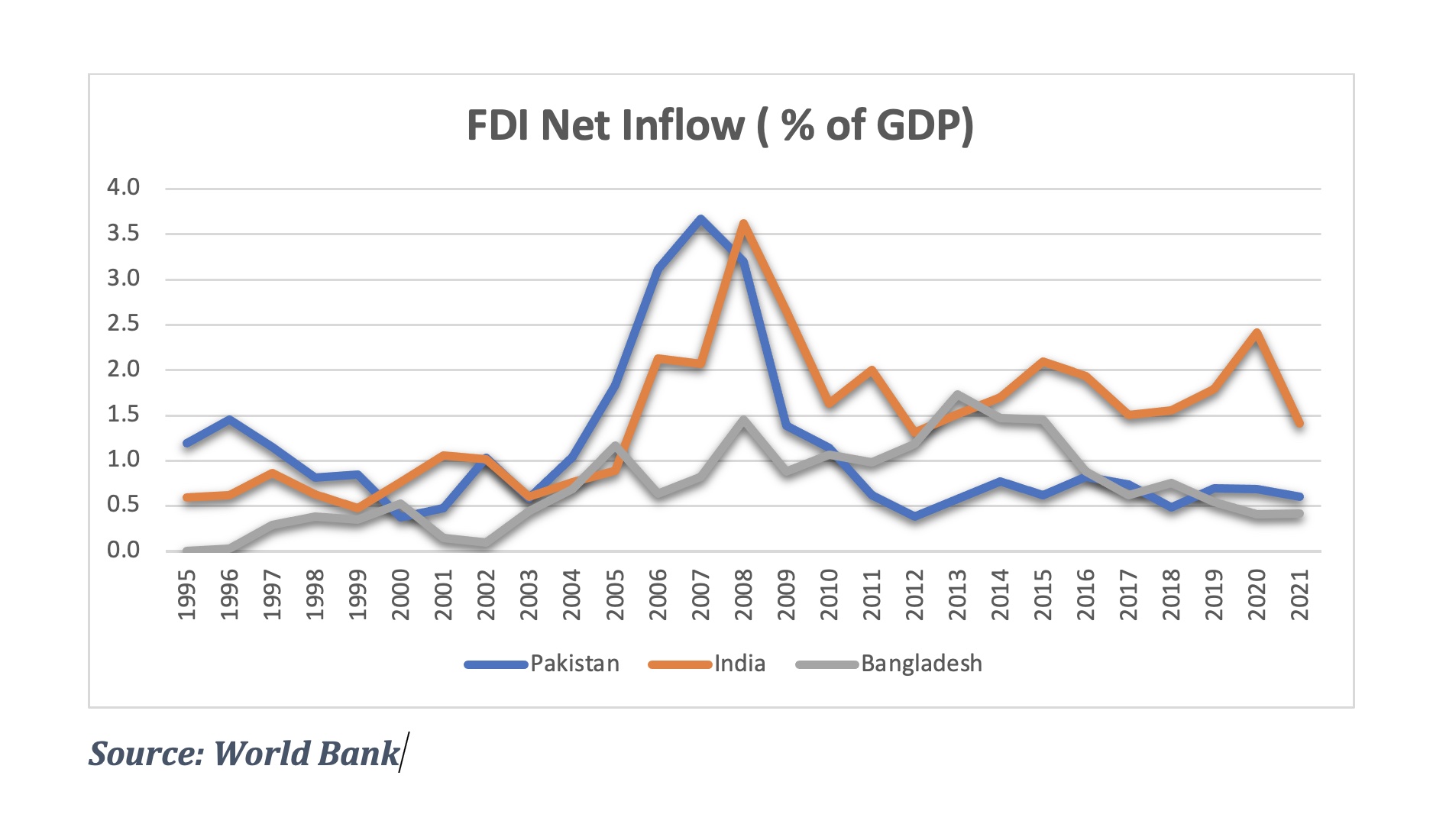 Political stability is also a prerequisite for attracting and sustaining increased FDI. Among all other factors, political instability is the critical one that has severely impacted FDI in Pakistan. Historically, the country has faced similar situations of political instability which resulted in making its outlook less attractive place for investors despite having potential sectors. The month of March 2022 was marked as the worst month for FDI, as a matter of fact, the country received no investment amid the political instability of the country. Owing to this, the most concerning fact is that the inflow from China – a major contributor, has halved. It remained at $333.5 million against the inflow of $642 million during the same period in the previous year.
Due to existing political chaos, the country's FDI has been slashed by 44% during the July- January period of Fiscal Year 2023. The State Bank of Pakistan reported that in its current state, the FDI stands at $683 million against $1.2 billion in the previous year. Also, the persistent political havoc has resulted in a lack of confidence among foreign investors and has led to a sharp decline in the inflow. Thus, political instability can be a deal-breaker for investors attempting to establish a presence in a new country. Therefore, it is necessary for Pakistan to be determined in making the political climate more attractive to investors so that the true potential of the country can be explored.
Political instability also leads to discrepancies in the policies of a country's taxation policies which plays a detrimental role in attracting FDI. Inconsistent tax policies in Pakistan have resulted in the deterioration of the inflow of investments. In this context, every government has its own priorities based on which sector to be focused. The new government, after coming into power, abrogated the previous policies and formulated new ones which created inconsistency. Such unpredictable practices result in making the investors hesitant which cripples the growth of the investment. Pakistan requires advance tax payments and asks the countries to pay 34 different kinds of taxes while its neighboring countries require an average of 24.8, which makes Pakistan comparatively less attractive for investment among other countries in South Asia.
As Pakistan is confronted with serious economic crises, attracting more FDI can help the country in coping up with its economic woes. Currently, the country is trying to solve the effects of the factors that have led to the dwindling situation of FDI, which is not an effective strategy. In this context, it should work on the root causes – terrorism, political instability, and inconsistency of taxation policies. Therefore, strict border measures should be taken to improve the security situation in the country which will promote the positive picture of Pakistan around the globe.
Furthermore, the stakeholders have to take the collective good of the state into account, rather than adopting policies that benefits a small chunk of the country. On the other hand, incentivizing foreign investors in taxation policies will result in attracting more FDI. Working on such factors will allow the country to attract more inflow which plays a catalytic role in boosting the pace of growth and development. Thus, replacing complex policies with simple ones and making them consistent is the first step in making Pakistan an attractive spot for foreign investment.