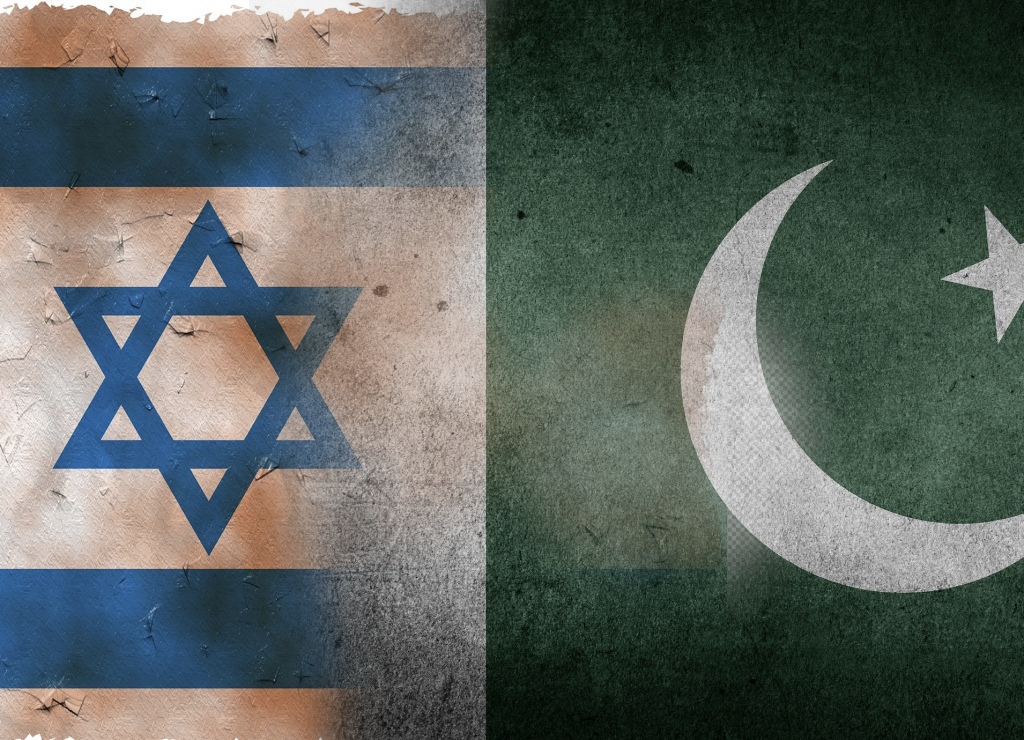 In the wake of the UAE's move to establish diplomatic relations with Israel, Prime Minister Imran Khan ruled out the possibility of any such adventure for Pakistan. He referred to Quaid-i-Azam Muhammad Ali Jinnah's position that until the Palestinians get their due rights, Pakistan would not recognize Israel. "Our position on Israel is very clear," said Prime Minister Khan in his usual vein of sententious clarity. "Pakistan can never recognize Israel. If we surrender to Israel, then we must leave Kashmir. We also have to answer to Almighty Allah about Israel and Palestine."
Notwithstanding the fact that present day Pakistan, in ethos and practices, is but a tragic gallimaufry of almost everything that the liberal and morally unimpeachable Mr. Jinnah despised, Prime Minister Imran Khan's aversion to the idea of recognizing Israel is understandable. Since its birth in 1948, Israel has relentlessly pursued detractors and Arabs with gruesome and brutal precision. Annexations in 1948 and 1967; multiple massacres of women and children, from Qabiya in 1953 to the sponsored massacre of thousands in the Sabra and Shattila camps in 1982, as well as the hundreds in Qana in 1996 and 2006; the use of Helicopter gunships to disperse mobs; and the bombing and killing of thousands of civilians in the Intifada of 2000 and in the one sided war of 2006. Israel's violent streak and cold blooded efficiency in eliminating adversaries is unmatched in the region.
It is no surprise, then, that many Pakistanis loathe Israel even more than Modi's India, whose ire, hatred and actions affect Pakistani sensibilities more directly. This is something which must have influenced the Prime Minister's calculus in considering Israel's recognition, particularly at a time when hardliners led by Maulana Fazal Ur Rehman are coalescing to bring his government down. Any talk of Israel's recognition would give the inimitable Maulana a cause celebre to channel building hysteria and march to the Red Zone. The Prime Minister may also have feared nettling President Erdogan at a time when Pakistan is moving ever closer to Turkey. And finally, if a more safely ensconced leader at the height of his powers like President Musharraf, having addressed the AIPAC and dines with the World Jewish Congress in New York, never showed the temerity to recognize Israel, why should Prime Minister Khan stir up a hornet's nest in such tumultuous times?
There are several reasons for a more dispassionate debate about moving towards evolving ties with Israel, now more than ever. Firstly, the evolving international and regional scenario. Regardless of whoever wins the current U.S. election, Western belligerence towards China could increase and a quasi bi-polar world could emerge. The U.S. and Chinese economies are deeply intertwined for now, but Trump categorically signaled the end of that when he asserted "we will end our reliance on China"; Biden has also expressed intent to take a harder line on China. In such a milieu, the raison d'etre for closer strategic cooperation between India and the U.S. will become stronger. Given the visceral Indian hatred towards Pakistan and the American hostility towards CPEC, there is a strong likelihood of a wider campaign to brand Pakistan as a China proxy and spoil Pakistan's ties to international financial institutions as well as to western economies.
If such a campaign succeeds, it would be tragic. There are many in Pakistan who seem happy with Pakistan's fast fraying ties with the West and the U.S. and dream about a new China, Russia, Turkey and Pakistan block. They are wrong. Not just because the formation of such a block is unlikely but also because history must not be repeated, and Pakistan should not become inexorably dependent on one side as was the case for much of the Cold War. There should be efforts to prevent stalling Pakistan's relations with the West and work on improving them. The reopening of a dialogue with Israel could be a masterstroke in this regard. Such a move could also take the wind out of the Indian sponsored efforts to isolate Pakistan and assuage the presently hostile, but influential, Jewish groups and caucuses. Anyone familiar with the workings of Washington and other leading western capitals knows well the clout of the Jewish lobby. Since the 1990s, Indian diplomats have assiduously wooed and worked with them to undermine Pakistan's relations with the U.S. government and media. Despite the stereotypes in many Pakistanis' minds, the Jewish political groups in the U.S. are not unswervingly anti-Muslim. It is for this reason that Pakistan's reaching out to them and to Israel would perhaps most rattle Mr. Modi, who must have heaved a sigh of relief when Prime Minister Khan dismissed any talk of Israel's recognition. Building a working relationship with Israel was perhaps never so much in Pakistan's interest as it is now.
Secondly, by continuing to look askance as more and more Muslim countries open up to Israel, Pakistan stands to lose the first mover advantage. Till now, Israeli leaders and U.S. Jewish groups have courted Pakistan several times. The Israeli media swooned over the possibility of diplomatic relations with Pakistan after FM Kasuri's meeting with FM Shalom of Israel in 2005. Later, FM Shalom told Dawn that Israel, in 58 years, had never considered Pakistan an enemy and wished to keep its relations with Pakistan separate from its ties to India. More recently, Israeli Prime Minister Netanyahu, while visiting in 2017, stated, "We are not an enemy of Pakistan and Pakistan should not be our enemy either''. Being an early bird could bring Pakistan far more goodwill and largesse than being amongst the last recalcitrant ones. PM Khan must recall an analogous moment in Pakistan's history, when it signed a friendship treaty with an isolated China in 1956. The move must have been disdained by naysayers at the time. Pakistan was an erstwhile U.S. ally, a member of SEATO, and the hostility towards China was at a crescendo in the Western world. Pakistan needs the same mindset today, and time is of the essence. The relationship with China may never have taken off like the way it did if the friendship treaty had been delayed by a decade or two.
PM Khan likes to say our destiny lies with China. And Pakistan can learn from China's rulebook for international relations. The Chinese prefer pragmatism to apocryphal sentimentality. Since the establishment of their diplomatic relations with Israel in 1979, relations between the two countries grew despite U.S. protestations. Together with Hong Kong, China is Israel's second most important export destination after the United States. China has benefited from Israel's advanced technological prowess and entrepreneurial acumen. In 2015, patent applications of Israeli origin in China topped 700. Chinese have leveraged Israeli technologies of drip irrigation, water desalination, defense electronics and renewable energy to create immense value as well as world class products. None of this, however, has prevented China from often voting against Israel in the UN and from forging close linkages with Israel's chief foe Iran.
The case of Turkey is even more curious. In 1999, the New York Times reported that the Turkish Israeli strategic partnership can alter Middle Eastern politics. Tourism and trade between the two countries flourished. Things did sour after the Gaza flotilla incident in 2010 and Turkey downgraded its ties to Israel. Yet the trade between the two countries kept growing steadily. In 2016, Israel and Turkey resumed diplomatic relations with Israel. At present, despite Mr. Erdogan's principled hostility towards Israel, negotiations continue to progress for an East Med gas pipeline. This year, Turkey quietly allowed Israeli cargo flights after a hiatus of a decade. Mr. Erdogan is indubitably sincere to the Palestinians, but he never allowed this to adversely impact Turkish businesses with Israel.
Pakistan, in any case, keeps diplomatic relations with countries like India and Burma that have a more horrendous record against Muslims. Having diplomatic relations does not necessitate the endorsement of another country's policies. In fact, Pakistan can do more for the Palestinians by recognizing Israel as Pakistan will get physical access to Palestinian territories and to moderate Israelis. There is little to gain from a brooding standoffishness except a meaningless sense of propriety. Pakistan also stands to gain economically by recognizing Israel. Israeli irrigation techniques and desalination technologies are the highest global standard. Israeli desalination costs are the lowest in the world; this is particularly important when we consider the costs of energy that are high for Israel like in Pakistan—something that is invaluable for water stressed Pakistan. Israel also has the largest number of companies on the tech heavy NASDAQ after the U.S. and Canada; these could be of immense benefit to the Pakistani IT and defense industries.
PM Khan has often described himself as an aggressive cricket captain who never took a cowering posture no matter what the odds. If he were to show the same swashbuckling attitude in this matter, he will be remembered as someone who took a giant step forward in Pakistan's interest that no other leader was able to, despite the obvious logic. A midcourse could be to open an office for trade. Given the closest ever bonhomie between the current civil and military leadership, PM Khan will be in a unique position to weather any ensuing storm. Lastly, the Prime Minister may want to pay heed to Hans Morgenthau, that doyen of realpolitik, who once wrote, "The kind of thinking required for the successful conduct of foreign policy must at times be diametrically opposed to the kind of considerations by which the masses and their representatives are likely to be moved. The statesman must think in terms of the national interest, conceived as power among other powers".