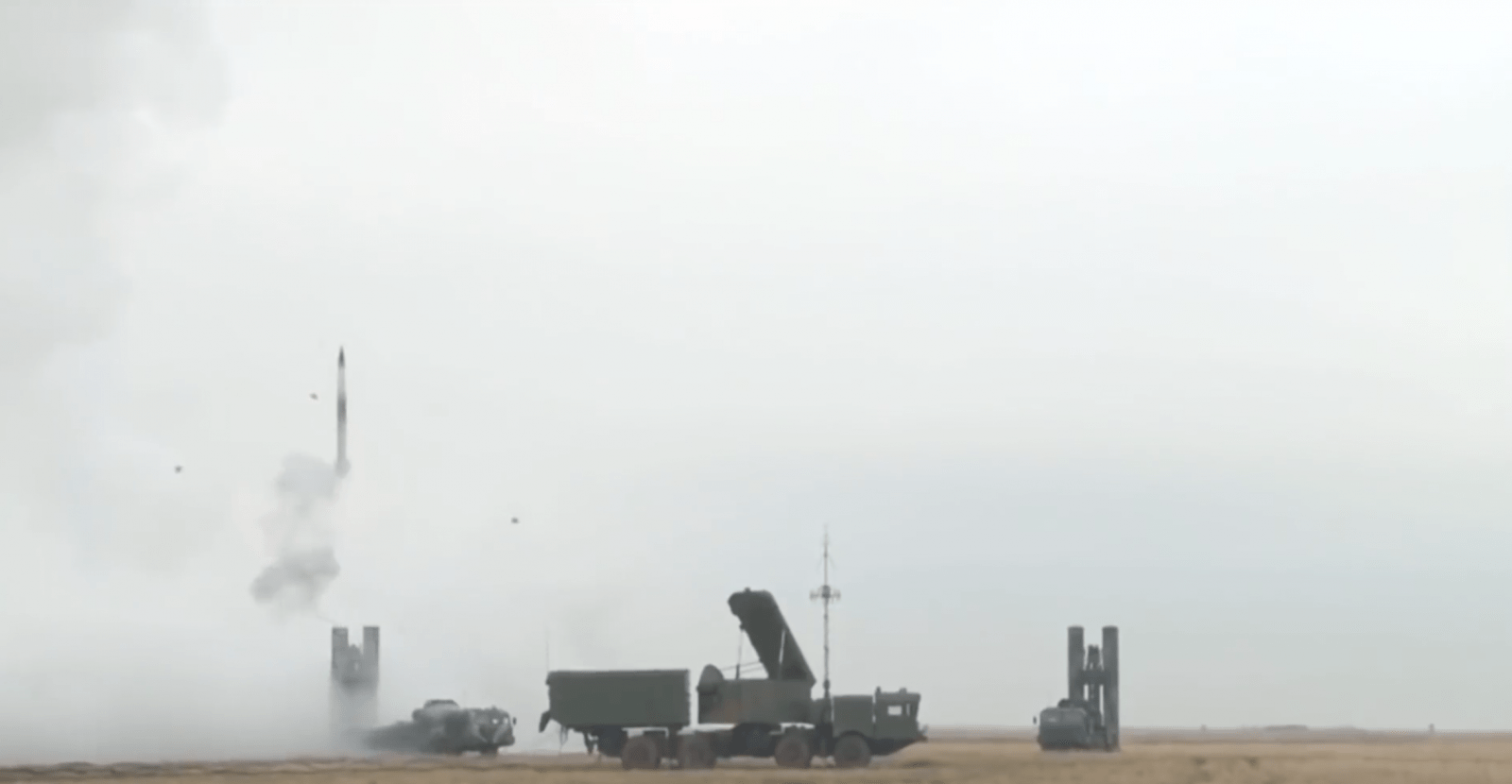 Two of the closest U.S. allies – India and Turkey have opted to buy S-400 Triumph anti-aircraft missile system from Russia – a move that the United States has stated could affect its military relationship with these two countries. To dissuade both its allies, the U.S. has adopted different approaches. It is threatening Turkey with expulsion from the F-35 aircraft project, while India is being offered replacements in the form of National Advanced Surface to Air Missile System (NASAMS-II), Terminal High Altitude Area Defence (THAAD) and Patriot Advanced Capability (PAC-3) missile defence systems. If the two countries refuse to give up on their S-400 deals, they could also face sanctions under Countering America's Adversaries Through Sanctions Act (CAATSA) instituted by the U.S. Congress to prevent arms purchases from the Russian entities.
Turkey has so far rejected the U.S warning, and there is little that the U.S. can do to prevent India from buying the Russian system that is considered more potent and cost-effective than the American air defence systems. Besides, procurement from Russia is without conditionalities and helps India maintain diversity in its weapon inventory, making it less dependent on a single source.
Potential Threat to NATO's Integrity?      Turkey, a key NATO alliance partner, signed the agreement to buy S-400 missile system from Russia at the cost of $ US 2.5 billion, after it was refused the Patriot missile defence system by the United States. The U.S. is now offering the same system if Turkey agreed to give up on the Russian missile deal. Failure to comply with the U.S. demand would cost Turkey the most advanced F-35 fighter aircraft, and several Turkish companies that are part of the international consortium involved in building more than 900 parts for the F-35 aircraft, may lose their contracts.
The U.S. considers the S-400 missile system not compatible with the NATO systems, including the F-35 aircraft. Operational deployment of both systems, according to the U.S., would enable the S-400 to chart weaknesses and vulnerabilities of the F-35 aircraft. This is more of a ruse to prevent Russian ingress into the NATO heartland, and coerce Turkey to buy the U.S. Patriot air defence system. Instead, the deployment of the two systems could help NATO to understand the vulnerabilities of the dreaded S-400 system better since this system would be operated by Turkey and not the Russian experts. Nevertheless, to address the U.S. concerns, Turkey offered to constitute a joint technical working group, but the U.S. reservations are driven by political and commercial interests, and not necessarily a result of technical or security concerns.
The purchase of the S-400 anti-aircraft missile system by Turkey would not unravel the NATO alliance but could help Turkey to become more independent and autonomous in its weapons procurement. If the U.S. Congress decided to impose CAATSA related sanctions on its NATO partner, it may, however, cause a serious dent to the alliance credibility that is already under stress due to wavering U.S. commitments towards the NATO.
'Boon' for India and a 'Bane' for South Asia.            The Russian S-400 anti-missile system is likely to provide a significant boost to India's national missile defence shield being developed to protect India's major cities. At the same time, the perception that India can defend itself against the incoming missiles could also infuse a false sense of confidence amongst India's senior decision makers who may be encouraged to adopt a more aggressive posture towards Pakistan.
India signed a deal worth $ US 5.43 billion for the purchase of S-400 missile system that the U.S. wants to be shelved in favour of its THAAD and PAC-3 systems. The U.S. has already agreed to sell NASAMS-II to India but has not raised the issue of incompatibility, as it did with Turkey, even though the two systems (S-400 and NASAMS) would form an integral part of India's national missile shield. With little leverage over India's defence procurement, the U.S. can only offer incentives in the form of F-21 aircraft (Indian version of F-16) or possibly F-35 aircraft, but may not be able to prevent India from purchasing the Russian S-400 missile system.
The threat of CAATSA related sanctions, if at all materialized, could hurt the U.S. military industry more than it would affect India. The U.S. may not be able to sell it's Unmanned Aerial System 'Sea Guardian' that falls under Category-1 of the Missile Technology Control Regime (MTCR), and India is the only non-NATO country that has been offered this system by creating exception mainly for commercial dividends at the expense of nonproliferation norms.
Despite these incentives by the U.S., India is unlikely to give up on its deep-rooted military cooperation with Russia that is helping India to build its next aircraft carrier and nuclear-powered submarines, besides several other advanced weapon systems through the transfer of technology, and with no strings attached. While India is likely to use the U.S. technology and the support to help improve its global image, but it won't be at the cost of its defence collaboration with Russia.
The acquisition of S-400 anti-aircraft missile system would enable India to complete its multi-layered missile shield that comprises of different systems procured from various countries. India's current plan includes deployment of indigenous Prithvi Air Defence (PAD) system as the outermost layer; the S-400 being acquired from Russia would form the second layer; Israeli Barak-8 as the third layer; indigenous Akash missiles as the fourth layer; and finally, the NASAMS-II would be the innermost layer. This complex arrangement has its own challenges of integration, but India's missile shield was never intended, nor it can realistically provide protection from the incoming missiles from its neighbourhood, due to short flight time and geographical constraints. Acquisition of a missile shield had been a long-standing objective to build India's image of a technologically advanced country, besides creating options for pursuing more aggressive posture towards its relatively smaller neighbour Pakistan.
The Road to Instability.         The choices made by Turkey and India would set the future trajectory of their bilateral relationship with the U.S., besides defining the limits of the latter's influence in an increasingly complex global security environment. If both key allies remain unfettered and decide to go ahead with their military acquisition from Russia, it may encourage several other countries (Saudi Arabia, Qatar, Egypt, etc.) that are lining up to purchase the S-400 system to resist the U.S. monopoly and diversify their military acquisitions.
The acquisition of S-400 missiles by Turkey would not unravel the NATO, nor would it provide immunity to the Indian cities from Pakistan's capability to inflict unacceptable damage. It may, however, destabilize the NATO alliance and South Asia for different reasons. Turkey's acquisition may encourage the other alliance partners to diversify their military procurements and reduce their reliance on U.S. security guarantees. India's S-400 acquisition, on the other hand, could encourage it to adopt more aggressive conventional as well as nuclear postures.
In a future military crisis, India could possibly consider launching surgical strikes against Pakistan with enhanced confidence that its S-400 anti-aircraft system would deter Pakistan from responding, as it did in the most recent crisis that eventually led to the shooting down of the two Indian Air Force aircraft. The national missile defence shield, once completed, may also encourage the Indian leadership to operationalize their evolving thinking of a "comprehensive counterforce strike" against Pakistan – aimed at neutralizing Pakistan's short-range ballistic missiles and create space for the Cold Start Doctrine (CSD).
If India could learn one sobering lesson from the most recent military crisis, it would know that the missile shield will not deter Pakistan from responding and cause unacceptable damage to the Indian cities. India's national missile shield may offer some political dividends and enhance India's military standing, but the attempt to exploit it for military gains against Pakistan would put to risk regional as well as global security.
Adil Sultan is a Visiting Research Fellow at King's College London.