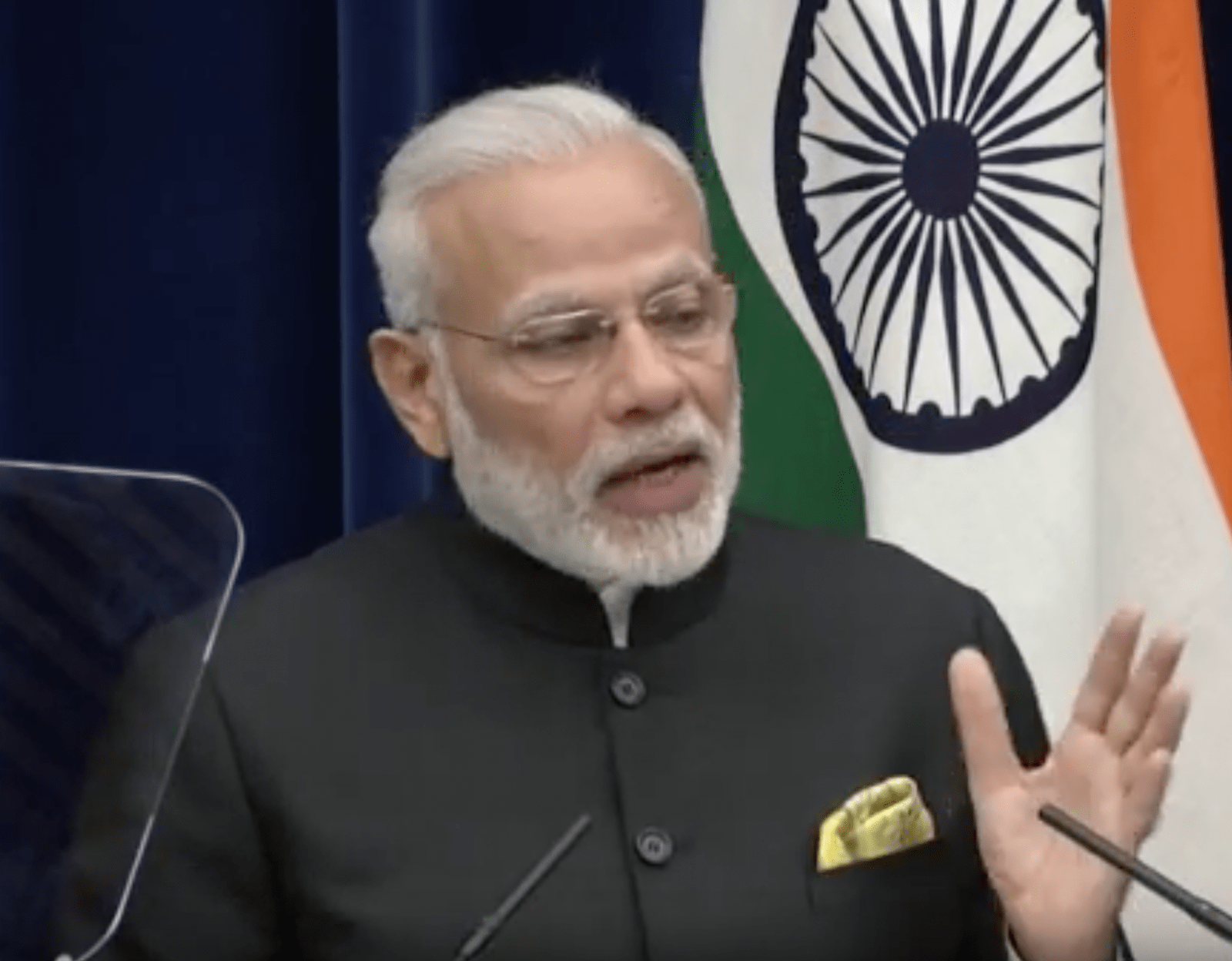 India's shift from 'secularism' to 'fascism' is a result of the overriding influence of the Rashtriya Swayamsevak Sangh (RSS) ideologues within the BJP hierarchy that has exposed the myth of 'irresistibly rising India.' The recent article in The New Yorker provides a distressing account of how BJP's Cold Blooded fanatics are attempting to purify 'Hindu India' from all other minorities, especially Muslims. BJP's attempt to enforce controversial "Citizenship Amendment Bill" – also called as an "Anti-Muslim Law," and the August 5, 2019, decision to formally annex the disputed territory of Kashmir, have denuded India of whatever little credentials it had to project itself to the outside world of being a tolerant and a secular state.
PM Modi, who had earlier sold himself as the 'crusading nationalist' and won the 2014 elections by promising a better economic future for Indians, subsequently transformed himself into a 'militant nationalist' in 2019 to win another term in office, and this transformation was shaped by the RSS vision, where only Hindus have the right to rule in Hindustan.
The RSS, founded in 1925 by K.B. Hedgewar was inspired by European fascism and maintained that Muslims were given unnecessary privileges by Nehru and Gandhi – the two founding fathers of India. For their sin, Gandhi was assassinated by an RSS extremist, who is now being eulogized by the current BJP leadership as a national hero.
The New Yorker story aptly titled "Blood and Soil" provides disturbing insight into Narendra Modi's rise to power, who was one of the foot soldiers of the RSS when he was only 13 years old and belonged to a lower Hindu caste. Modi started his career by "cleaning the living quarters of the senior (RSS) members." His rise to mainstream politics was quick as he used divisive anti-Muslim rhetoric to build his nationalist credentials and projected himself as the champion of Hindus, in a Hindu-majority state. Later, in one of his interviews, Modi claimed that India is the "target of the global conspiracy, in which every Muslim in the country was the likely complicit." Modi was not the only one using anti-Muslim slogans for personal political gains. L.K. Advani, another BJP leader, also exploited public sentiments to build BJP's Hindu credentials when he led the mob of Hindu zealots to destroy the iconic Babri Masjid, while the state government looked the other way.
When Modi was the Chief Minister of Gujrat in 2002, India witnessed one of the worst communal riots that lasted for almost three months, resulting in the deaths of over 2000 Muslims, while over 150,000 were displaced from their homes. Modi showed no remorse and did not take any action to prevent the massacre of Muslims by the RSS members. In fact, several Indian officials later confirmed that the "decision to encourage the riots came from Modi himself." For his role in instigating terrorism against the Muslims of Gujrat, Modi was banned from entering the United States and the United Kingdom for many years.
As a result of the Gujrat massacre, BJP had to pay political price and it lost the elections, but Modi's standing in his home constituency further cemented his credentials and he managed to win the next elections comfortably whereas the rest of the BJP fared poorly at the national level. BJP's failure also provided a useful opportunity to Modi to present himself as a strong contender for the leadership role at the national level.
Modi's incendiary speeches targeting the minority Muslims made him a hero of the majority Hindu population. Ashis Nandy, a trained psychologist, after an interview with Modi concluded that "Modi was a fascist in every sense", which in his opinion was a "diagnostic category" and not an abuse. This fascism is not limited to Modi, but several other BJP leaders have found it to be the most useful pathway to success. One of them is India's current Home Minister, Amit Shah, who was instrumental in Modi's rise, and remains a strong candidate to carry on Modi's legacy, if and when Modi decides to quit or is removed from the office.
Earlier, when Shah was the Minister of State for Home Affairs in Gujrat, he is known to have indulged in target killings of his opponents by labelling them as Pakistani agents, on their mission to assassinate Modi. Blaming Pakistan was convenient and carried more political dividends for the Modi and Shah duo, but it also gave rise to a relatively new phenomenon of 'militant nationalism,' that was evident in Feb 2019, when PM Modi once again blamed Pakistan for sponsoring terrorism and ordered aerial surgical strikes into Pakistan's mainland territory.
Immediately after the surgical strikes, the Indian media ran stories claiming success and warning further punitive measures against Pakistan. Notwithstanding the fact that Modi had to face embarrassment when the international observers rejected India's claims, Modi became more belligerent and threatened Pakistan with nuclear weapons. The Indian media played the BJP/ RSS narrative and Amit Shah in one of his addresses to BJP's social media team proudly proclaimed, "we are capable of delivering any message to the public – whether true or fake."
Emboldened by the electoral victory in 2019, Modi embarked upon a more ambitious agenda to formally annex the disputed territory of Kashmir by revoking Articles 370 and 35A, which guaranteed special status to the region and the Kashmiris. Despite the global condemnation India has refused to lift restrictions and provide basic amenities to over 8 million Kashmiris, who remain under siege for the last four months. These actions have alienated the entire Kashmiri population, including those who had earlier advocated continued engagement with New Delhi with a hope that it would bring peace and prosperity to the region. If Modi's actions were intended to 'Indianize' Kashmir, it could now be argued that his actions could lead to the "Kashmirization of India," because of the growing resentment and insecurity amongst several minorities living under fear in India.
Commenting on the decline of secularism and the rise of fascism in India, a former editor of the Outlook magazine commented that Indians have always "pretended to be what we were for fifty, sixty years. But we are now reverting to what we always wanted to be, which is to pummel minorities, to push them into a corner, to show them their places, to conquer Kashmir, to rein the media, and to make corporations servants of the state. And all of this under a heavy resurgence of Hinduism. India is becoming the country it has always wanted to be."
Under PM Modi, the RSS has been given a free hand to rewrite India's history with an objective to remove the Muslim imprint on the Hindu civilization. RSS is also campaigning to change the names of several places that are associated with the Muslim rulers. The Indianization of all state institutions in line with the political philosophy of the RSS has become a national mission with no significant opposition. Amongst the BJP leadership, there seems to be an ongoing competition with every potential candidate attempting to prove their nationalist credentials and loyalty to the RSS by making anti-Pakistan and anti-Muslim statements.
India's Army is now dubbed as Modi's Army akin to Hitler's penchant to own the military. To further this objective, the RSS has established a school where young people would be indoctrinated before joining the military. India's future military officer's corps would have to prove their allegiance to the RSS before they take oath as officers in the military.
Under the BJP, India seems to be facing a serious identity crisis. It wants the rest of the world to believe that it remains a secular state where minorities have equal rights, but domestically, India is introducing new laws that could make minorities, especially the Muslims, to become refugees in their own country.
The fake narrative of a 'rising' India is quickly fading away with growing domestic unrest, a failing economy, humiliated military, and most importantly due to growing influence of Hindutva amongst India's political and military leadership. If past is prologue, PM Modi may soon find an excuse to engineer another military crisis in the region to divert international and domestic attention from his failures, and with RSS-inspired leadership in control of the nuclear weapons in India, South Asia continues to remain the most unstable region in the world.