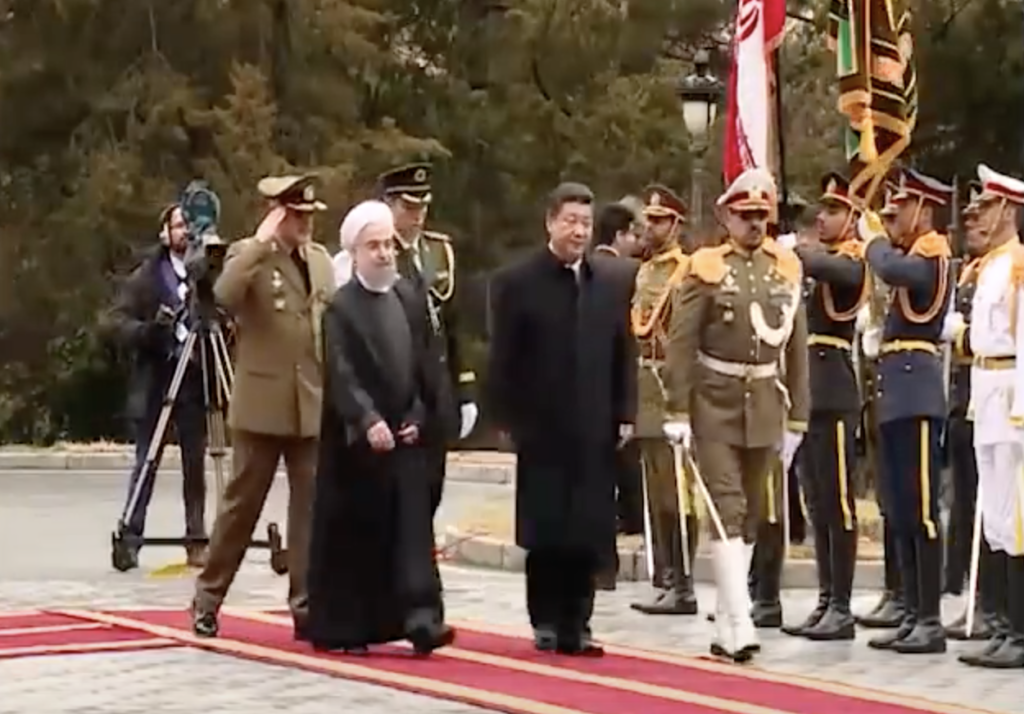 Recent developments between Iran and China are of special concern to India and a deadly diplomatic blow to India's foreign policy. The Comprehensive Strategic Partnership concluded between the Islamic Republic of Iran and the People's Republic of China includes a $400 billion Chinese investment in the former over 25 years in Iran's petrochemical sectors as well as its transportation and manufacturing infrastructure. China could develop free-trade zones around the country and, at the same time, it would get access to cheaper Iranian oil as Iran is to provide a regular and discounted supply of oil to China for 25 years, as per the agreement. By comparison, Iran, which is in dire need of economic and military assistance, will rightly benefit from China's growing influence and investment across the countries of South East Asia, Central Asia, the Middle East and the Gulf Cooperation Council. To have a voice on a global scale and confront US domination around the world, Iran intends to take advantage of the rivalries between two superpowers and is willing to be a recipient of Chinese largesse in the form of investment.
The implications of the deal for India in the economic and security dimensions are far greater. An immediate effect of the deal would be the exclusion of India from the 628 km Chabahar-Zahedan railway line, which will be extended to Zaranj in Afghanistan. It is likely that the rail and road project, currently signed between India and Iran, linking the port of Chahbahar with northern Iran and finally with Afghanistan, will end once the proposed deal is finalized.
Rising Eurasia and India's Strategic Bind. Ironically, India finds itself caught up in the regional dispute over Iran between the US, China and Russia. On one hand, it would become a strategic US ally to contain China and Russia's growing strength. The United States has threatened India with sanctions under its CAATSA legislation (The Countering America's Adversaries Through Sanctions Act 2017), to prevent New Delhi's purchase of defence and energy supplies from Russia and China. Meanwhile, the hub of the next global power, driven by the Sino-Russian entente, is Eurasia and the Sino-Iran agreement is nothing but a product of this phenomenon. Hence, India reluctantly embraces its commitment toward the US.
Historically speaking, Iran-India relations were not as bad as they seem to be today. Once, both had collaborative and cooperative relations in Afghanistan to fight the Taliban. As a result of changing its neutralized foreign policy by inking the Indo-US nuclear deal announced in 2005, India relations with Iran became tied to US sanctions. But with the lifting of sanctions against Tehran as a result of President Barack Obama's Joint Comprehensive Plan Of Action agreement (Iran's nuclear deal of 2015), India had been given a chance to strengthen its economic relations with Iran. Hence, The Chabahar project emerged as a key point of Indo-Iranian cooperation with India's malignant agenda to offset the influence of the Gwadar project in Pakistan, the latter forming a key component of the China Pakistan Economic Corridor (CPEC). Iran, which had wanted to address its economic woes, quickly became India's second-largest oil supplier, providing favourable terms of trade.
However, following the Trump administration's withdrawal from the JCPOA in 2017 and the levelling of drastic sanctions to halt Iranian oil and gas exports to all nations, India had to yield to US demand. New Delhi is not, therefore, as seen from Tehran, an autonomous and trustworthy partner in the long term.
Moreover, India has strategic and economic relationships with Saudi Arabia and the UAE, both of which have anti-Shia sentiments against Iran that would be a major obstacle in building a long term partnership between Iran and India. Iran wants to end the hegemony of the US and the Sunni coalition in the Middle East, for which it rightly capitalizes on China. As per the proposed deal, China plans to build several ports in Iran just outside the Gulf of Hormuz and the Persian Gulf. This agreement could provide China with an opportunity to hold its ground in the Middle East. Therefore, the security dynamics of this region would be changed, which might alter US forces' dominance in the Middle East.
Regional Isolation of India Amidst an Increasingly Hostile Neighbourhood. Despite being a member of the Shanghai Cooperation Organization (a regional grouping established in 2001 with China, Russia, Kazakhstan, Uzbekistan, Kyrgyzstan, Tajikistan and Pakistan as its other current members), New Delhi has not adequately leveraged its position and unprecedented market in the region. Instead, participating in a 'Quad' alliance – with the U.S., Japan, and Australia as its other members – to isolate China in the Indo-Pacific region, New Delhi has lost much regionally.
According to some foreign policy experts, the recent Chinese aggression in Ladakh may be an outcome of being part of the so called Quad. The US is using every possible tactic to hurt Chinese interests. The US trade war and the banning of Chinese companies are some manifestations of its intentions. It is pushing India to confront China's growing influence in the region, an overstretched military commitment that India has badly failed to fulfil. The chances of a neo-Cold War between China-Russia-Iran and the US and its allies are emerging, from which India needs to exclude itself for the sake of national interests and domestic politics.
Iran and China also have convergent views on the status of Jammu and Kashmir (J&K), a disputed territory bordering Pakistan, India and China. India's abrogation of Article 370 and 35A in August last year to alter the current status of Kashmir has angered China and Iran, both of which unequivocally support Kashmir's solution under international laws. India's unilaterally changing of the status of this territory has resulted in a recent military stand-off with China. Therefore, China-India relations are now at the lowest level.
Besides, Indian relations with all its neighbours including Pakistan, China, Nepal, Myanmar, Bhutan and Bangladesh have gradually come under strain. It is spoiling its ties with all neighbouring countries because of its Hindutva mindset and in pursuit of a 'Shining India'.
China has adroitly exploited cooling ties between India and Bangladesh by invest in multiple sectors in the latter country. Besides, Bangladesh had recently expressing a desire to improve ties with China and Pakistan. Likewise, Myanmar, notwithstanding its differences with China, has signed onto several Belt and Road Initiative projects. Sri Lanka has already signed a range of projects under the BRI's banner.
India's Deepening Concerns to Sino-Iran Deal. India 's position in Afghanistan is diminishing day after day. Following the Afghan-led, Afghan-owned peaceful settlement, the Taliban are likely to return to power. China is very concerned about the security situation and instability in Afghanistan for its potential of pushing radical Islamic elements to spill over into its region of Xinjiang. Therefore, Beijing supports political inclusiveness and reconciliation between the Kabul government and the Taliban. Further, its mission of the OBOR initiative cannot be materialized if Afghan land remains unstable. Similarly, despite Iran's prior support of the anti-Taliban Northern Alliance, its views of the Taliban have gradually changed as a result of the anti-US policy. Three regional groups, China, Pakistan and Iran, have advocated a peaceful settlement in Afghanistan that India has never desired.
Undoubtedly, Iran is emerging as a key player in China's Belt and Road Initiative, a web of connectivity across Asia, Africa and Europe. The China-Pakistan Economic Corridor, BRI's flagship, is at the centre of maritime projects, particularly in the Indian Ocean. The US could take any military adventure in Maritime Asia to control oil and gas supply routes. And none other than Iran would be a credible option for Chinese security analysts to challenge the US imperialist agenda. With India's exit from Chabahar port, China will likely take over the operational responsibilities of this port in the foreseeable future. Chabahar could be connected to Gwadar, which lies approximately 75 kilometres away in the Pakistani province of Balochistan, and China has already been working on it. So, along with China and Iran, the Sino-Iran deal is also beneficial for Pakistan.
Conclusion
Through this game-changing agreement, China could extend its influence from the Himalayas to the Gulf. The growing Chinese stronghold in Iran has long-lasting implications on India's relations with not only Iran but also on other regional countries such as Pakistan, China and Afghanistan. It is indeed essential to its foreign policymakers to play diligently.
Yet in global affairs, nothing is everlasting. Under the clouds of the threat of US sanctions, it would be difficult for China's commercial and banking sectors to work, a fact that is undeniable. Therefore, most policymakers are certain that the fate of this partnership is bound to their respective relations with Washington, a key ally of India.
The US returning to the Iranian nuclear deal, lifting sanctions against Iran, and allowing European and American companies to deal with Tehran, may alter the dynamics of the strategic partnership between China and Iran and could also provide relief for India. India needs to consider what is wrong with its foreign policy.