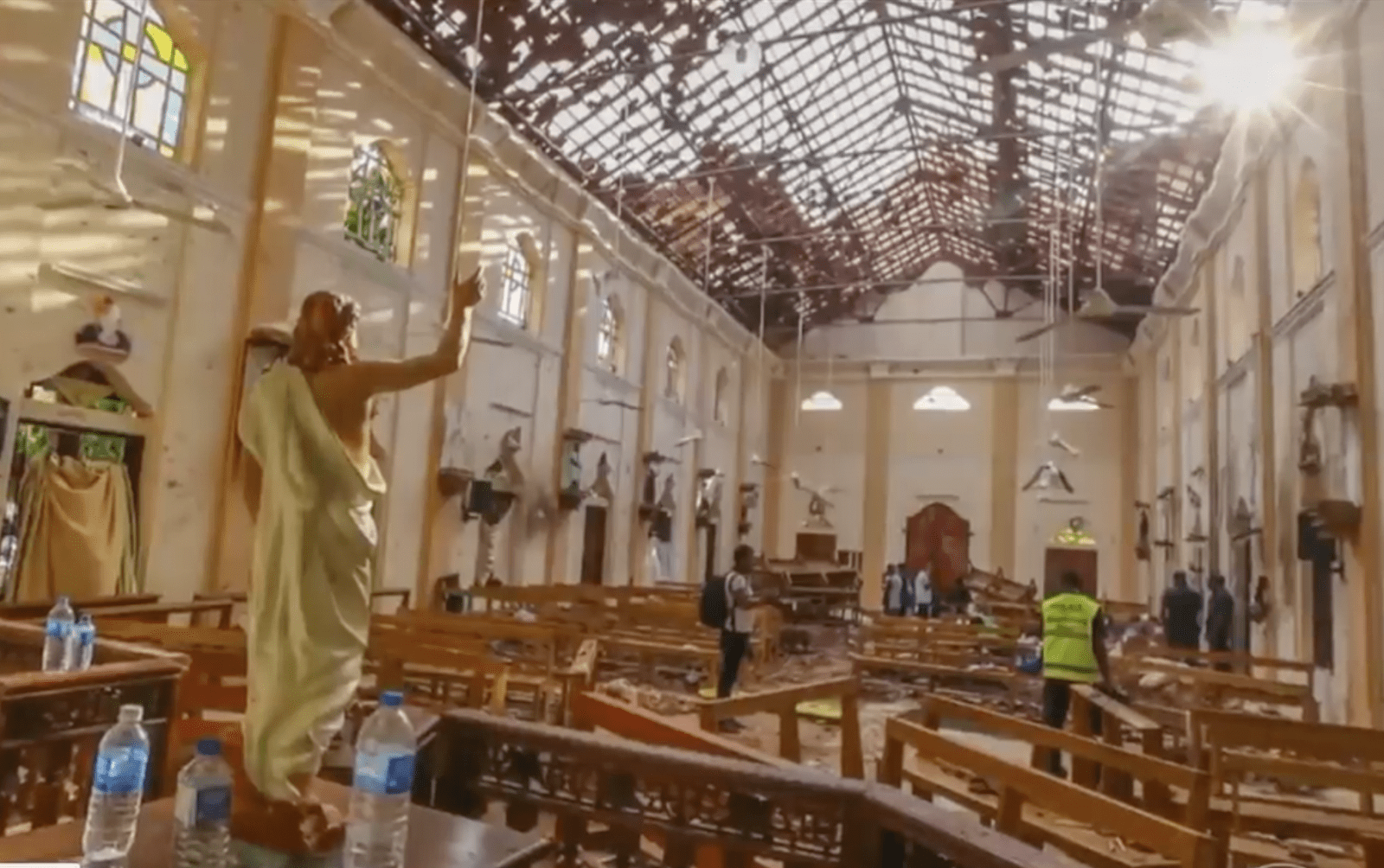 The alleged mastermind of the recent bombings in Sri Lanka is believed to have been trained in India. A top Sri Lankan military source has stated that "We also suspect that some of those radical youth were indoctrinated and trained in India, possibly Tamil Nadu."
Sri Lanka experienced one of the worst incidents of terrorism in its history, when a series of bombings led to the death of over 250 people, including 45 children and at least 40 foreign nationals (death toll revised down by the Sri Lankan authorities). Most victims were Christians who were attending Easter Mass at the three churches, while others were killed at the four luxury hotels targeted by the terrorists.
The Islamic State of Iraq and the Levant (ISIL), also called as ISIS, apparently has claimed the responsibility for the attacks. In its statement the ISIL stated: "Those who carried out the attack that targeted the citizens of the coalition and Christians in Sri Lanka the day before yesterday were Islamic State fighters." Sri Lanka is not part of the coalition force fighting against the ISIL, therefore, it is too early to confirm whether the ISIL was directly involved, or it helped a local extremist organization National Thowheed Jamath (NTJ) for carrying out the recent bombings; or was the terrorist attack driven by conflicting political interests?
    An image grab taken from a press release issued on April 23, 2019 by the Islamic State group's propaganda agency Amaq, allegedly shows eight men it said carried out a string of deadly suicide bomb blasts on Easter Sunday in Sri Lanka. The man in the centre is believed to be Zahran Hashim, who was identified by the Sri Lankan police as the leader of the Islamist National Thowheeth Jama'ath (NTJ) group, which Colombo has blamed for the attacks.   | Photo Credit: AFP
One of the suicide bombers, Zahran Hashim, who was the mastermind behind the well-coordinated attack had also travelled to South of India (Tamil Nadu) for training, where he is believed to have been indoctrinated. This indicates that ISIS may have established its base in Tamil Nadu – a region that had remained embroiled in insurgency for the last many decades and could be a lucrative recruiting ground for the ISIS.
Tamil Nadu has a disturbing history, where over 60 millions of world's 77 million Tamils live with strong ethnic bonding with 4 million Tamils living in Sri Lanka. In the past, India has hosted militant camps in Tamil Nadu (India) from where Liberation Tigers of Tamil Eelam (LTTE) were supported and equipped to carry out terrorist activities in Sri Lanka.
In 1987, India and Sri Lanka signed a deal that led to the deployment of over 100,000 Indian Peace Keeping Force (IPKF), but after failing to bring peace and suffering more than 1200 casualties, besides several thousand injured, India finally withdrew its troops in 1990.
The atrocities carried out by the Indian forces during their stay led to increased frustration and resentment amongst the Tamils against the IPKF and the Sri Lankan government. Consequently, a suicide bomber assassinated Rajiv Gandhi in 1991 while he was on an election campaign in Tamil Nadu, and another suicide bomber managed to kill the Sri Lankan President in 1993.
In 1995, the 'Third Eelam' war began that was supported and armed by the external intelligence agencies. As a result, Tamil Tigers were able to cause significant damage to the Sri Lankan government and Sri Lanka's holiest Buddhist site. Despite the peace talks, LTTE and the Sri Lankan military continued to engage in a conflict that finally led to the defeat of Tamil Tigers in 2009.
Over the past decade, Sri Lanka had seen relative peace but continues to face political uncertainty due to continued interference from its neighbours, especially India that remains uncomfortable due to growing influence of China. India has openly opposed Chinese investments in the region and has incited local population against the construction of Hambantota Port in Sri Lanka.
In view of the troubled history of Sri Lanka and the role of outside powers to assert their dominance in the region; it is quite possible that the recent bombings may not necessarily be a result of religious ideological conflict but could be a consequence of conflicting political interests. "Sri Lanka is only one of a number of South Asian countries where the China-India rivalry has roiled domestic politics." The Sri Lankan President on more than one occasion has accused India's intelligence agency Research and Analysis Wing (RAW) of attempting to assassinate him, which reflects India's growing discomfort, and its desire to manipulate neighbouring countries.
You might be interested in