Print PDF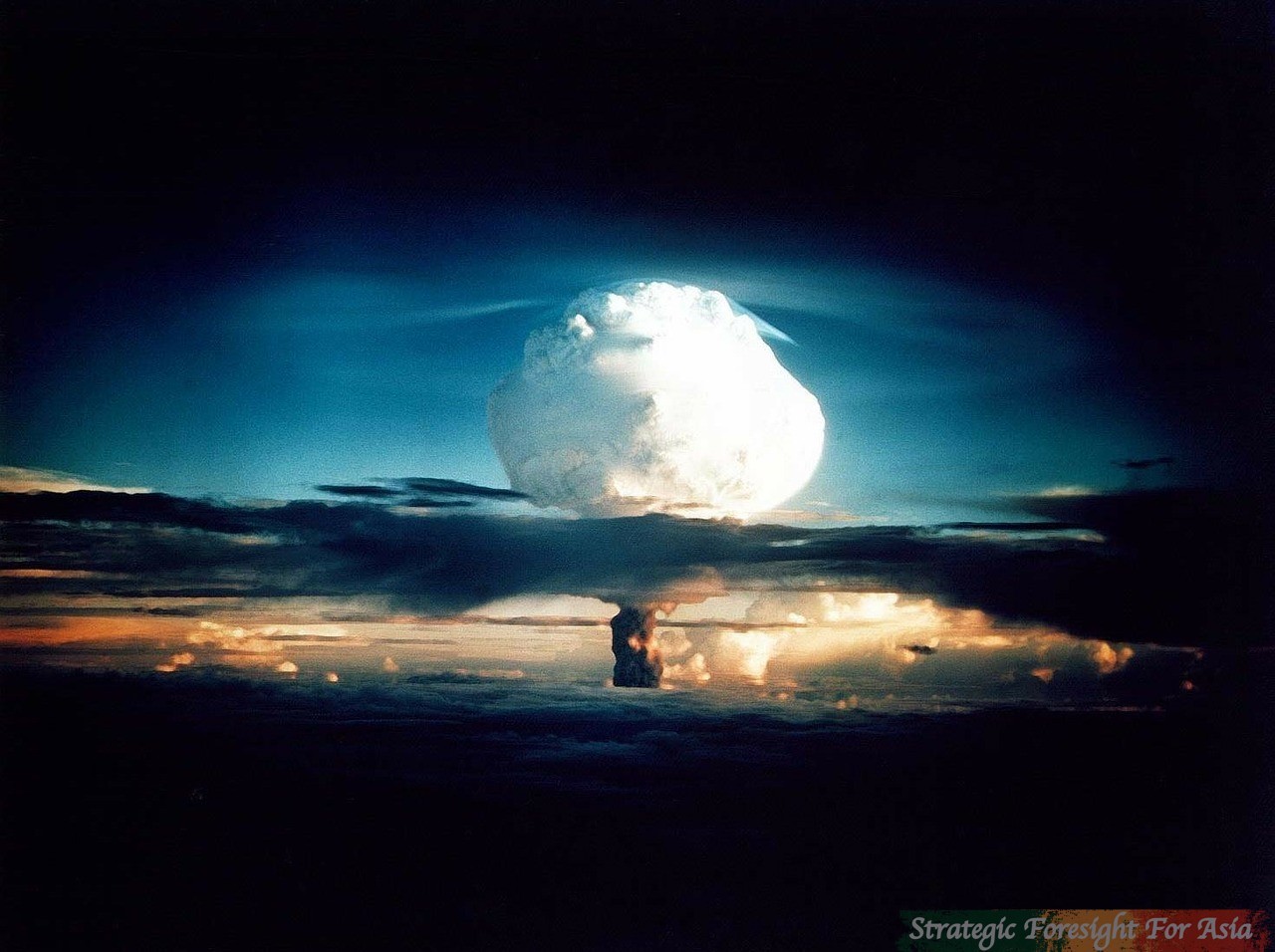 After declaring that India has acquired the capability to launch a surgical strike on "land, sky or space," PM Modi has now threatened to use "mother of nuclear bomb," to wipe out Pakistan. Addressing a public rally, the Indian Prime Minister stated: "We have the mother of nuclear bombs. I decided to tell [Pakistan], do whatever you want to do but we will retaliate." The statement was most likely intended to restore India's image and strengthen his own nationalist credentials, but it could also be a reference to India's desire of building and testing 'thermonuclear' weapons – also called as the Hydrogen bomb.
India and Pakistan were recently embroiled in another serious crisis after a young Kashmiri from the Indian Occupied Kashmir (IoK) blew himself up, killing 44 personnel from India's Central Reserve Force (CPRF). Within a few hours, India blamed Pakistan and threatened to take punitive measures. On Feb 26, Indian Air Force (IAF) launched a 'non-military' surgical strike at 'Balakot' and claimed that it had managed to kill more than 300 militants and destroyed several buildings in the area. Several international observers rejected India's claim for the lack of evidence, and more recently India's Minister of External Affairs Sushma Swaraj has also clarified that during the 'Balakot' strike 'no Pakistani soldier or citizen died.'
Pakistan that had earlier vowed to retaliate, if India opted for military action, responded with a 'tit-for-tat' counter surgical strike. In a short aerial encounter, Pakistan Air Force (PAF) also managed to shoot down two IAF aircraft, besides capturing one of the pilots of the Mig-21 Bison, who was later returned as a goodwill gesture. After facing military humiliation in the 'sky,' PM Modi has become increasingly reckless and is brandishing India's military capability to repair the damage done to India's credibility, which included the recent anti-satellite (ASAT) and now this behaviour of bad nuclearism.
Speaking at the public rally, PM Modi also said: "Earlier, terrorists from Pakistan would come here and go back after conducting an attack, …[and] in the past our people would weep, go around the world saying Pakistan did this, did that. It is now Pakistan's turn to weep." This a blatant admission from the Head of the Government for indulging in state-sanctioned terrorism. His reference that "it is now Pakistan's turn to weep" most likely was pointed towards the surge in terrorist activities that led to the recent bombing in Quetta killing many innocent people, and the subsequent killing of bus passengers near Ormara, Balochistan by the Indian sponsored Baloch separatist organization.
PM Modi's threat of 'mother of nuclear bomb' also provides insight into India's evolving thinking. It is quite likely that after winning the elections, BJP could possibly conduct another round of nuclear tests that may include the thermonuclear weapons or the 'mother of nuclear bomb.' India's earlier attempt to test thermonuclear weapons in 1998 was described by several western experts as a 'dud' or 'fizzle.' Thermonuclear tests are many times more powerful than the 'fission type' nuclear weapons and generate more energy that can completely destroy cities and are therefore known as 'city busters.'
India does need to validate its Hydrogen bombs for its inter-continental ballistic missile (ICBM) capability that it is acquiring for the future, and the BJP has a track record of taking populist decisions. In 1998, BJP promised that after winning the elections it would make India a nuclear weapon state, which it did and found it useful to build BJP's nationalist credentials at home and abroad. Modi may follow a similar course to repair India's image by exploiting the favourable international environment.
The U.S. desire to see India help project and protect the U.S. interests in the region by building its military potential and help confront China allows India the space to violate international norms without international opprobrium. India's recent ASAT test was one such example that may have encouraged it to achieve its ambitions, and India might already be contemplating the next round of nuclear tests, which could include the thermonuclear device.
India's perpetual anxiety to be recognized as an 'equal' nuclear power could be a major driver behind India's new nuclear ambitions. Since all five 'NPT' recognized nuclear weapon states have conducted thermonuclear tests; it is quite likely that India would attempt to achieve this feat and emerge as a major nuclear power at par with the others. This could be one of the major reasons that India has not agreed to sign the comprehensive test ban treaty (CTBT) or reciprocated to Pakistan's proposal of a bilateral moratorium of test ban that was earlier offered in 1987, and more recently in 2016.
The development of thermonuclear weapons and other systems, including the nuclear-powered submarines, would not only affect the regional security balance but most importantly it would bring all major nuclear powers within the range of India's nuclear arsenal. Acquisition of thermonuclear weapons may afford India the potential to wipe out Pakistan, but India can never have the comfort that in response, several of its major cities would not be destroyed by Pakistan's remaining nuclear weapons. And those who would be able to survive the nuclear Armageddon, 'would envy the dead.'
Dr. Adil Sultan is a visiting research fellow at King's College London. He can be reached at [email protected]
Related Article
'Pulwama' Crisis: Causes, Implications, and Lessons for the Future