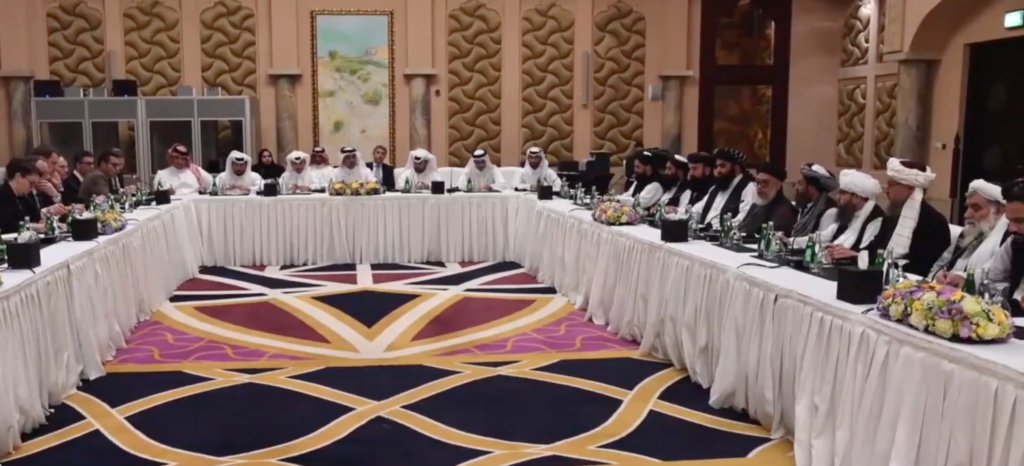 The last seventeen years of Afghan history have only witnessed inconsequential and trivial progress towards peace in Afghanistan. Hollow promises and ill-conceived rigid positions have often made progress in the peace process slow, if not impossible. However, recently, due to a few important positional pivots from key stakeholders and the assertion of regional actors, hope regarding a comprehensive and sustainable peace agreement has been rekindled.
From the beginning of the Taliban's insurgency against the US and NATO, their demands have been fairly rigid, non-negotiable and have primarily revolved around the following: withdrawal of foreign forces, an Afghan system based on Islamic law, recognition of the Taliban as a legitimate  party and  granting them an official office, guarantee of free movement by releasing their prisoners and their removal from international blacklists, a new constitution independent from foreign influence, and negotiations with the US to be kept independent from Kabul whom they consider a puppet government of the US and will engage with once peace talks with the US are done.
In the last few years, however, the Taliban have made a few intentional diplomatic shifts in their demands which have made the prospects of a peace agreement, especially in the minds of regional stakeholders, plausible.
The Taliban do not foresee a complete monopoly of power but rather indicate that they may be open to a system of political power sharing in the future where they can morph into a political entity themselves. They have also relinquished their concrete demand of a "military" victory in favour of willingness for peaceful dialogue that leads to suspension of intra-Afghan conflict once foreign forces withdraw. Furthermore, while their long-standing demand remains that US forces withdraw for the dialogue to be successful, they have stated that they are open to establishing friendly relations and cooperation with the US so that the US may come back and help rebuild the country on Afghan terms. Similarly, they have budged on their demand for a Constitution embedded in rigid Islamic principles in favour of Afghan scholars, building one based on "Islam, national interests, social justice, historical achievements and Afghan nationalism……., committed to human dignity, rights and national values ….., and one that could guarantee territorial integrity of the country and its citizens." This is indicative that the Taliban are moving away from refusing to acknowledge basic human rights, and the rights of women and instead, they are making soft gestures to indicate a rapidly evolving organization that is staking its claim as a political and social entity. They are disassociating with their violent past in favour of becoming an organization that can be ethically engaged with by states.
Many regional stakeholders such as Russia, China and Pakistan have begun to realize that if they wish to have a say in the future of the region, they can no longer stay on the sidelines while the US and NATO work unilaterally for the future of Afghanistan. Recognizing the need of the hour and due to these soft signals and shifts by the Taliban, these regional actors have started to become more actively involved in the peace process.
Russia.       Perhaps the most surprising of these regional actors' involvement was the sudden Russian push for increased engagement in Afghanistan. Although Russia has been minimally involved in the peace process in the past, for instance having hosted the Russia-China-Pakistan Trilateral Dialogue on Afghanistan in 2016, its recent involvements since 2018 warrant renewed praise and attention.
On 28th May 2019, a ceremony was held in Moscow to celebrate the 100th anniversary of Russian-Afghanistan relations, in which the Afghan Taliban and prominent Afghan politicians took part. The ceremony was followed by the second intra-Afghan talks between a 14-member Taliban delegation and various Afghan politicians including former President Hamid Karzai, former national security adviser Hanif Atmar, Atta Mohammad Noor, Fawzia Koofi and former Afghan ambassador to Pakistan Dr Omar Zakhilwal. Previously in February 2019, Russia had hosted similar Intra-Afghan dialogues in Moscow and in November 2018, it had held the Moscow Format talks.
The significance of the May 2019 talks was exemplified by the participation and leadership of Mullah Abdul Ghani Baradar, co-founder of the Taliban and the head of Taliban's political office, instead of Sher Mohammad Abbas Stanekzai, a senior member of the Taliban's Doha office who has led such meetings in the past. In his first public speech since being released from prison by Pakistan in 2018, Baradar stated that "while the Taliban are committed to peace, the first step is to remove obstacles….the obstacle is the occupation of Afghanistan, and that should end" This was a clear signal towards the group's established demand of foreign forces' withdrawal from Afghanistan. Interestingly Baradar's comments regarding US withdrawal were also echoed by the Russian Foreign Minister Sergey Lavrov who stated in his welcome address, "Moscow believes all foreign military forces should be withdrawn from Afghanistan." A joint statement was also issued after the meeting, in which both sides agreed to continue dialogue on "intra-Afghan talks, ceasefire, the release of prisoners, protection of civilians, foreign troop withdrawal, end of the foreigners' interference, the perseverance of national sovereignty, and women rights."
It seems striking that a country such as Russia, which has had little to no involvement in the Afghan peace process, is suddenly emerging as a major stakeholder in it. However, one main reason for Russia's sudden involvement is that increased engagement gives it a leading seat at the international table it has for so long been denied by US unilateralism. By hosting the Intra-Afghan dialogue, Russia is positioning itself to be on diplomatic parity with the US in terms of the Afghan peace process by being viewed as a valid broker of Afghan peace and a pivotal player in the conflict.
China.       Since 2014, China has also taken note of the changing dynamics within the Taliban and recognized the need to have its own voice in the peace process. It has moved away from its limited role in Afghanistan to a more proactive one, offering both support and facilitation. In the past China has been involved in landmark events in the peace process, whether by unofficially hosting the Afghan Taliban delegations, or through its participation in forums such as the Murree peace process in 2015, the Quadrilateral Coordination Group (QCG), the Pakistan-Russia-China tri-lateral dialogue in 2016, and the China-Pakistan Afghanistan tri-lateral dialogue. However, in recent years China has taken on an even more significant role, as exemplified in the June 2018 Taliban-Kabul ceasefire where Beijing played the role of a mediator.
Furthermore, in June 2019, a Taliban delegation, headed by Mullah Baradar met Chinese officials in Beijing to discuss China's role in the region.  The talks come just a few days ahead of the seventh round of talks in Doha, one which Abdul Hai Mutmayen, ex-chief spokesman for the Taliban in the Kandahar province, indicated would be an "important" one; many key details about the withdrawal of foreign forces and the future of intra-Afghan dialogue are expected to be discussed. This possibility surrounding the seventh round of talks gives the Beijing meeting further importance because as Mutmayer pointed out, "It seems that Taliban leaders are making efforts to hold consultations and exchange their views with key stakeholders ahead of the next round". Hence, by holding a meeting with Beijing, the Taliban appear to have acknowledged that the former is amongst the key stakeholders with an indispensable role in the future of the peace process.
The Taliban even went one step further to indicate their support for Beijing's inclusion in the peace process by suggesting that they would be open to China playing the role of a guarantor if a peace deal is reached with the US. This development is very significant, as one of the major pitfalls in the negotiations has always been the question of who could serve as a guarantor of a brokered peace deal within Afghanistan when there are such deep rifts of mistrust between the Taliban, Kabul and the US. A neutral third party guarantor has always been a possible solution to this issue, but the Taliban had never named outright a country that could play that role.  By openly suggesting China as a recipient of that responsibility, the Taliban have also showcased their trust in China.
It seems that China is also actively pivoting its foreign policy to receive this newfound importance as a regional stakeholder with open arms. Xinhua, the official news agency of China, recently quoted Xi Jinping as saying "The Chinese side firmly supports a comprehensive and inclusive Afghan-led and Afghan-owned peace and reconciliation process and will continue to actively encourage and promote talks through various channels to help the Afghan people achieve internal dialogue."
Due to its perceived neutrality towards Afghanistan by major stakeholders, China is an especially unique position to take the lead in the peace process. Its increased involvement has more or less been welcomed by all sides and, unlike Russia and the US, China does not bring any historical baggage to talks with the Taliban or Kabul as it has always maintained neutrality towards Afghanistan in times of conflict within the region. Considering the growing animosity between China and the US on issues such as trade, it remains to be seen what exact role China will undertake once details are actually finalized. The only thing that is certain at the moment is that China has emerged as a major stakeholder in the process, and with the recent approval of its rise by the Taliban, it will retain that position in the future.
Pakistan.         Although Pakistan, for better or worse, has historically been very active and crucial in the Afghan peace process, it too has sensed the need of the hour for regional stakeholders to intensify their push for an Afghan Peace Process and have launched a few initiatives to foster intra-Afghan dialogue.
Recently in June 2019, in anticipation of an upcoming two-day visit by Afghanistan President Ashraf Ghani, Pakistan hosted an intra-Afghan dialogue in Murree called the "Lahore Process". Although the Taliban were not in attendance, many influential Afghan leaders such as the Afghan government-sponsored high peace council, Hizb-e-Islami leader Gulbuddin Hekmatyar, former Balkh governor Atta Mohammad Noor, second deputy chief executive Mohammad Mohaqeq, presidential candidate Abdul Latif Pedram, Mohammad Karim Khalili, as well as the leader of the powerful Jamiat-e-Islami political party, Ustad Atta Mohammad Noor, and a current presidential candidate, Haneef Atmar, who is a former national security adviser, were all present at the conference.
In a nod to the gravity of the moment, the Foreign Minister of Pakistan Shah Mehmood Qureshi spoke of the need to move away from the  vicious circle of mistrust that has plagued Pak-Afghan bilateral ties, and focus on taking  practical steps to build mutual trust and confidence between the two."
Although the Lahore Process, like most such conferences, failed to achieve any concrete development, it highlighted the need for constructive Pak-Afghan relations based on mutual trust and cooperation in key areas such as security, as an essential prerequisite for a sustainable peace agreement. A peace deal that is not inclusive of Pakistan has high chances of falling apart, and the Lahore Process indicated Pakistan's understanding that as one of the main regional actors in the conflict, they must have an active and constructive role in the process.
Conclusion.     Now that regional stakeholders have successfully created momentum towards peaceful dialogue and have become an active force in driving it, they need to levy their newfound influence and interest to make sure that the US works towards a durable peace settlement that addresses the concerns of all stakeholders, rather than a hasty peace settlement which is prone to collapse. The US also needs to recognize the increased role of regional stakeholders and continue moving away from unilateralism to galvanize a settlement that placates the concerns of all stakeholders rather than opting for a hastily formed agreement. In this regard, efforts must be focused on a credible and sustained ceasefire leading to intra Afghan talks, primarily between Kabul and the Taliban, followed by a responsible and measured withdrawal of foreign forces.
During the recent seventh round of Doha talks on 28th June 2019, there appeared to be a glimmer of hope towards fulfilling one of the criteria for sustainable peace, namely dialogue between Kabul and the Taliban. Sibghatullah Ahmadi, a spokesman for the Afghan Ministry of Foreign Affairs, confirmed that during the seventh round of talks, Germany along with Qatar, promised to help facilitate an intra-Afghan dialogue between Kabul and the Taliban. This dialogue is expected to take place between 7th and 8th July 2019; should it go forward, it will be the first of its kind and a critical breakthrough in the Afghan peace process.
Despite the immense potential surrounding this dialogue, it remains to be seen how effective it will actually turn out or whether it will take place at all. After a wave of terror attacks in Kabul carried out by the Taliban during the seventh round of Doha talks, including a horrific attack on 1st July which injured over a 100 people, there is not only a growing sense of frustration within Afghanistan regarding the prospects of dialogue but there is also mounting political pressure on President Ghani from the opposition ahead of the presidential elections in September. This pressure regarding security in Kabul and the volatile nature of the Taliban might prove to be a fatal combination for the upcoming intra-Afghan dialogue. However, if such dialogue takes place and is successful in gaining some ground, it will be indicative of a major shift in the Taliban's rhetoric in terms of referring to Kabul as a puppet government.
Such a gesture will go a long way in achieving peace in the Afghan conflict as it is necessary for the Taliban to acknowledge Kabul's legitimate role in the future of Afghanistan. Otherwise, they will not be able to work together for sustainable peace.
Amina Khan is s senior research fellow at the Institute of Strategic Studies (ISSI) Islamabad. Her primary area of focus is (Afghanistan) and FATA
Awais Ali Syed who is currently pursuing his undergraduate studies at Colorado College.