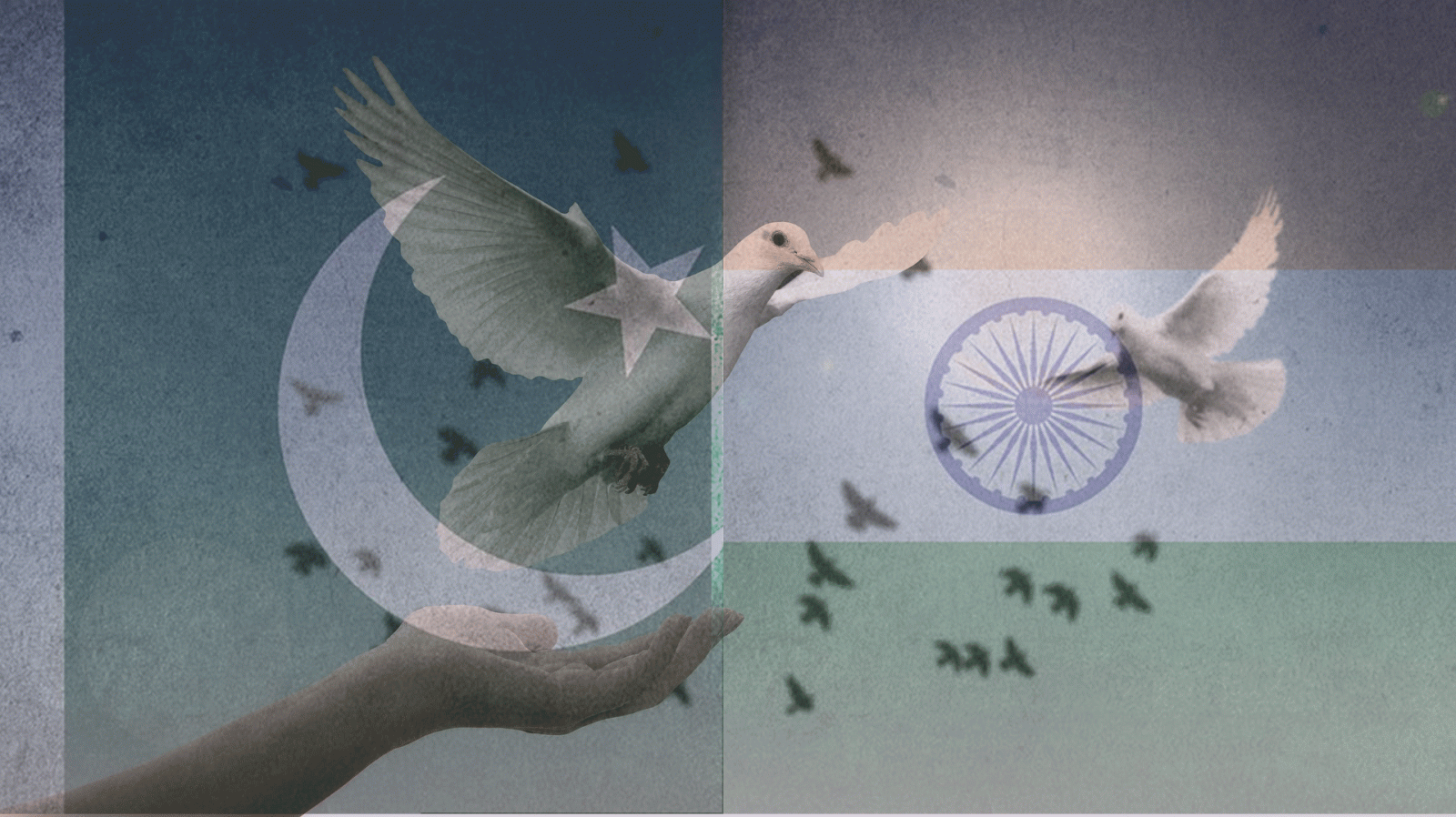 Will India and Pakistan be able to take constructive steps away from periodic crises and confrontation? The smart money bets no, and cynics are usually right. Those who have tried to break the cycle of enduring enmity on the subcontinent have not been rewarded. A succession of Indian Prime Ministers including the incumbent have been burned by making gestures to improve relations with Pakistan. An act of violence has followed, making them look foolish for trying.
A succession of Pakistani leaders has tried to halt "the blame game," but Pakistani diplomacy is hamstrung by fixed international perceptions of cause and effect. Ever since the Musharraf years, the usual suspects have been rounded up after Indian initiatives to improve ties was blown up in its tracks. And as in the movie "Casablanca," those placed under polite detention have been free to go about their business after the legal process petered out.
The most dramatic example of this dynamic was the Kargil War that followed the summit between A.B. Vajpayee and Nawaz Sharif in Lahore, where a road map to normalize ties was committed to paper. Subsequently, modest steps to improve ties were blown up in Mumbai in 2008. Several smaller incidents have followed in the past few years. Prime Minister Narendra Modi knows the dynamic of trial and error well. His surprise visit to Nawaz Sharif's birthday party and his grand daughter's wedding in December 2015 was followed by the attack at Pathankot in early January.
New Delhi also gets burned when it tries to ignore Pakistan. Pakistan gets burned for past behaviour, while current steps and stated intentions are not appreciated. So why should we have any reason to expect another initiative to improve ties, especially when Modi is now running to extend his innings on the grounds that he has been tough on Pakistan? Why would anyone in his or her right mind try to turn the page one more time?
Because anyone in his or her right mind can see that nuclear dangers are growing while the dynamics of violence on the subcontinent are becoming more adventurous. The nuclear competition between India and Pakistan is accelerating with the introduction of new ballistic and cruise missiles, along with missiles carrying multiple warheads. India is implementing plans to deploy missile defences, even though Pakistan has already taken steps to defeat them.
Nuclear doctrines are evolving. Both countries are falling victim to the counterforce compulsion — a disease that strikes nuclear-armed states when the size of their arsenals exceeds the number of cities to be targeted. Minimum deterrence evolves into war-fighting strategies when stockpiles permit the targeting of military, air and naval bases, missile deployment areas and other strategic facilities. This is a recipe for an open-ended nuclear competition, requiring even more fissile material production. India and Pakistan won't go as deep into this morass as the United States and the Soviet Union, but they'll go deeper than Great Britain and France.
The dynamics of violence are also changing after the explosion at Pulwama and the ineffectual Indian response at Balakot. In New Delhi's calculus, "surgical strikes" by commandoes across the Line of Control dividing Kashmir now seem insufficient, as does striking back within Azad Kashmir. Combat aircraft are now part of the equation for retaliation and response. More meaningful targets are likely in store. National leaders now find themselves amidst new escalatory dynamics, and the usual expectations of third-party crisis management no longer apply.
These dangers and trend lines warrant another attempt at changing course. The initiative has to come from India. A meaningful response, including the prevention of another short-circuit, has to come from Pakistan.  The consent by Beijing and Islamabad to placing Masood Azhar on the United Nations' proscribed list could be a useful predicate. Everyone will be watching what, if anything, different occurs after the current roundup of the usual suspects. It is in Pakistan's national security and economic interest to avoid being placed on the Financial Action Task Force's blacklist.
If India's new government has the wisdom to try once more to move away from confrontation, there is no shortage of confidence-building and nuclear risk-reduction measures to pursue. Every Indian and Pakistani diplomat worth his or her salt can quickly identify a half-dozen worthwhile measures that would not diminish security while helping to place time and space before another clash. If enough time and space are added, there may not be another clash.
The Stimson Center has added to the list of creative confidence-building and nuclear risk-reduction measures. Stimson has gathered rising talent and veteran analysts to propose pragmatic, novel approaches to improve ties. The result is the latest book from Stimson's South Asia Program, Off Ramps from Confrontation in Southern Asia, freely available for downloading at www.stimson.org.  Here one can find eighteen interesting ideas, including collaborative environmental protection by Sameer Ali, joint initiatives on the humanitarian impact of nuclear weapons by Arka Biswas and Saira Bano, the creation of communication links between National and Nuclear Command Authorities by Harray Hannah, an expanded missile flight-testing regime by Frank O'Donnell, and for modernizing the nuclear non-attack agreement by Toby Dalton.
These and other ideas are worth consideration — if a window opens slightly after the Indian elections are sorted out. If this window remains closed, dangers will continue to grow.
Michael Krepon is the Co-founder of the Stimson Center.