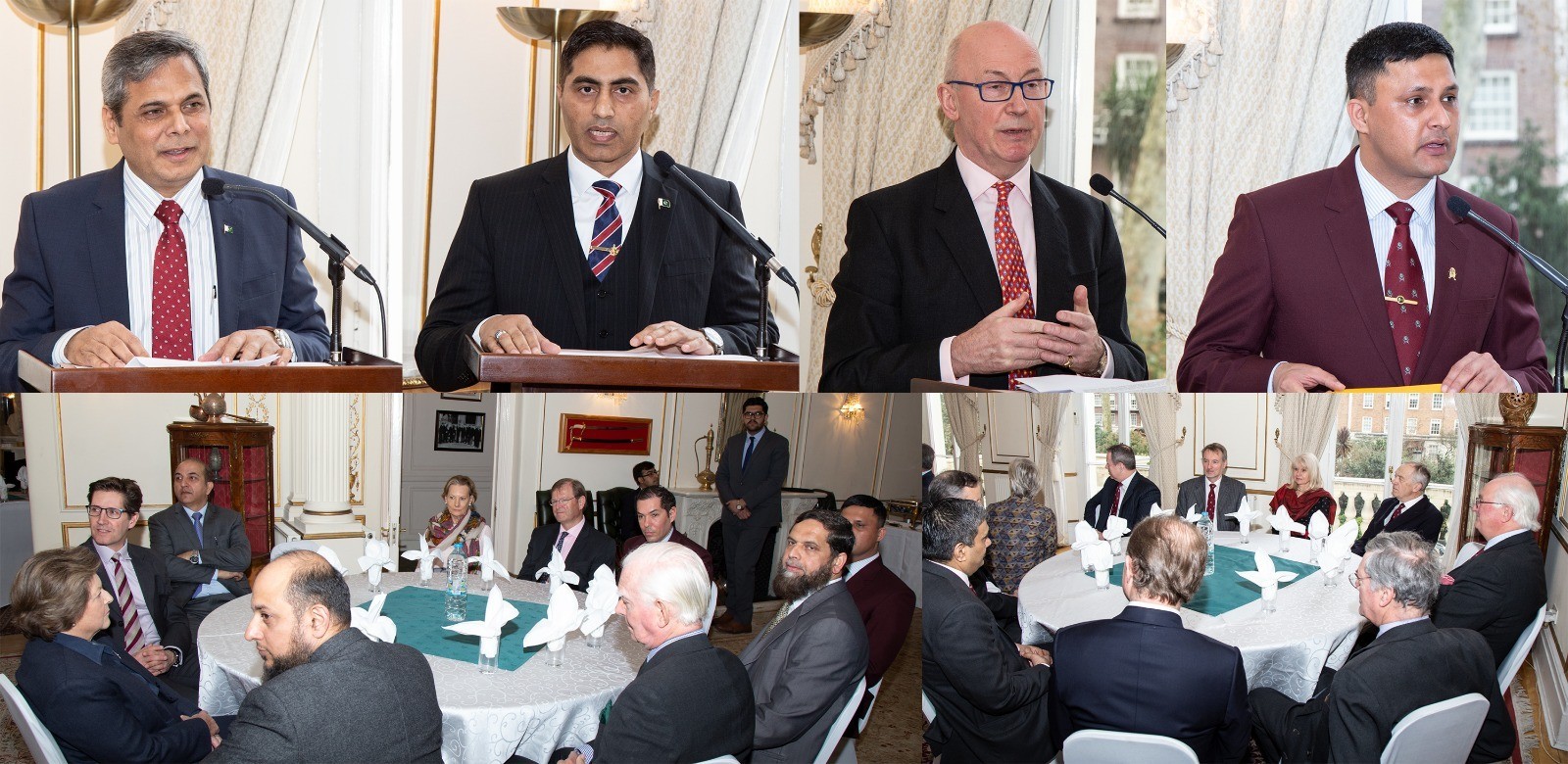 Annual Meeting of Quetta Association, a body of British alumni of Command and Staff College Quetta was held on 27th March 2019 at High Commission of Pakistan London.
High Commissioner, Mohammad Nafees Zakaria was the host of the Gathering, It was attended among others by
Maj Gen (Retd) Seumas ( Chairman Quetta Association)
Lt Col Alan Whitelaw (Secretary Quetta Association)
Lt General Retired Sir Alistiar Irwin, former President Quetta Association,
and 40 British graduates of the College and their spouses.
Maj Gen (Retd) Seumas ( Chairman Quetta Association) in his remarks highlighted the importance of the forum for both Pakistan and UK as it provided the vehicle for sharing common traditions and experiences of Armies of the two countries.
Commodore Jamal Alam Defence advisor at the high commission read a message by the Commandant Staff and College Quetta to the attendees. The message reiterated that continued participation of British officers is a testament of the age-old affiliation between the UK and Command and Staff College Quetta. It was also highlighted that the Quetta association UK was playing a pivotal role in this regard by ensuring that this mutually beneficial relationship is continued.
The Commissioner in his speech highlighted the importance of the presence of former British graduates from the college referencing them as strong pillars for the Association. He also hoped that the platform of Quetta Association will further strengthen the existing links not just the Armed forces of the two countries but also historical links in diverse fields. The Commissioner also highlighted that the global economic gravity had shifted to Asia, Pakistan by virtue of its geographic location in the region was in an advantageous position. He informed the attendees that the present government was pursuing prudent economic policies, which will benefit UK, among others, who may join hands. Democratic continuity, strengthening of the institutions and conducive environment have played a key role in the turnaround of the country's profile. This was reflected in the increasing investor confidence as more and more companies were showing a keen interest in investing in Pakistan. In the backdrop of Brexit, he emphasised that there are numerous opportunities for the UK, to augment economic ties between the two countries.
Condemning the recent abhorrent act of terrorism in Newzeland, the High Commissioner said that terrorism had no religion and urged on the importance of a joint effort by world leaders to curb this menace, He also expressed solidarity with the families of the victims of the terror attack, and paid tribute to those who had sacrificed their lives in the fight against terrorism while protecting humanity. He also appreciated Newzeland Governments handling of the situation in the aftermath.
Since Inception this was the first meeting of the Association hosted by High Commission of Pakistan in London on 27th March 2019.