Print PDF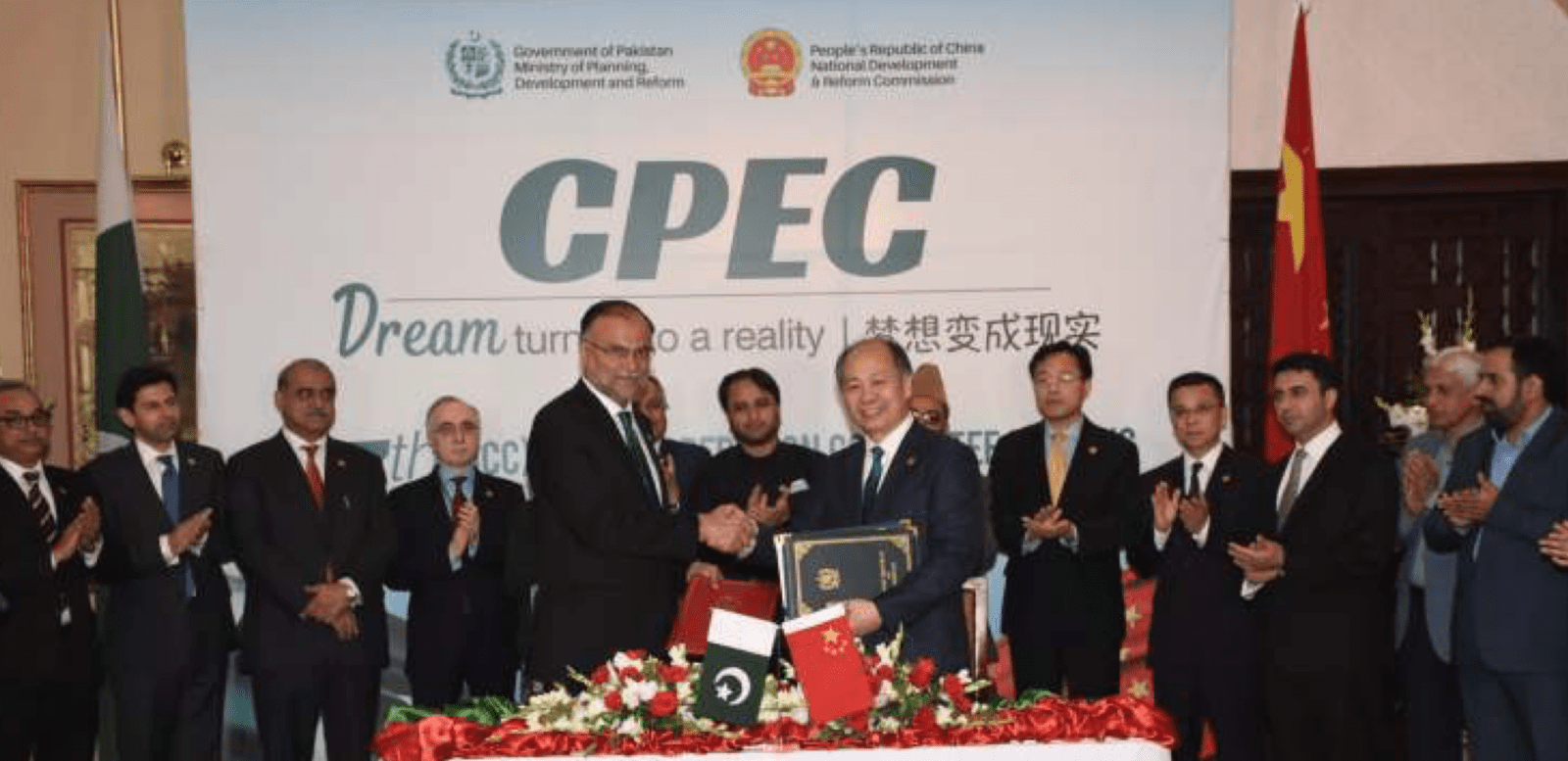 As the road network of China Pakistan Economic Corridor (CPEC) is rapidly being laid down across the country, it comes like the dawn of a new industrial era in Pakistan. The evidence of this claim is the cluster of special economic zones (SEZs) that are sprawling along the CPEC route, where under business simulative policies, new and vigorous industrial foundations are to be developed and thrusted into action, bringing along vast socio-economic and environmental impacts. In total, there will be 37 ambitiously planned economic zones, the prominent of which are the SEZs at M-3 near Faisalabad, M-1 Rashakai near Nowshera, ICT at Islamabad, Dhabeji and Port Qasim in Sindh. So, as this nationwide industrial chapter inaugurates, it is indeed critical now to seriously evaluate their environmental implications on an immediate basis, so we do not have to reap the drastic effects on our environment later down on this ambitious path.
Globally, the idea of setting up of Special Economic Zones has only been relatively recent, with the first ones to have appeared from the 1950s and onwards. Talking about China exclusively, its first SEZ was Shenzhen Special Economic Zone of 1979, and since then about a thousand more have sprung up, while similar concepts such as Development and Technology Parks also debuted in dozens. However, this remarkable boost in industrial activity did not come without a cost, and at the brunt of this were the local ecosystems and their connected human and other biotic communities. As urban and natural ecosystems were disrupted, destroyed, fragmented and polluted, it brought swarms of environmental challenges, endangering the lives of locals and risking the profitable future of this development itself. So now, China has made the dire switch, and Green Special Economic Zones and Eco-Industrial Parks have been established as the viable cure in shaping China's development long-lasting and sustainable while also conserving its resource bank, of both energy and physical materials. Considering how much of CPEC is the brainchild of China's innovation and investment, Pakistan should be implementing similar methodologies for its industrial plans to make them environmentally friendly.
In 2003, with the launch of first Eco-Industrial Park in China, it devised a series of goals to define these new green industrial policies. The foremost objective was clear – to make the industrial zones circular, both economically and environmentally. It meant designing a network of self-sustaining and closed-ended industrial linkages, so materials and energy could get exchanged, recycled and reused within the network, thus reducing the net production of industrial waste to surroundings. Energy distribution and consumption were also paid attention to, like increasing the overall system efficiencies and making a switch towards sustainable energy models. As more raw materials were obtained locally or from recycling channels, the costs and carbon footprint of imports and production decreased. Perhaps one of the most notable advantages of having green SEZs, is that monitoring and data collection of each industry's progress on following through with green protocols such as ISO 14001 became swift and manageable, and companies or entire production regions with good environmental track records were then seen to benefit from investments, loans, international aids in an otherwise highly competitive global environment. Lastly, these green policies were instrumental in undercutting environmental pollution and ecosystem degradation, which is presently the top-notch global priority ever since the industrial revolution first started, where reckless damage havocked planet Earth, and we are still in turn facing the consequential grim realities of this in the form of climate change, mass extinctions and so on. So, seeing the success stories of Tianjin and Baoding Development Zones in China and other green SEZs globally, let's have a brief look at some of the main policies and layouts that were put into practice.
Industrial Symbioses translates to a grouping of organizations and industries, both physically and through trade loops, so that material and energy disposed off as waste from one unit can be utilized through recycling by another unit. This allows manufacturing units to build new trade relations, profit off the exchanged materials and energy, and lower their environmental impact onto their surroundings. This collaboration enhances the system efficiency and reduces the operational costs and the demand for virgin raw materials by direct extraction from their source. There are many practical exemplary cases of industrial symbioses, and Pakistan can adapt to them easily keeping in mind its own diverse group of small and big scale enterprises. The first example of this can be industrial symbioses between cotton processing and textile manufacturing units, which are then coupled with the packaging and paper industry. The waste stream of cotton and textile hubs mainly contains offcuts, low-quality lint, threads and fibres, which can be taken up to produce cheap and eco-friendly paper and packaging products instead of using raw wood pulp from chopped off trees. It has the potential to be practised in Faisalabad, as the city is known for its cotton textile sector. Another area of high capacity for this green synergy is the livestock and dairy sector, where rearing of animals like buffaloes and cows produces on a daily basis heaps of animal manure, animal feed and crop wastes. Instead of letting it add up as pollution to local lands or water, all of it can be collected and digested anaerobically to produce biogas.
Biogas is a renewable source of energy, where the gas is compressed in cylinders and then burnt in transport engines, stoves and in combined heat and power (CHP) plants for electricity and heat. Considering how the livestock industry is 11.3% of national GDP and expected to grow still, it can be worth the investment if biogas plants are installed along the economic zones in Sindh and Punjab, adding a valuable contribution to meeting energy demands at lower, sustainable costs. Thus, the potential areas of industrial symbioses can go on, as it would help the small scale, lower cost manufacturing units to flourish in Pakistan.
Another common practice is the shared management of utilities such as water, energy, gas and raw materials, whereby the cluster of companies of an area co-manage waste treatment and removal plants, and either reuse the processed waste or dispose it off safely. This significantly reduces the overall costs incurred on each party, and also minimizes unregulated raw waste pollution to the environment. Water, which is needed by industries as their 4th largest consumption on average, can be the main focus in Pakistan's SEZs, keeping given the impending water scarcity. Each special economic zone should have its own water treatment plants, managed and overlooked by the local industries. The polluted grey water once treated could then be reused in cooling plants, washing of chemicals, in construction and irrigation of crops. Biogas produced from livestock waste can also be used in Biogas digesters and anaerobic sludge reactors to treat polluted water. The organic flocs, rich in nutrients and healthy microbes, known as sludge, can be processed for use as fertilizers in nearby crops. Furthermore, it is time that Pakistan constructs its properly engineered landfill sites at these SEZs, where industries can dump their solid waste safely. The tragic reality is that so far, there are only three landfill sites in Karachi and 2 in Lahore, which are severely mismanaged while the rest of the country still dumps its waste on open lands, exposing it to as hazardous pollution to the environment. Lastly, the government should ensure that each special economic zone should have its own sustainability research and training centres, which could update, educate and innovate green solutions to the local industrialists and their workforce; promote low carbon technologies and efficient energy systems, and also incubate new environmentally conscious technological breakthroughs. It would make it easier for manufacturing companies to adopt and switch to greener production practices, such as using solar powered energy, reducing plastic packaging, filtering out toxic gases from their chimney emissions and abiding environmental laws. These research centres would also be able to conduct a thorough examination into the effects of special economic zones onto their respective surroundings, and come up with specialized recovery and conservation plans to restore local ecosystems.
Hence, while it is clear that Pakistan is all set to warmly embrace this new industrial chapter for all of its considerable benefits, it should also commit seriously to undertaking of proper Environmental Impact Assessments, upgradation of system resilience, and fostering green policies for its Special Economic Zones in order to truly and holistically benefit off from them. It is undeniably the need of the hour, with 2016's Paris Accord and similar international frameworks and treaties, making of sustainable schemes should be more lucrative and innovative. Perhaps only if Pakistan remains conscious of its environmental shortcomings and the demand of aiding sustainable development, will it then ever stand a chance of creating meaningful and truly prosperous industrial landscapes, generating revenues and simulating a solid milestone in its national progress.
Adeena Tahir is an undergraduate  student of Environmental Engineering at the National University of Science and Technology (NUST), Islamabad, Pakistan