Print PDF
A recent report by the United Nations revealed that North Korea "did not halt its nuclear and ballistic missile programmes, which it continued to enhance, in violation of Security Council resolutions." The United Nations Panel of Experts on North Korea in its two latest reports, the final annual report dated March 2, 2020, and the mid-term report dated August 30, 2019, identified over 250 alleged violations, involving 62 countries.
On a comparative assessment of all UN PoE reports on North Korea, it is interesting to note that India has repeatedly violated UN Security Council resolutions. The panel of experts in their report in 2018 found that between January and September 2017, India imported iron and steel valued at $1.4 million, iron and steel products worth $234,000, copper worth $233,000 and $526,000 of zinc. It was a clear and brazen violation of the UNSC resolutions.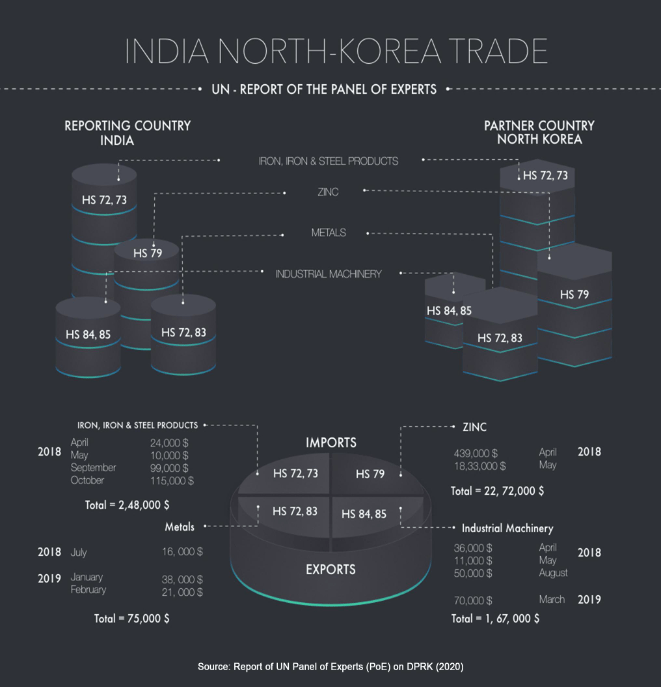 Yet again, in 2020, it has been reported that India committed 5 to 10 violations. A close assessment of data shows that North Korea, with the help of India, employed a variety of evasion techniques to avoid detection of such illicit imports and these evasions directly support North Korea in financing its nuclear programme despite being under strict global watch.
India's North Korean connection is not just confined to trade and business, it has a nuclear aspect too. As per earlier reports, India has trained more than thirty North Korean students at its 'Centre for Space Science and Technology Education in Asia and the Pacific' (CSSTEAP), even after the UN issued nuclear sanctions in 2006 that prohibits member countries from providing technical training to Pyongyang. These students later on became part of North Korea's National Aerospace Development Administration, which has been playing a significant role in its nuclear programme.
The lapse, which was exposed in March 2016 in an annual report to the UN Security Council, also highlighted that the courses offered at Indian research institute were relevant to its nuclear weapons and ballistic missile development programme. India rejected the report on the courses being offered by saying that the topics covered were "very general" and the basic principles of these courses "were available from open-source". If these were general in nature, why did India refuse further admissions to North Korean students after the lapse was exposed?
Astonishingly, North Korean student Paek Chang-ho, who studied in CSSTEAP, became the head of an agency involved with North Korea's first satellite launch in 2012. This strongly supports the proposition that India has actively helped North Korea develop and modernize its nuclear and missile program. There isn't a single doubt that the training at CSSTEAP very well helped North Korea's military programme.
It is an open secret that India trained North Korean students, who became moving force behind country's nuclear and missile programme. India's trade relations with North Korea, despite consistent appeal from the UNSC, continued to grow. At one point, it became North Korea's 3rd largest trading partner with a trading volume of more than $200 million. Interestingly, the volume of the trade is highly in favour of India.
The cyber domain is another important aspect of Indian and North Korean relations. According to a report published by the US Army, titled 'North Korean Tactics', North Korea has about 6,000 hackers, many of whom operate from other countries, such as India. Earlier, the cyber security firm, Recorded Future, found intense North Korean internet activity in India where nearly one-fifth of North Korea's cyber-attacks originate. As per latest reports, North Korean hackers, who are physically stationed in India, were involved in organized cyber-attacks throughout the world. By looking at this, one can reasonably argue that North Korean hackers along with Indian counterparts are involved in global cyber warfare.
The mystery behind India and North Korea's secret nuclear connection has long been busted. India is complicit in North Korea's nuclear programme and it has continued for decades. The pattern of Indo-North Korean relation suggests that it was deliberate and occurred with the consent of Indian authorities.
It is imperative for the members of UNSC to re-assess India's role in the North Korean nuclear and missile programme. From the training of North Korean scientists to hosting North Korean hackers, India's secret connection needs to be thoroughly investigated. There is a big possibility that India and North Korea have exchanged nuclear technology.
There is a need to investigate why India has been assisting the North Korean nuclear programme. India is providing both financial and military assistance to North Korea in total disregard to and in violation of global non-proliferation regimes and at the expense of regional and global stability.