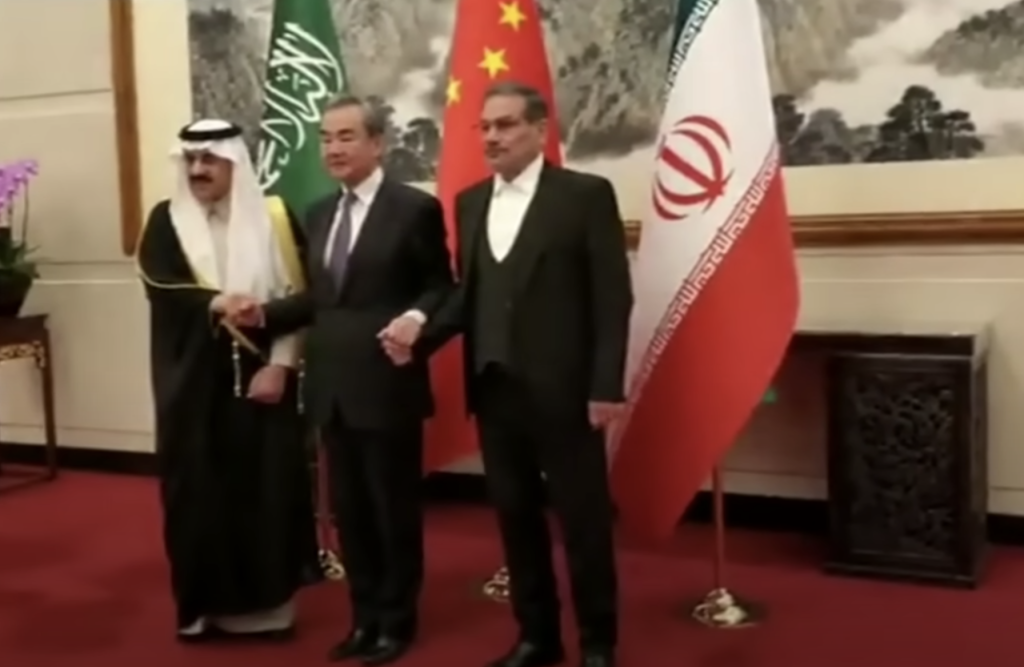 Historically, the Middle East has been dominated by the rivalry and conflicts between two regional powers of Iran and Kingdom of Saudi Arabia. Ideological differences may be one of the major root causes of their tensions; however, power politics in the region is also a prominent factor in their hostile bilateral ties. Conflicting interests of the two regional States in the civil and proxy wars in the Middle East, such as those in Syria, Yemen and Iraq, are also a major source of contention between Iran and KSA.
Keeping such rivalries and confrontations asides, the recent positive developments have been declared as a game changer for the region. With the help of China's mediation, KSA and Iran have agreed to resume their diplomatic ties, which were cut off in 2016. This agreement has several important aspects and will have some significant regional as well as bilateral implications.
The agreement between KSA and Iran is likely a foundation for starting a new era of dialogue and trust. Both nations have likely realized the fact that hard power and military solutions are not the only way to achieve their foreign policy goals. In this regard, long-lasting talks, peaceful coordination and cooperation on various economic, social, cultural and strategic issues may be more fruitful in terms of pursuing their long term interests. More importantly, this is a significant step for Asian states in deciding their own fates by themselves, and the role of the West is decreasing in this regard.
China leading the initiative is the most pivotal factor in the whole process, demonstrating the significant role and ambitions of the economic giant in the region. China is pursuing its grand geo-economic agenda under the banner of the Belt and Road Initiative across the world, and the Middle East is extremely important in this regard as the region is oil sufficient and an economic hotspot. Thus, this mediation role, as well as China's previous 25 years deal with Iran, show China's future intention towards the region. In addition, China is proving itself as a peace and power broker globally as well as regionally, one that really believes in peace, multilateralism, cooperation and economic and political integration.
It is too early to say anything definite but it is hoped that this will be proven as a milestone in the reduction of tensions in the whole region. Both powers might get some control on the conflict in Yemen. Similarly, in future, there are chances of some consensus on political instability in countries like Syria, Lebanon and Iraq, if KSA and Iran move forward smoothly on the recent agreement. Overall, the deal is a strong initiative and foundation of negotiation, peaceful dialogue and rational debate over several issues in the region. For Iran, the deal especially holds immense importance, as the country faces severe economic and political isolation; thus, the deal may be a fresh air of cooperation and engagement.
The United States has welcomed the recent developments between KSA and Iran. However, it is a major setback for the US and its western allies, who always want Iran as a wrecked, neglected and isolated state. The Abraham Accord was one of the important initiatives of the US to shape regional politics according to its desires. The ultimate goals were to normalize ties between Israel and Arab countries and push Iran to further isolation. Similarly, the key role of China in the recent deal is also a sign of worry for the US. For last few years, the US and China have been involved in tremendous economic and strategic competition; therefore, China's increasing role in the Middle East will definitely challenge US interests in the region.
This deal also clarifies a few significant things regarding Saudi Arabia's foreign policy. It reflects the vision of Muhammad bin Salman, who aims to revisit KSA policies on several fronts. The KSA intends to adopt a more rational, interactive and pragmatic approach towards regional issues. In this regard, it not only wants to search out peaceful means for the settlement of the Yemen crisis, but began a comprehensive dialogue with Iran as well. More importantly, the recent developments show how KSA is shifting its foreign policy towards independence and one which is east-centric, unlike the past.
Pakistan should also consider this deal highly optimistic and a valuable opportunity, as Pakistan's foreign policy is greatly dominated by KSA-Iran tensions. On one hand, Saudi Arabia is one of the most trusted economic and strategic partners of Pakistan; on the other, Iran is an important neighbor. Thus, this is the point where Pakistan needs to adopt a more practical and proactive approach and shape long-lasting ties with both regional powers.