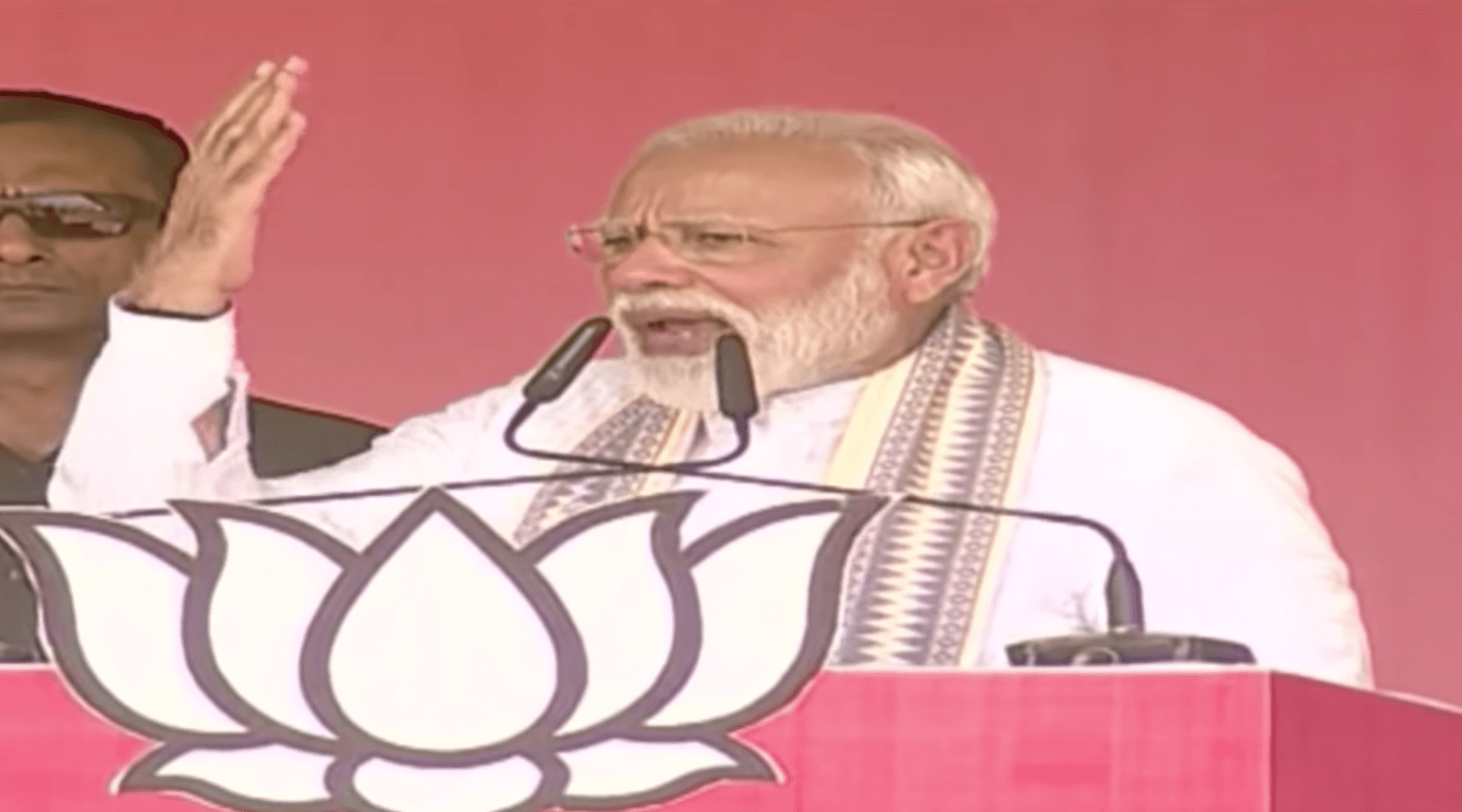 One of the most ruthless characters in the famous series 'Game of Thrones' was Aerys II Targaryen, also known as the Mad King, who had his opponents burnt at stake to preserve his reign. But fiction is not far from reality, and fictional characters often reflect the bitter truth of realpolitik. For instance, Indian Prime Minister Narendra Modi, who earned a name for being soft on the Gujrat Massacre, went too far with nuclear war mongering in the run-up to the 2019 elections, for the sake of earning domestic support for his political party. From nuclear threats to military adventurism, his election campaign has exposed his inclination towards violence and use of force. It is absolutely unfortunate to see the Prime Minister of the world's so-called largest democracy, spewing hate against his political opponents, calling them foreign agents and hurling nuclear threats against Pakistan in mass rallies. His political campaign has left no stone unturned to divide India on a communal basis. The entire election campaign of PM Modi is based on the rhetoric of war hysteria, and this is unprecedented.
Approximately 15 million new Indian voters will exercise their right to vote for the first time in what global commentators call the world's largest democratic electoral process. One wonders what kind of impact PM Modi's war-rhetoric shall have on this large youth bulge.  Millions of Indians have already voted in the first of seven-phased general elections, which began on 11th April and will continue until 19th May. Anti-Pakistan rhetoric has always been central to the BJP's election campaign, particularly to galvanise the right-wing support base by whipping up nationalist sentiment. PM Modi has already upped the ante against Pakistan, but this time, he has taken anti-Pakistan rhetoric to an entirely new level by politicising the armed forces and nuclear weapons in mass rallies, themes which have traditionally been kept out of election campaigns. More than 150 veterans, including eight former Service chiefs, wrote a letter to the President and Supreme Commander of the Armed forces, requesting that he stop this politicisation of the military.
Modi has nuclearised the Indian elections too. On April 21, while addressing to an election rally in Rajasthan, he stated that India had not kept its nuclear weapons for Diwali fireworks. This was not the first time he had threatened Pakistan with nuclear weapons; speaking at a rally in Gujarat's Patan, Modi said, "When Abhinandan was captured by Pakistan, I said [to Pakistan] that if anything happens to our pilot, we will not leave you." He added, "A senior American official said on the second day that Modi has kept ready 12 missiles and might attack and the situation will deteriorate. Pakistan announced they would return the pilot on the second day, else it was going to be a 'qatal ki raat (a night of slaughter)'."  Such irresponsible and inappropriate statements came from a sitting Indian PM, who has ruled India for the last five years and is now struggling to secure another five-year term. With these remarks, PM Modi has abandoned India's traditional policy of keeping nuclear capability out of electioneering. This should have raised the eyebrows of western leadership, who have not only turned a blind eye to Indian nuclear developments but also assist New Delhi in becoming part of global regimes.
The Coalition for Nuclear Disarmament and Peace (CNDP) lambasted PM Modi's irresponsible nuclear rhetoric; Punjab Chief Minister Captain Amarinder Singh termed the remarks "highly irresponsible".
Unfortunately, Modi's blatant vote-catching rhetoric is not only an ill-thought stunt but also reflects his poor sense of Indo-Pak dynamics. Such rhetoric shouldn't be seen only in the context of Indian elections but for its far-reaching regional consequences. Unlike previous Indian leadership which has appeared well-informed about Indo-Pak complexities, PM Modi's tough approach with no cohesive policy framework towards Pakistan has resulted in lack of fruitful results. From the cancellation of bilateral talks to warmongering rhetoric, Modi has failed to establish "meaningful and constructive" engagement with Pakistan.
The root cause of Modi's problem lies in India's 2014 general elections in which the BJP projected Modi as a strong statesman. As is evident from his party's defeat in the heartland Hindu states of Madhya Pradesh (MP), Rajasthan and Chhattisgarh last year, Modi's tough outlook did not help the ruling party.  Though he was unable to fulfil most of the pledges made in the election manifesto, the anti-Pakistan rhetoric often came handy in diverting public attention from his failures. For instance, in 2014  he made a number of promises to the Indian voters, such as eliminating corruption and black money, jobs creation, economic growth, agriculture and education reforms, etc. But he failed to meet them during his five years' tenure. Demonetization did not work; he faced several corruption charges, including over the Rafale deal controversy; there was a massive increase in communal violence; lack of job opportunities for millions of unemployed youth persisted; there were continuous hikes in the prices of petroleum etc. All these unfulfilled promises shrunk public support for PM Modi.
However, just before the general elections, there occurred the unfortunate incident of Pulwama, in which forty Indian Central Reserve Police Force (CRPF) troopers were killed as a result of a suicide attack by a Young Kashmiri. Almost ten days later Modi conducted a violation of Pakistan's air space with an intrusion by the Indian Air Force. His government claimed the IAF dropped bombs on Jaish-e-Mohammed (JeM) camps and killed over 300 terrorists, trainers and commanders, all of which later proved wrong. In fact, during the ensuing dogfight, the Pakistan air force shot down an Indian MiG-21 warplane and captured its pilot who was later released as a goodwill gesture. It was indeed a major setback for PM Modi's military adventurism. India's claims of hitting so-called terror camps and shooting down of F-16 fighter jets have already been refuted by international media.
What is worrying is that despite India's major losses at both the tactical and political levels, Modi continues to beat the nuclear drums at campaigning rallies after Pulwama. India under Modi has pursued a policy of coercion either through conventional or sub-conventional tactics. Its military doctrines have long sought space for conventional warfighting with Pakistan. Modi's hate against Pakistan and his frequent use of the nuclear threat exposes India's double standards as a so-called responsible nuclear power status. On the one hand, it apparently follows a no first use policy; on the other, it was the first to threaten the use of nuclear missiles after facing a humiliating defeat in the dogfight. Despite Pakistan's peaceful gestures, PM Modi still spews venom in public rallies against it. One wonders if India can still be seen as a responsible nuclear power to be incorporated in the global mainstream through the Nuclear Suppliers Group.
Pakistan has denounced PM Modi's nuclear threat, loud and clear, with the Foreign Ministry's statement: "Such rhetoric for short-term political and electoral gains, with complete disregard to its effects on strategic stability in South Asia, is regrettable and against norms of responsible nuclear behaviour." The fact of the matter is that possession of nuclear weapons capability carries a burden of tremendous responsibility; such capability should not be in the hands of a leadership that talks loosely on matters of such grave concern. Indeed, it must concern world powers to see the Indian premier flouting nuclear threats for the sake of winning elections. It is time for the global community to revisit India's nuclear status under hawkish and aggressive leadership before it is too late.
Yasir Hussain is a former South Asia Fellow at Stimson Center's South Asia Program, and he is currently pursuing M.Phil degree in International Relations from Quaid-i-Azam University Islamabad. He can be reached at [email protected]
Ahsan Ali Zahid is an M.Phil Scholar at School of Politics and International Relations Quaid-i-Azam University Islamabad. He can be reached at  [email protected]