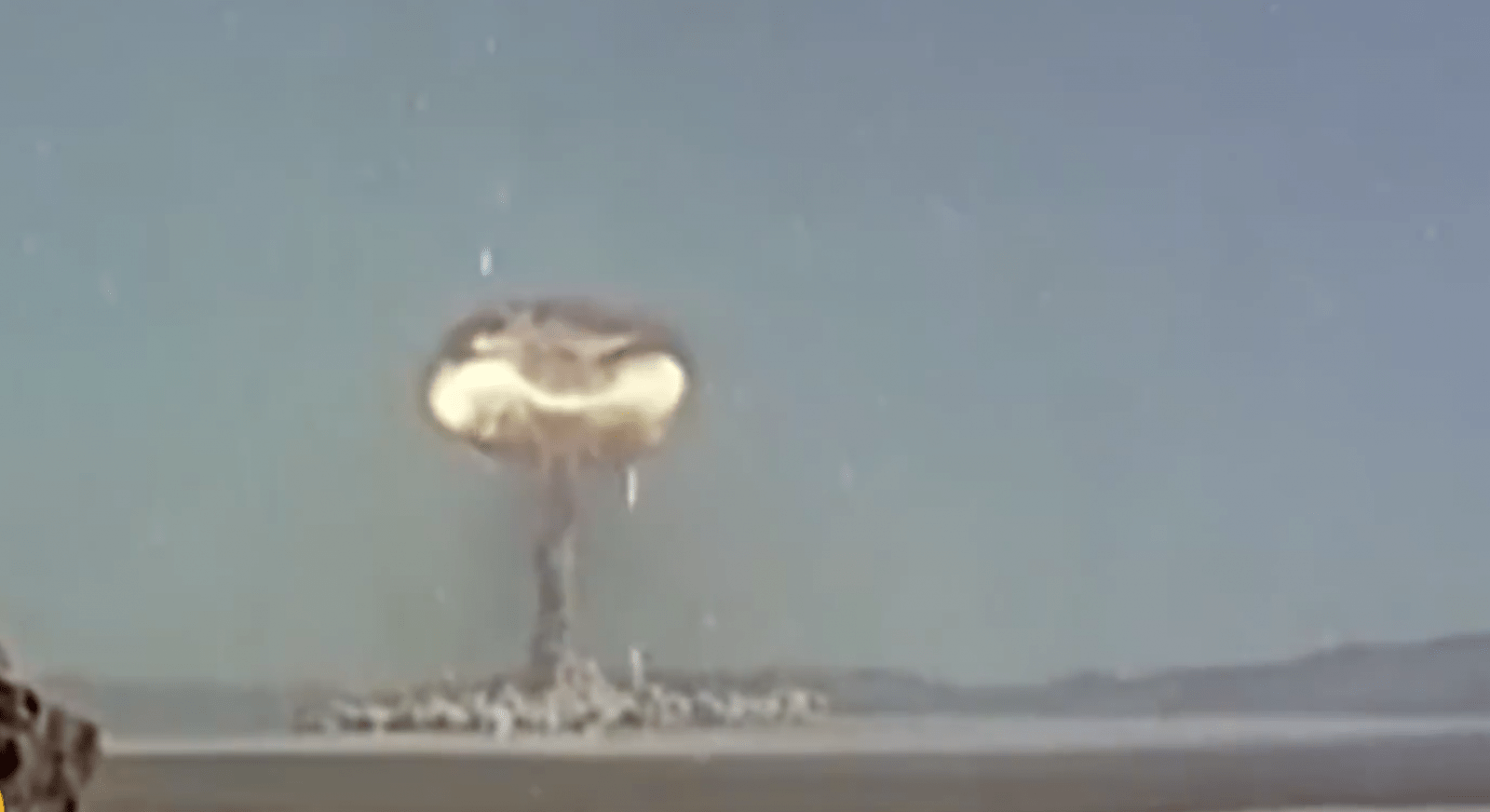 Ever wonder how India managed to acquire the nuclear bomb and fooled the reigning superpower, the United States of America?  Or has the international community left India as a determined proliferator which can't be stopped?  How did this come to pass when there were strict safeguards in place to prevent the misuse of the peaceful atom? Who must we thank for all this?
Despite the U.S. government's self-declared "surprise" at India's multiple tests in May 1998, India's march towards an openly declared nuclear capability underscored by new tests had been clear for a number of years.  Why did India do it?  A lesser-known fact is that the decision to finally test the bomb was motivated mainly by India's desire to be independent of Western interference.
How it all began.    Famous writer Arundhati Roy explained it in a very apt manner in India Today:
"By afternoon the wind had fallen silent over Pokhran. At 3.45 p.m., the timer detonated the three devices. Around 200 to 300 m deep in the earth, the heat generated was equivalent to a million degrees centigrade – as hot as temperatures on the sun. Instantly, rocks weighing around thousand tons, a mini mountain underground, vaporized… shockwaves from the blast began to lift a mound of earth the size of a football field by several metres. One scientist on seeing it said, "I can now believe stories of Lord Krishna lifting a hill."
She further added that:
"Whom must we thank for all this?
The Men who made it happen. The Masters of the Universe. Ladies and gentlemen, The United States of America! Come on up here folks, stand up and take a bow. Thank you for doing this to the world. Thank you for making a difference. Thank you for showing us the way. Thank you for altering the very meaning of life."
It all began on 18th May 1974, when Indira Gandhi gave a green signal to carry out India's first nuclear test in the Rajasthan desert. After the successful explosion, the test was immediately labelled a 'Peaceful Nuclear Explosion' (PNE).  Following this trajectory of nuclear development, the Indian nuclear explosion affected the region the most, as it subsequently conducted nuclear tests again in 1998.  It was Dr APJ Abdul Kalam who first emphasized the value of getting nuclear teeth to further strengthen India's military force.  To become a superpower as well as for defence purposes, India needed to strengthen its atomic power.
What followed nuclear controversy?     The 1974 tests did not result in any precautionary measures being taken to prevent further testing, thereby giving India more space to carry out a series of underground nuclear tests.  From 11th to 13th May 1998, India conducted a series of nuclear explosions which it openly declared as nuclear weapon tests, freeing their weapons genie from the bottle. These breakthrough tests were carried out without any prior notice to the international community, and there were widespread outrage and concern over the move.
Since the days of the Shakti series of Pokharan-II, underground nuclear tests were conducted jointly by the Department of Atomic Energy (DAE) and the Defence Research and Development Organisation (DRDO) with a series of underground explosions. India also claimed that these tests included the successful detonation of a thermonuclear weapon.  However, this was challenged by international scientists based on the relatively low yield measured by seismic stations.
Ironically, before the nuclear tests of 1974 and 1998, India had supported the argument of harnessing nuclear energy for peaceful purposes with spearhead movement to ban nuclear testing.  But the nuclear explosion of 1974 itself is a clear example of converting nuclear technology to use it for the devastation of humankind, though not many saw it like that.
One cannot side step the fact that the onus of promoting the nuclear arms competition in South Asia rests on India.  Nonetheless, along with global condemnation, the country's tests were condemned by India's own parliament, where Communist leader Somnath Chatterjee blamed Mr. Vajpayee for having started an arms race in the region.
How did the situation change so dramatically within a few years?        It is such a supreme folly that even after the nuclear insurrection by India, International powers like the U.S. maintained political and diplomatic engagements with the former, driven by their vested interests in the region. It was only done as an investment destination where they could keep a check on China and to sustain the flow of massive amounts of arms and nuclear deals satisfying economic interests.
What next?       What is certain is that after years of scheming to acquire the use of nuclear energy for weapons purposes, New Delhi has been consistently trying to exercise power in the region with its increasing struggle to achieve the maximum nuclear milestone. In its effort to achieve preponderance in the region, India is continuously building an overwhelmed military through conventional and nuclear technology. Through massive military spending along with sophisticated technological innovation, India is stepping up towards great power status and prestige. It has been using military power as a coercive tool to achieve its strategic ambitions. There is a need for greater realization in India that fighting a nuclear war is a horrifying prospect because there are no winners.
Usman Ali Khan is an MPhil scholar at Quaid-i-Azam University Islamabad, Pakistan.