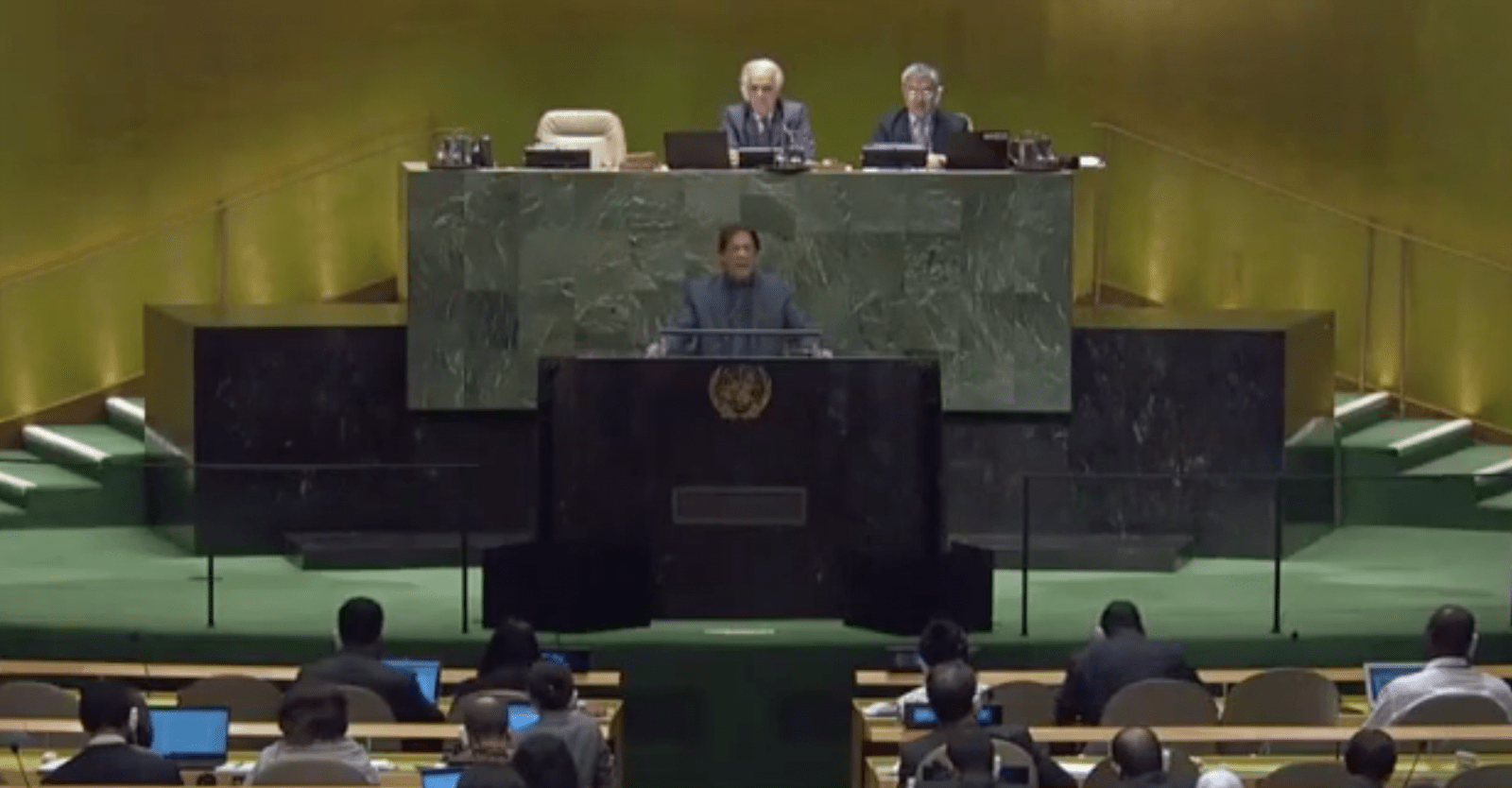 Prime Minister Imran Khan has carried out intensive diplomacy at the international level, including his address at United Nations General Assembly (UNGA) to apprise the international community about the grave Kashmiri humanitarian crisis and its consequences for global peace and security. The PM's speech at UNGA was articulate, impressive and effective. The four-point agenda of his speech covered issues of global scope. He addressed issues of climate change, corruption, Islamophobia in the context of the global war on terror (GWOT), and the Kashmir crisis.
Pakistan has taken a strategic decision of resistance to the Indian decision of annexing Kashmir on 5th August by exercising a diplomatic option in order to continue solidarity with the Kashmiri nation and diplomatically pressurize India to undo this action. Imran Khan urged Muslim world leaders to speak on the Kashmir issue instead of compromising because of India's 1.2 billion 'largest' economy. Imran Khan exposed the extremist mindset of Modi's government by explaining its connection with RSS ideology as the underlying dynamic of the Indian action of the annexation of Kashmir and imposition of curfew to forcefully implement it in order to convert the only Muslim majority state in India into a perpetual minority.
The Prime Minister impressively and logically built Pakistan's case on Kashmir issue at the UNGA. He mentioned Kulbashan Yadav, a serving Indian armed forces spy arrested in Pakistan, to expose Indian cross border terrorism in Pakistan. This was an effective strategy to counter Indian allegations of cross-border terrorism levelled against Pakistan at the international level. He has logically explained the mindset of RSS and genesis of Kashmir humanitarian crisis as the outcome of the unilateral action by India in Jammu and Kashmir.
PM Imran Khan included the threat of Kashmir as a 'nuclear flashpoint' in case of any conventional military clash between Pakistan and India. This was the most forceful speech by any Pakistani leader to the UNGA after Sir Zafar Ullah Khan's speech in 1948 and Z.A Bhutto's in 1971. He awakened the conscience of the UNGA by evoking its obligation to pressurize India to lift the inhumane curfew from Indian Occupied Jammu and Kashmir (IOJK). The PM asserted before the UN that Pakistan would go for calling a final shot in its fight for survival in case of a military clash with the numerically superior India, which would have severe implications for global security.
Imran Khan connected all the dots and rationalized his speech on the Kashmir issue at the UNGA,  impressively. He presented Pakistan's viewpoint on the Kashmir issue in a logical and persuasive manner. He diluted western propaganda on Islamophobia through logical arguments to dilute the discourse of radical Islamic terrorism prevalent in western Europe and the USA. Imran Khan warned the international community about the consequences of Kashmiri resistance to the Indian curfew in IOJK. He logically persuaded them about the consequences of Kashmir as a nuclear flashpoint and the impact on global security as a result of a conventional war between Pakistan and India.
PM Imran Khan exposed the real face of the international community in his UNGA address on Islamophobia and the Kashmir issue. This speech was part of Pakistan's proactive diplomacy campaign on the Kashmir issue. Imran Khan has evolved as a world-class statesman by addressing issues of global importance. He extensively exercised the diplomatic option on Kashmir during his UNGA address.
Since 5th August, India has been facing negative coverage in the international press for more than 50 days, which has created panic in strategic decision-making circles in India. Therefore, Indian reaction will be a knee-jerk and India can carry out any false flag operation across the Line of Control to divert international media coverage from the Kashmir crisis. Pakistan needs to sustain this international media coverage campaign and keep diplomatic pressure on India to revise its decision.
The PM's diplomatic endeavours in New York were in full swing to highlight the Kashmir issue at the international level.  He pulled off successful networking on the Kashmir cause by meeting with several world leaders. He carried out seventy engagements during his seven-day US visit. He scheduled meetings with businessmen, political leaders and the press in order to apprise them on the Kashmir issue as a humanitarian crisis, which will substantiate Pakistan's diplomatic exercise on the Kashmir cause. An honest and bold speech was the need of the hour to reveal the hypocrisy of global actors and great powers who are concerned with strategic stability at the global level but are ignoring Kashmir's humanitarian crisis. At least the western world, which claims itself a champion of human rights, justice and civilizational values, has been shown the mirror. A narrative has been built on Kashmir's humanitarian crisis, which has placed India on the defensive.
Global discourse on Islamophobia and Indian narrative on Kashmir are interconnected, because if Muslims are projected as terrorists, then Kashmir's freedom movement is also dealt under the narrative of radical Islamic extremism instead of a UN sanctioned freedom movement striving for their right to self-determination. PM Imran Khan has effectively consumed this discourse of Islamophobia as a misunderstood concept in Europe and USA.  This was a rational attempt to convince the west and the US about the Kashmir issue as a separate cause, rather than a cross border terrorism phenomenon.
US Assistant Secretary of State Alice Wells has issued a policy statement demanding India to immediately lift the curfew from IOJK and release the political prisoners as an effort to normalize the situation. Pakistan needs to continuously propagate this narrative at the international level to sensitize the international community on Kashmir's humanitarian crisis.
The author holds M Phil in International Relations from Quaid-i-Azam University, Islamabad. He is an independent political analyst. His areas of interest are trends in geopolitics and politics of South Asia.