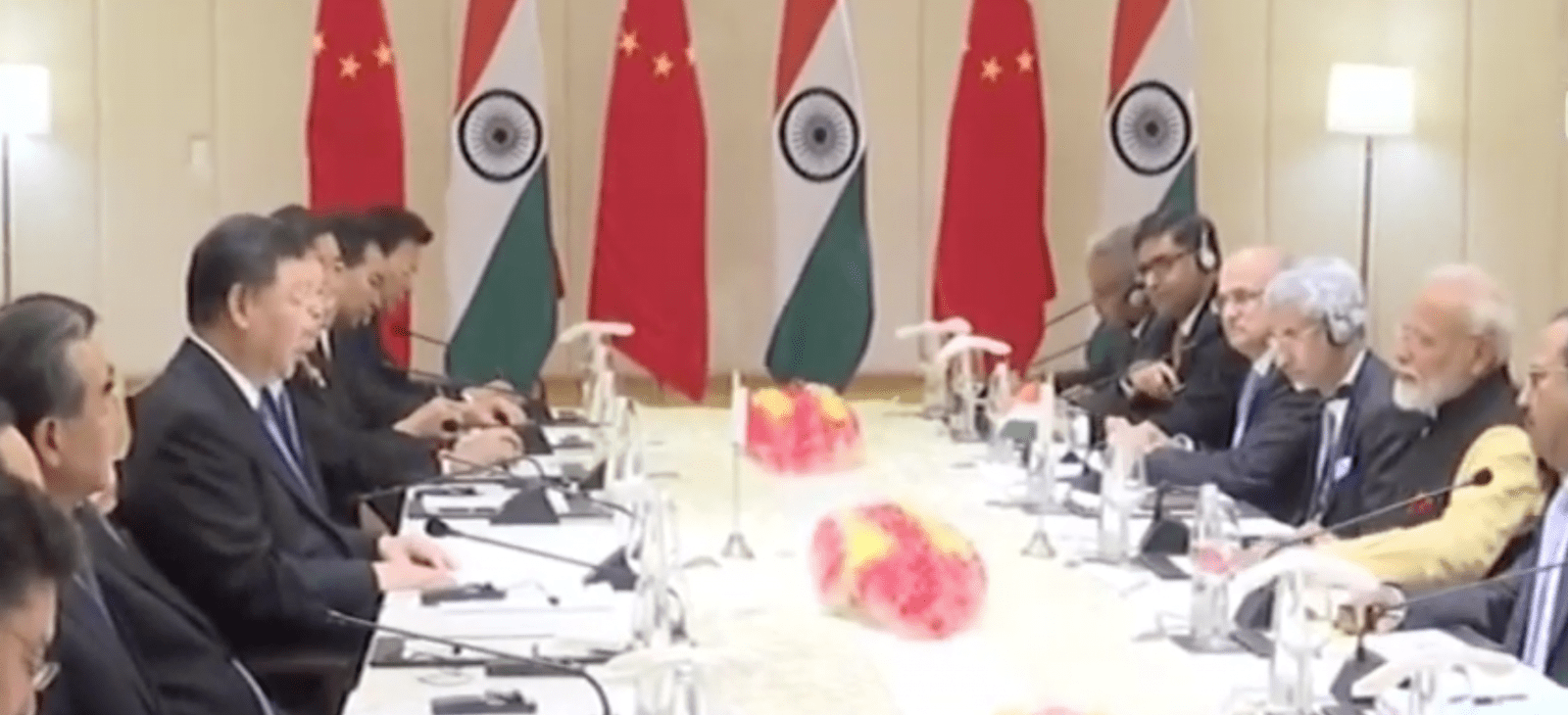 Chinese President Xi Jinping participated in the 2nd India-China Informal Summit at Chennai, formerly known as Madras, the capital of the Indian state of Tamil Nadu, located on the Coromandel Coast off the Bay of Bengal on 11-12 October 2019. The first Informal Summit had been conducted last year at Wuhan, a picturesque Chinese lake city, months after a 73-day face-off between the armies of the two countries in Doklam.
The road between the two summits has been rocky but it goes to the credit of diplomacy on both sides that despite New Delhi's frequent outbursts and Beijing's composed but measured nuances, the 2nd summit is being deemed a success by India. China seldom issues laudatory statements.
News about the summit was confirmed by Indian Ministry of External Affairs (MEA) only a few days before the visit. There were speculations in Indian media that the summit may be called off.
The various developments that frayed the delicate relationship were numerous. The 5th August unilateral move by India to revoke Articles 370 and 35A of its Constitution, removing the special status and autonomy of Indian Occupied Kashmir (IOK) and declaring Kashmir and Ladakh to be a part of the Union Territory had irked both China and Pakistan.  China had seriously objected to the annexation of Ladakh by stating that India had "continued to undermine China's territorial sovereignty by unilaterally changing its domestic law". Beijing had used its clout at the UN Security Council to discuss the issue much to the chagrin of New Delhi. At his 74th UN General Assembly speech, Chinese Foreign Minister and State Councilor Wang Yi had reiterated the Chinese position stating that Kashmir was a bilateral issue between India and Pakistan, leftover from history, that needs to be resolved directly by the two countries in light of UN Resolutions and other bilateral arrangements. This was despite India's foreign minister S. Jaishankar travelling to Beijing to explain that the Indian actions in Kashmir had no additional or negative or implication for the Sino-Indian border dispute.
New Delhi reacted very angrily over Chinese Ambassador in Pakistan, Yao Jing's strong and unequivocal support for Pakistan's position on the Kashmir dispute, stating, "We are also working for Kashmiris to help them get their fundamental rights and justice. There should be a justified solution to the issue of Kashmir and China will stand by Pakistan for regional peace and stability." India considered it a red flag and lodged a strong protest with China through diplomatic channels seeking clarification on what is considered a change in Beijing's stated stand on Jammu and Kashmir.
President Xi Jinping hosted Pakistani Prime Minister Imran Khan only two days before the 2nd Informal Summit, in which the Chinese President expressed solidarity with Pakistan while the joint Sino-Pak Press Release made a direct reference to Kashmir that India had objected to, asking that the dispute be "resolved based on the UN Charter, relevant UN Security Council resolutions and bilateral agreements."
Besides the Kashmir issue, New Delhi has stepped on too many Chinese corns. China had raised objections to the Indian military exercise Him-Vijay in Arunachal Pradesh, executed by the Indian Army's 17 Corps. Indian Armed Forces deployed their latest American weapons systems including M777 ultra-light Howitzers and Chinook heavy-lift helicopters in the wargames. M777 Howitzers are planned to be used mainly for warfare in mountainous terrains only due to their lightweight and ability to be airdropped by the Chinook heavy-lift helicopters in the high-altitude areas in the Ladakh and Arunachal Pradesh. The Indian government is reported to have clarified that the ongoing exercise is part of the routine familiarization and orientation exercises and has nothing to do with Xi's visit to India.
This is not the first time that China has objected to military exercises or movements in Arunachal Pradesh.  China has continued to maintain that Arunachal Pradesh is "southern Tibet" but India has always countered such statements by saying that Arunachal Pradesh is an integral part of India. During the 1962 Sino-Indian conflict, China had crossed the McMahon Line and occupied the territory. It later vacated it but considers the area disputed.
Moreover, India had also participated in an elevated foreign minister-level meeting of the Quad countries foreign affairs meeting between the US, Japan, India and Australia held on the sidelines of the 74th UN General Assembly Summit in New York for the first time for a "Free and Open Indo-Pacific", despite China's objections to all such Quad meetings. Any mention of "Free and Open Indo-Pacific is bound to irk China. Not surprisingly, during the 8th Moscow Conference on International Security in April this year, where this scribe was also invited to read a paper, during one of the Round Table Conferences, when an Indian speaker expressed his views on "Free and Open Indo-Pacific", the Russian Moderator objected vehemently, stating that India had no business to be in the Pacific Ocean, since it was not a littoral state in the waters of the Pacific.
It may be remembered that Pakistan has sided with its "Iron Brother" China, rejecting the allegations of highhandedness towards Uighurs, signing an open letter along with 49 countries in defence of China's policies in Xinjiang. India on the other hand, has been sitting on the fence.
Despite these irritants, President Xi Jinping conducted himself with dignity and quiet diplomacy. Like the Wuhan Informal Summit, the 2nd Summit too concluded with no outcome documents and joint statement. Comments can be offered in light of news reports only. The Chinese are reserved but the Indian side has tried to spin a positive outcome.
Under these circumstances, one has to read between the lines and gauge the outcome. First the rationale; both China and India are engaged in trade wars with the US. Despite the Sino-Indian rivalry, both Xi and Modi consider it prudent to enhance their trade relations with the hope that Sino-Indian bilateral interaction will deepen. The summit provided a platform for recalibrating their fragmented relations. Reportedly, Kashmir was not mentioned but Imran Khan did figure in the one-on-one tête-à-tête between Xi and Modi. Moving beyond the border disputes, designating 2020 as the Year of Sino-Indian Cultural and People-to-People Exchanges in the backdrop of the 70th anniversary of the establishment of India-China relations will expand exchanges at all levels including between their respective legislatures, political parties, cultural and youth organizations and militaries. To celebrate the 70th anniversary of diplomatic relations the two countries will organize 70 activities including a conference on a ship voyage that will trace the historical connection between the two civilizations.
Where does Pakistan figure in this Xi-Modi bonhomie? Pakistan is a focal point in Xi's Belt and Road Initiative while China Pakistan Economic Corridor (CPEC) is its flagship project. Xi has declared unequivocal support for its "Iron Brother" Pakistan but Modi considers Pakistan an impediment in its development plans. Perhaps the Xi-Modi camaraderie will help soften India's hostility towards Pakistan and also facilitate the two adversaries to sit and discuss the festering sore of the Kashmir issue.
Xi Jinping, who has so far shown restraint at the Hong Kong demonstrations, believes they are being instigated by China's detractors. The US Trade Wars and upcoming Human rights bill on Xingjian on alleged suppression of Uighur Muslims, issued by the US, finally rattled the Chinese Supreme Leader. Following the 2nd India-China Summit, he crossed over to Nepal becoming the first Chinese leader to visit the Himalayan country in 23 years. After signing 20 deals with Nepal, covering a broad a range of areas, including health, agriculture and tourism, Xi thundered loud and clear. "Anyone attempting to split China in any part of the country will end in crushed bodies and shattered bones," he told Nepal's Prime Minister KP Sharma Oli in a meeting on 13 October, according to China's state broadcaster CCTV. "And any external forces backing such attempts dividing China will be deemed by the Chinese people as pipe-dreaming!" The message must have reached those it was intended for.