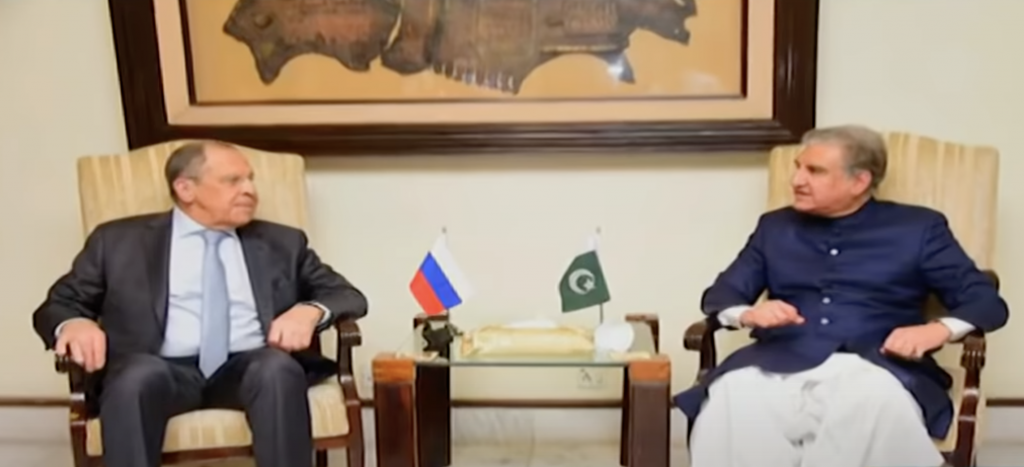 The growing diplomatic cooperation between Moscow and New Delhi cannot be separated from New Delhi's apprehensions on Pakistan's increasing role beyond its home region. The Indian Anti-Pakistani obsession in the regional and extra-regional affairs is the fundamental reason behind New Delhi's opposition to Islamabad's drive for improving its ties with the great powers. New Delhi's critical visualization of bilateral interaction between Russian and Pakistani governments is originally rooted in Indian strategic thinking, which contains various tactics for undermining neighboring states' role in the region. The continuation of an anti-neighborhood policy for the territorially adjoining nations and the cultivation of politically coordinating and diplomatically supportive ties with the great powers are the main objectives of Indian foreign policy where Pakistan is the prime target of New Delhi. In response to Indian Anti-Pakistani policy in regional and global affairs, Islamabad always tried to improve its position in the international system through revising its relations with Moscow. Thus, the Indian opposition to the Pakistan-Russia rapprochement is structured in New Delhi's antipathy towards Islamabad, which is primarily trying to place Pakistan at a disadvantageous position in the international community, where it will be difficult for Islamabad to improve its position in world politics. Moreover, the Indian quest for dominating the territorial and maritime affairs of South Asia led New Delhi to criticize Pakistan's regional standing in South Asian affairs and isolate Pakistan in the international community. The pursuit for downgrading Islamabad's position in global world politics has further instructed the Indian leaders to stigmatize Pakistan's national image across the globe.
Because of Indian regional hegemonic designs and its strategic quest for undermining Pakistan's role in the world, the Indian leaders have decided to follow the cooperative designs for managing their ties with Washington parallel to managing New Delhi's strategic collaboration with Moscow. The continuation of bilateral cooperation with Washington in strategic affairs mainly revolves around the Indian antipathy towards Pakistan because India has negatively translated Islamabad's diplomatic closeness to Washington. Moreover, the unprecedented growth of Indo-US strategic partnership has diminished Pakistan's role in Washington's global geopolitical calculations. Analogous to criticizing Pakistan's ties with China and Russia, Indian leaders strongly oppose Pakistan-United States relations. Analogous to its negative visualization of Islamabad-Washington ties in the US-led global counterterror campaign, the mainstream India leadership is communicating its anxieties to Moscow on the warming of Pak-Russia strategic relations. Parallel to a brief history of Islamabad-Moscow cooperation, an extensive historical record of New Delhi-Moscow diplomatic closeness and Russian strategic inclination towards India in its broader South Asia policy facilitate New Delhi in negatively campaigning the rising Islamabad-Moscow strategic relations in the world. New Delhi's decision for damaging the cooperative foundations of Islamabad's foreign relations with the neighboring great powers is inherited in decades-long India-Pakistan rivalry and their toxic diplomatic interaction in the great power politics.
The debate on the strategically contesting attributes of New Delhi and Islamabad against each other cannot be completed without analyzing the growth of regional South Asian politics under the shadows of great power politics. In this way, an unquestionable interconnectedness between South Asian politics at the regional level and great power politics at the international level cannot be separated from the belligerent designs of India-Pakistan hostility in world politics. Therefore, the recent South Asian regional political order has started fascinating the great power politics where Pakistan is becoming an epicenter of international politics, which is not acceptable for its neighboring nuclear rival. In addition to becoming a frontline state in the US-sponsored global war on terror equivalent to playing an active role in the Chinese-sponsored mega economic corridor project, Islamabad's decision to warmly welcome Moscow, the nuclearized subcontinent became a major threat for India. In reaction to growing strategic interaction between Moscow and Islamabad by expanding their cooperative sphere of influences in different dimensions, India's leading security architectures have started hampering Islamabad's ambition for diversifying its foreign policy towards great powers where Russia acquired a prominent position.
With a more coordinated and more cooperative approach, the Pakistani leaders are now determined to cultivate cordial ties with Russia on a reciprocal basis. Therefore, the political authorities from Moscow and Islamabad can explore various avenues for managing the hostile regional environment of South Asia. The two-sided leaders can mutually formulate specific designs of strategic bilateralism, which will enable their respective governments to ensure the scope of peace and stability in the nuclearized subcontinent. Furthermore, a phase of normalization between Russia and Pakistan will create incentives for an India-Pakistan détente under the intense nuclear shadows. Due to Moscow's shift in its South Asian policy based on a hyphenated approach for managing the South Asian crisis, Pakistan and Islamabad can develop a shared vision for managing the South Asian crisis. As Russia has concisely communicated its ambition for facilitating both contestants of South Asia in resolving their longstanding points of disagreements on various territorial and maritime affairs, an active role of Moscow in the South Asian politics under the nuclear shadows can bring a positive change while appropriately understanding the role of potential impediments. The Russian ambitions for implementing its updated South Asian policy are based on the interaction of four nuclear powers, China, Russia, India, and Pakistan, where the US's role has become a critical element due to New Delhi's increasing strategic collaboration with Washington. To convey Moscow's discomfort over India's inclusion in US-sponsored multilateral frameworks in the pacific region, Russian leaders have started postponing their bilateral meetings with their Indian counterparts. As a result, New Delhi's military alignment with Washington provided sufficient for Pakistan-Russia strategic ties and let the two-sided government officials from Islamabad and Moscow strengthen their collaboration in the fields of security and defense.
In reaction to New Delhi's increasing defense ties with Washington, Russian state officials categorically selected Pakistan as a strategic partner and a cooperative partner in the changing South Asian regional politics. Under the initial phase of a brief bilateral strategic collaboration, Moscow's security cooperation with Islamabad needs an appropriate examination of India's opposition to rising Pakistan-Russia relations. Additionally, New Delhi's emerging strategic partnership with Washington equally needs adequate responses from Moscow and Islamabad. The leading political authorities from Islamabad and Moscow need to comprehend India's role in underestimating Pakistan-Russia geostrategic calculations. Furthermore, a common aim of generating, supporting, and promoting a peaceful regional environment under a strategically stable South Asian regional order needs an appropriate understanding of Indian Afghan policy and its worse impacts on Afghanistan's bordering states. Under its broader counterterror campaign coupled with Indian active involvement in Afghan affairs, the US presence in Afghanistan also required Moscow and Islamabad to comprehend New Delhi's role in the region rationally. In short, the scope of Russia-Pakistan bilateral strategic connections cemented in the politically coordinated, diplomatically supportive, and economically cooperative approach needs a rational understanding of Indian role in the international community generally and in American geostrategic designs particularly. The combination of Indian active role in the great power politics generally and Washington's global geostrategic calculus leave worse impacts on the South Asian security environment where Islamabad and Moscow intend to warm up their strategic bilateralism.